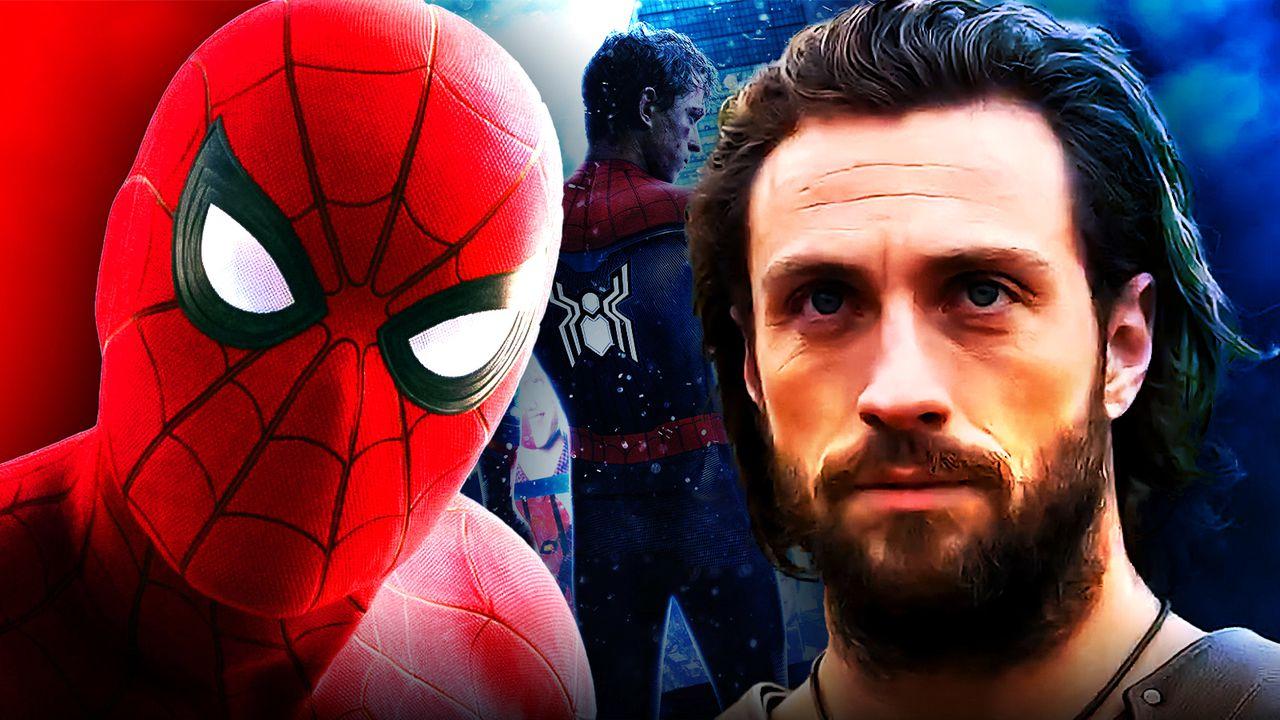 The star of Sony Pictures' latest Spider-Man spin-off film, Kraven the Hunter, teased a potential face-off with Spidey.
Joining Venom and Morbius, Kraven, played by MCU alum Aaron Taylor-Johnson, is the next installment within Sony's Spider-Man Universe. 
Kraven the Hunter may be more controversial, earning the first Spider-Man adjacent R-rating. In a video during CinenaCon, Taylor-Johnson called Kraven "a Marvel movie grounded heavily in the real world," adding, "F*ck yes it's rated R!"
Aaron Taylor-Johnson Wants Spider-Man
Following the release of the Kraven the Hunter official trailer (featuring the first look at Rhino), Aaron Taylor-Johnson shared the footage via Instagram Stories, adding: "Spider-Man… I'm coming for you."

Taylor-Johnson previously said that "The possibilities are definitely there" when asked if his Kraven would face Spider-Man.
The idea of Spider-Man was teased in the Kraven trailer when a swarm of hanging spiders surrounded Sergei Kravinoff.
Will Sony's Spider-Verse Clash With Tom Holland's Spider-Man?
Following the poorly received post-credits scene of Morbius, featuring Michael Keaton's Vulture recruiting Jared Leto's Michael Morbius, it appeared Sony was (once again) setting up a possible Sinister Six.
Possible members for this cinematic version of the villainous team could be Venom, Vulture, Morbius, Mysterio (if his death was a mirage), and now, Rhino and Kraven.
This alternate universe outside of the MCU knows of Spider-Man, confirmed in Vulture's line to Morbius, "I've been reading about you. I don't know how I got here … something to do with Spider-Man."
Depending upon Marvel Studios' future plans with Tom Holland's Spider-Man, this may become an element of a future Spidey installment.
Aaron Taylor-Johnson boldly calling out Spider-Man on social media sets those expectations for fans. Or maybe the actor is speaking out of turn or knows something we don't.
Kraven the Hunter releases on October 6, exclusively in theaters.
---
Release Date
August 30, 2024
Platform
Theaters
As an editor, writer, and podcast host, David is a key member of The Direct. He is an expert at covering topics like Marvel, DC, Star Wars, and business-related news following the box office and streaming.