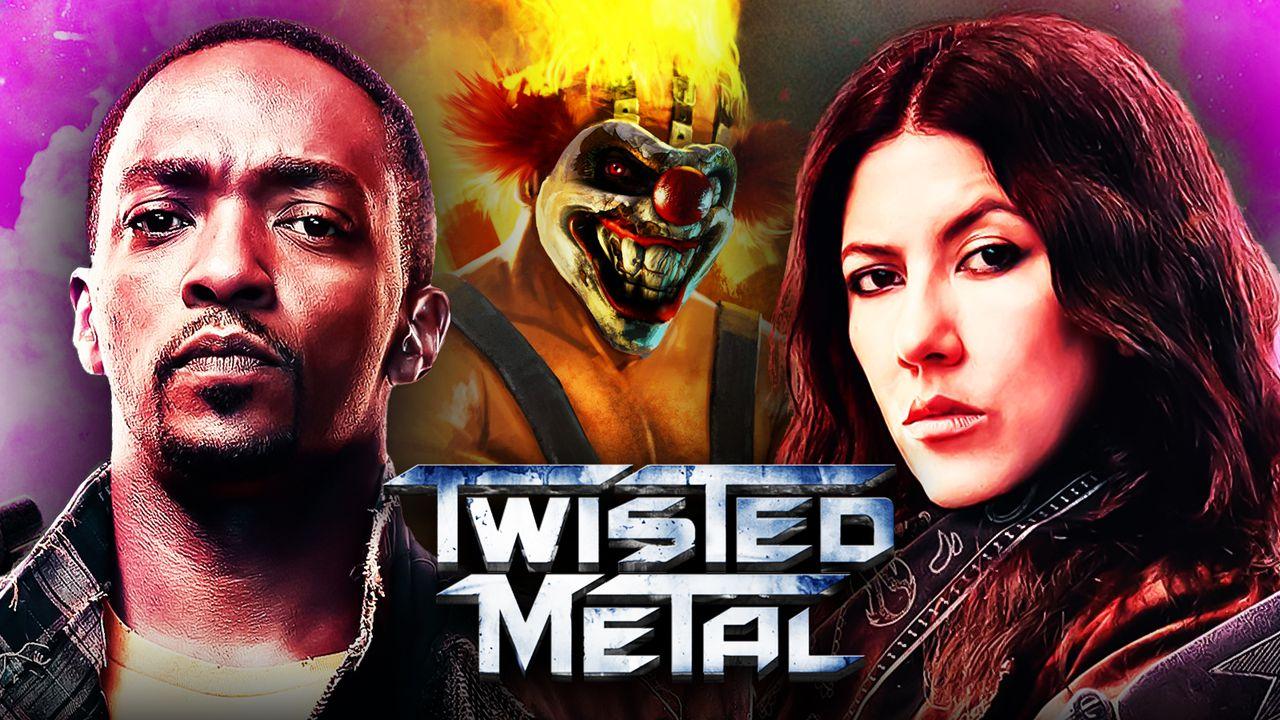 Twisted Metal will finally be adapted into a live-action series, and it is headlined by a stacked cast led by Anthony Mackie. 
Based on the video game franchise of the same name from Sony Interactive Entertainment, Twisted Metal is a series from Peacock.
Set in a post-apocalyptic wasteland, the show revolves around a milkman with amnesia named John Doe who goes on a mission to deliver a mysterious package while also going against ruthless marauders with deadly vehicles.
Every Actor & Character in Twisted Metal 
1.) Anthony Mackie - John Doe
Anthony Mackie plays John Doe, the milkman with no memory of his true identity. In the series, he embarks on a dangerous mission to deliver a package to a mysterious receiver. 
In the video game, John Doe is a playable character from Twisted Metal: Black who learned his former identity as a government agent. 
Mackie is best known for portraying the MCU's Sam Wilson aka Falcon/Captain America. The actor is set to reprise his Marvel role in Captain America: Brave New World.
2.) Stephanie Beatriz - Quiet
Stephanie Beatriz plays Quiet in Twisted Metal, a car thief who assists John to find out his real identity. 
Quiet is confirmed to be an original character created for the series, and she also carries an axe for protection. 
Beatriz is known for her roles in Encanto and Brooklyn Nine-Nine. 
3.) Samoa Joe - Sweet Tooth
Former WWE superstar Samoa Joe portrays Sweet Tooth, Twisted Metal's killer clown antagonist. In the game, Sweet Tooth's real name is Needles Kane. 
The show's trailer showed Sweet Tooth's menacing actions, proving that he is a consistent threat in John Doe's mission. 
Aside from being a former WWE star, Samoa Joe is currently signed with All Elite Wrestling (AEW). 
4.) Will Arnett - Sweet Tooth (Voice)
Will Arnett provides the voice for Sweet Tooth while Samoa Joe portrays the character physically. 
Arnett is best known for his roles in The LEGO Movie, Arrested Development, and BoJack Horseman. 
5.) Thomas Haden Church - Agent Stone
Thomas Haden Church plays Agent Stone, an undercover government operative whose personality is inspired by James Bond. 
In the series, Agent Stone is a former cop who leads a gang of rogue police officers. 
Church is best known for playing Sandman in Spider-Man 3 and Spider-Man: No Way Home. 
6.) Neve Campbell - Raven
Neve Campbell plays Raven, a character who's obsessed with the bird of the same name and wears gothic attire. 
In the series, Campbell's Raven is the one who hires John Doe for the mission. Interestingly, Raven is a playable character in Twisted Metal: Black and a goth teenager whose friend was killed.
Campbell's past credits include the Scream franchise, Mad Men, and Grey's Anatomy. 
7.) Richard Cabral - Loud
Richard Cabral plays Loud, Quiet's brother in Twisted Metal. Cabral's character is another original protagonist made for the game's live-action adaptation.
Cabral is known for Mayans M.C., The Big Bang Theory, and Southland. 
8.) Mike Mitchell - Stu
Mike Mitchell portrays Stu, one of the drivers of the Hammerhead. In the game, the Hammerhead is a monster truck that can crush opponents using its giant wheels.
Mitchell is known for Tomorrow War and Love.
9.) Tahj Vaughans - Mike
Tahj Vaughans plays Mike, the other half of the drivers of the Hammerhead in Twisted Metal.
10.) Lou Beatty Jr. - Tommy
Lou Beatty Jr. is Tommy in Twisted Metal, the driver of Roadkill whose past is unknown. 
Beatty Jr. is known for The Black Dove, Essence of Echoes, and Finding Normal.
11.) Michael Carollo - Carl
Michael Carollo plays Carl Roberts, the driver of Outlaw. In the game, Outlaw is a law enforcement vehicle that uses Tazer weapon attacks.
Carollo is known for Greyhound and The Thing About Pam. 
12.) Chloe Fineman - Bloody Mary
Chloe Fineman portrays Bloody Mary, an unstable woman and anti-hero from the game. She is also the driver of Spectre. 
Fineman is known for Babylon, Jane the Virgin, and Home Team.
13.) Jason Mantzoukas - Preacher
Jason Mantzoukas plays Preacher in Twisted Metal, a character who travels from town to town to share his religious visions in order to gain forgiveness from God.
Mantzoukas is known for his roles in Brooklyn Nine-Nine, The Dictator, and The Good Place.
14.) Jamie Neumann - Miranda Watts
Jamie Neumann plays Miranda Watts, the trucking convoy's leader and Granny Dread's granddaughter in Twisted Metal. 
Neumann's past credits include The Deuce, Lovecraft Country, and The Looming Tower.
15.) Diany Rodriguez - Amber
Diany Rodriguez plays Amber, a botanist who won't hesitate to kill when her back's against the wall. 
Rodriguez's past credits include The Blacklist, The Outsider, and New Amsterdam. 
16.) Jared Bankens - Agent Shepard
Jared Bankens plays Agent Shepard, the driver of Crimson Fury and a good FBI agent who participates in the Twisted Metal tournament to bring down its ruler, Calypso.
Bankens is known for Ambition, Deadlock, and One of These Days.
17.) Angel Giuffria - Tinker
Angel Giuffria is Tinker in Twisted Metal, an original character created for the series. 
Giuffria's past credits include Tomorrow War, Hover, and The Accountant.
18.) Matthew Rimmer - Bill the NSF Guard
Matthew Rimmer plays Bill, one of the characters in the Twisted Metal series who serves as an NSF Guard.
Rimmer is known for The Lovebirds, The Change-Up, and Grudge Match.
19.) Creek Wilson - Mr. Slam
Creek Wilson plays Mr. Slam in Twisted Metal. 
In the game, Mr. Slam is depicted as a yellow front loader/construction vehicle that is built with good armor. Moreover, there is also a driver named Slam who is a contestant of the Twisted Metal games.
Interestingly, in the series, Wilson's Mr. Slam is the one who operates the giant construction vehicle. 
20.) Peg O'Keef - Granny Dread
Peg O'Keef plays Granny Dread, an old lady who drives Hammerhead and is the grandmother of Miranda Watts. 
21.) Wanetah Walmsley - Amy
Wanetah Walmsley plays Amy, Sweet Tooth's mom in the series. 
Walmsley is known for Pitch Perfect 2, The Runner, and Straw Dogs.
---
Twisted Metal is now streaming on Peacock.