Netflix's 2023 docu-series, Till Murder Do Us Part, recounts the killings of Derek and Nancy Haysom by including a series of interviews with a cast of real people. 
The four-part docu-series revolves around the unpacking of how a wealthy couple was murdered in Virginia in 1985. It also focuses on how the suspects, Elizabeth Haysom, and her boyfriend, Jens Soehring, betrayed each other during the trial. 
Till Murder Do Us Part made its debut on Netflix on November 1. 
Every Main Interviewee in 2023's Till Murder Do Us Part 
Jens Soering
Suspect
Jens Soering is one of the suspects in the Derek and Nancy Haysom killings in 1985. He is the boyfriend of the couple's daughter, Elizabeth Haysom. 
Jens is the son of a German diplomat. During the murder trial, he turned on Elizabeth by admitting that he was the one who killed her parents.
Buzz McFaden 
Road Deputy, Bedford County
As a road deputy of Bedford County, Buzz McFaden was one of the early responders when the Haysoms were murdered. 
He was assigned to be the crime scene security officer during the ordeal. Buzz pointed out that the couple were not simply killed, noting that "there was a lot of hatred [there]."
Tammy Martin 
Former Sheriff's Deputy, Bedford County
Tammy Martin was a sheriff's deputy of Bedford County when the murders happened in 1985. 
She explained that Bedford County was "not the same" after the murders. 
Jeff Taylor
News Anchor
Working as the managing editor and anchor of Channel 13, Jeff Taylor was the one who spearheaded the broadcast of the Haysoms murders in 1985.
He is also one of the friends and neighbors of Derek and Nancy Haysom. 
Louis Benedict 
Nancy Haysom's Brother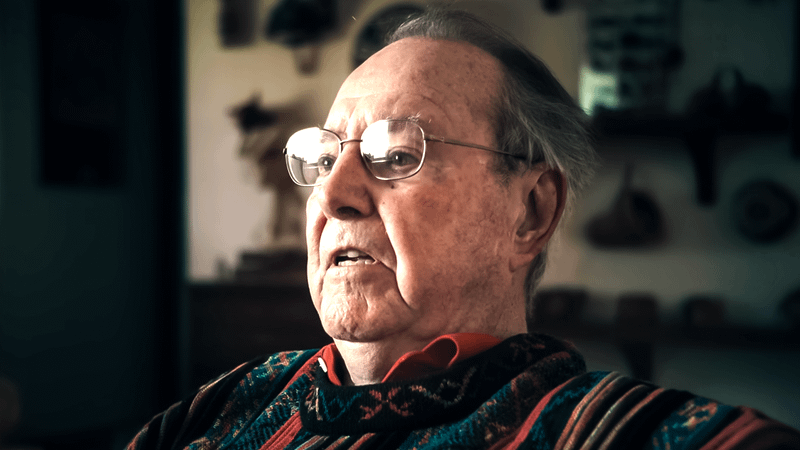 Louis Benedict is Nancy Haysom's brother who was devastated by her death. 
He also revealed that Nancy wanted to be the leader of the Lynchburg Society before her demise. 
Kay Benedict
Nancy Haysom's Sister-in-Law
Kay Benedict is Louis' wife and Nancy's sister-in-law. 
Kay revealed that Elizabeth, the suspect and the couple's youngest daughter, was actually the one who organized her parent's funeral. 
Chuck Reid 
Lead Investigator, Bedford County Sheriff's Office
Chuck Reid is one of the lead investigators of the Bedford County Sheriff's Office who took on the case in 1985. 
Having worked for law enforcement for 30 years, he admitted that the Haysom murders were "probably the worst" he ever saw. 
Ricky Gardner 
Lead Investigator, Bedford County Sheriff's Office
Ricky Gardner is another lead investigator who worked on the case and was also Chuck Reid's partner in 1985. 
Ricky was assigned to ask the neighbors if they'd seen anything unusual with the Haysoms during the day of the murder. 
Ken Beever
Detective Sergeant Metropolitan Police
Ken Beever was a detective sergeant of the Metropolitan Police in Richmond, London in 1986. 
He was the one who ordered the store detective to arrest Elizabeth and Jens while they were purchasing goods at the market.  
They were the ones who discovered the couple's mysterious belongings, which included fake identifications, wigs, and all sorts of clothes. 
Amy Lemley 
UVA Alumna & Local Reporter
Amy Lemley is a local reporter and an Echols scholar who knew about Jens Soering and Elizabeth Haysom's relationship and was a friend of the couple. 
Amy talked about how "everybody was surprised that these two ended up together."
Phyllis Workman
Elizabeth's Cousin
Phyllis Workman is the only family member of Elizabeth in Lynchburg who was close to her. 
She revealed that Elizabeth told her about "the anger that Jens felt toward her parents" because they wanted the couple to break up. 
Hanns Feigen
Former Attorney for Jens Soering
Hanns Feigen revealed that it was Jens' father who approached him to represent his son during the murder trial. 
Hanns revealed that the goal was to try to get Jens extradited to Germany and avoid the death penalty.
Rachel Ryan
Investigative Journalist
Rachel Ryan is an investigative journalist who explored everything about the Haysoms' death. 
She discussed how Elizabeth cut things off with Jens and how it greatly impacted the latter. 
Courteney Stuart 
Investigative Journalist
Another investigative journalist who worked on the case is Courteney Stuart. 
Courteney talked about the reactions to seeing Jens back in the United States. She also did some reporting about this case, with her describing then that it was "just a total media circus."
Carlos Santos
Crime Reporter
Carlos Santos is a crime reporter who talked about the work of Prosecutor James Updike and how the case impacted his career. 
Santos is a proven veteran since he covered over 40 murder trials in Virginia. 
Sandy Hausman 
Radio Reporter
Sandy Hausman is a radio reporter who was able to talk to Jens after being sent to prison. Sandy described Jens as an "intriguing character."
Chip Harding 
Former Sheriff
As a former investigator who has over 30 years of experience, Chip Harding was the one who reviewed Jens' case, and said, "Whoa! This is nothing like what was represented in the media."
Chip believed that Jens had been labeled a murderer because "a jury heard a set of what they thought were facts, but actually weren't accurate."
John Grisham
Bestselling Author & Former Lawyer
John Grisham was a lawyer who is now a bestselling author and spent over 500 hours investigating Jens' case with Chip Harding because they believed that "this guy is innocent."
Dr. Stuart Hamilton
Pathologist
Dr. Stuart Hamilton is a pathologist who investigated how Jens allegedly slit Derek Haysom's throat. 
Stuart noted that Jens' confession "doesn't seem to fit the pathology," pointing out that there were multiple slices that were severe enough to damage Derek's windpipe. 
Dr. Andy Griffiths 
Police Interview Expert
Working as a police interview expert, Dr. Andy Griffiths analyzed how it was evident that something was wrong when the police questioned Jens at the Richmond police station in Southwest London. 
Andy noted that the interview would've included all the crime scene exhibits, witness statements, pieces of forensic information, and breaks to verify the information. 
Chris Fabricant
Forensics Science Expert
As a forensics science expert, Chris Fabricant discussed Jens' sock size and how it factored in during the investigation. 
Andrew Hammel
Author & Former Lawyer
Andrew Hammel, a former lawyer and an author, talked about Jens' failed attempts to prove his innocence at the appeal courts and how the convicted felon managed to write a book named Mortal Thoughts that chronicled his real side of the story.
Dr. Sarah Reel 
Forensic Podiatrist
Dr. Sarah Reel is a forensic podiatrist who was involved with Jens' and Elizabeth's footprint examination. Sarah pointed out that, statistically, there is no difference "between a bare footprint and a socked footprint."
The doctor suggested that Jens' reference footprint matched closely with the crime scene footprint. 
---
In the four-part docu-series, here are the actors who starred in the recreation of the murder: 
Camillo Guthmann - Jens Soering
Luise Ehl - Elizabeth Haysom
Dominic Reisner - Terry Wright
Bradley Hengerer - Terry Wright (US)
Leif Eisenberg - Ricky Gardner
Brendan Lynch - Ricky Gardner (US)
Serhii Zabairachnyi - Ken Beever
Ray Manfredi - Ken Beever (US)
Maik Kubbillun - Chuck Reid
Yvonne Blaschke - Girlfriend Elizabeth Haysom
John Stone - Robert Lewis Albright
Danny Aus Den Birken - William L. Shifflett
Lelia Yvetta - Elizabeth Haysom (voice)
Flynn Shank - Jens Soering (voice)
---
Till Murder Do Us Part is now streaming on Netflix.