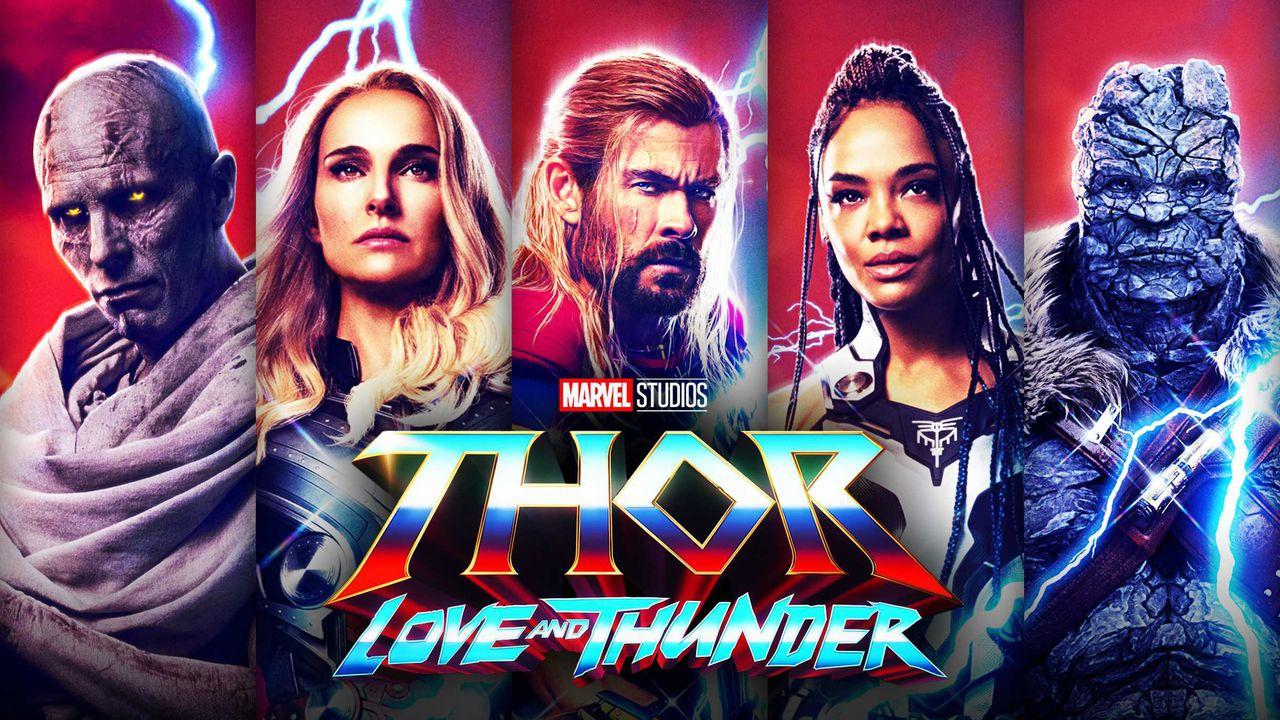 The fourth installment in the Thor franchise has been released globally in theaters. Thor: Love and Thunder marks Chris Hemsworth's 8th time donning the suit with either Mjolnir or Stormbreaker. It is also Taika Waititi's second directorial performance in the MCU and re-introduces Jane Foster after being sidelined since 2014's Thor: The Dark World.
Similar to The Dark World, Love and Thunder is getting mixed reviews from critics and audiences. The film sits at 68% on Rotten Tomatoes among critics and received a B+ CinemaScore from audiences. A B+ CinemaScore translates to the lowest of any previous Thor movie.
Regardless of the reception, the Thor franchise has continually grossed more money at the opening weekend box office. Thor opened at $65.7 million, followed by $85.7 million by The Dark World, and $122 million by Thor: Ragnorak. Thor's latest adventure looks to continue the trend.
Thor 4 Breaks Franchise Box Office Records
Thor: Love and Thunder grossed an estimated $143 million at the domestic box office in its opening weekend. This marks the highest opening for a Thor film, the 12th highest MCU opening, and the third-highest opening weekend of 2022.
Love and Thunder also earned the highest opening weekend ever for an MCU film released in July. Beating out films like Spider-Man: Homecoming, Far From Home, and Ant-Man and the Wasp.
Taika Waiti's second Thor installment also brought in $159 million internationally, bringing the worldwide gross to $302 million in its opening weekend.
The aforementioned B+ CinemaScore could be a sign of the future of Love and Thunder's box office performance. For example, May's Doctor Strange in the Multiverse of Madness opened at a whopping $187 million, received a similar B+ CinemaScore, and only saw a 2.19x multiple off its opening, resulting in $411 million currently at the domestic box office.
On the other side of the CinemaScore coin, Spider-Man: No Way Home received an A+ CinemaScore, opened to a historic $260 million, and saw a 3.1x multiple of its opening, earning it $804.7 million at the domestic box office.
Even on a smaller scale, Shang-Chi and The Legend of the Ten Rings received an A CinemaScore and ended up earning nearly 3x multiple of its $75.3 million opening, totaling a $224.5 million domestic gross.
Why Did Multiverse of Madness Greatly Outperform Love & Thunder?
The answer is simple. Doctor Strange in the Multiverse of Madness was an event, Love and Thunder is just another Taika Waititi Thor solo film. 
Marvel Studios events like an Avengers film, Captain America: Civil War, or Spider-Man: No Way Home are always going to be the top opening weekend earners. The curiosity behind these larger-than-life, universe-altering events puts a lot of incentive for fans and general audiences to head out to the theater's opening weekend. Especially now after No Way Home, it feels like anything could happen, or anyone could make an appearance.
Thor: Love and Thunder did market the Guardians of the Galaxy team-up, but that wasn't enough to storm past a $150 million opening. Setting expectations is a huge part of the future marketing for MCU films. Marvel Studios wants to earn as much money as humanly possible but doesn't want to begin deceiving fans that expect a more Earth-shattering crossover or event.
Thor: Ragnorak grossed $850 million globally, Love and Thunder is off to a $302 million start. Time will tell if Thor will continue to gross more than its predecessors at the box office, or how long Love and Thunder will stay in theaters before inevitably becoming available on Disney+.
Thor: Love and Thunder is now playing in theaters worldwide.