After a stellar second season, The Morning Show is back for Season 3 on Apple TV+ alongside its remarkable cast headlined by Jennifer Aniston. 
The Morning Show explores the different personnel and workplace culture behind a network broadcast morning news program. 
The hit series made its debut on Apple TV+ on November 1, 2019. In January 2022, it was renewed for Season 3, which then premiered on the streaming service on Wednesday, September 13.
Every Actor & Character in The Morning Show Season 3
Jennifer Aniston - Alexandra "Alex" Levy 
Alexandra Levy is the host of The Morning Show on the UBA network, and she is portrayed by Jennifer Aniston. 
At the end of Season 2, Alex tested positive for COVID-19, but it led to a new opportunity for her. Chip Black, The Morning Show's executive producer, convinced her to document her recovery to set up a new online show for the UBA's streaming service. 
After learning that Chip lied about testing positive to be able to work with her, Season 3 is set to explore the ramifications of that decision. 
In an interview with PEOPLE in June 2023, Aniston teased that "everybody's getting in trouble" in The Morning Show Season 3: 
"It's a good, juicy one. Everybody's getting in trouble. Everybody has a secret. And everyone's just walking the line. It's a lot more sensual this year."
In a press kit obtained by The Direct, Aniston laid out the groundwork for Alex's journey in Season 3, pointing out that "she finally steps into her power:"
"Season one gives Alex a nervous breakdown, season two ends with a life and death reckoning, and in season three she finally steps into her power. Her moral compass is challenged and she has to choose what she believes in her heart is the right thing to do."
Perhaps best known for playing Rachel in Friends, Aniston also appeared in movies, such as Office Space, Horrible Bosses, Bruce Almighty, Murder Mystery, and Just Go With It.
Reese Witherspoon - Bradley Jackson
After replacing Mitch Kessler (Steve Carrell) to become The Morning Show's new anchor, Reese Witherspoon's Bradley Jackson had her fair share of ups and downs. 
In the show's sophomore run, Bradley dealt with the search for her missing brother and was unexpectedly outed as gay due to her relationship with Laura. 
Season 3 is poised to showcase a much more positive journey for Bradley, especially after dealing with a lot of troubles in the past season. 
Speaking with Entertainment Tonight in January 2023, Witherspoon teased that Season 3 will include "lots of romance" while also hinting that new episodes will take place in the post-pandemic era. 
In a press kit obtained by The Direct, Witherspoon teased Bradley's "incredible journey" in Season 3:
"She's now the anchor of the evening news, a far cry from the naive 
truth-teller we met in season one. Bradley goes on such an incredible journey this season. She has this deep internal conflict because she is hiding this secret, but she also has a responsibility to report the news so she's in conflict the entire season. She has great conflict with her family and her job, her journalistic integrity is questioned, and it's riveting to watch this secret inside her start to tear her apart. I think this season has more drama than any other season."
Witherspoon is best known for her roles in Legally Blonde, Sweet Home Alabama, Walk the Line, and Big Little Lies.
Billy Crudup - Cory Ellison
Billy Crudup's Cory Ellison is the former president of UBA's News Division who confessed his feelings to Bradley Jackson in Season 2. 
However, things became complicated when it was revealed that Bradley had feelings for Laura. 
Season 3 is expected to tackle this newfound love triangle, exploring the ramifications of the pandemic toward UBA, and the fact that he actually betrayed Bradley by exposing her relationship with Laura. 
Speaking with The Hollywood Reporter in November 2021, Crudup reflected on Cory's decision to confess his feelings to Bradley: 
"It was such a shocking moment for Cory to realize that [he loves Bradley]. When he says it to Bradley, I think it's truly a discovery. Whether it happened to him just in that moment or the day before, it wasn't something that he's been sitting on for four months [the timeline of seasons one and two]."
Crudup is best known for his roles in Mission: Impossible III, Almost Famous, Zack Snyder's Justice League, and Watchmen. 
Greta Lee - Stella Bak
Replacing Cory Ellison to become the new president of the UBA's news division is his protege: Greta Lee's Stella Bak. 
Stella is an ambitious leader who has strong principles when it comes to leadership. Stella doesn't like Alex at all, which is the exact opposite of the news anchor's dynamic with Cory. 
Lee's past credits include Past Lives, Russian Doll, Spider-Man: Across the Spider-Verse, and Sisters.
Mark Duplass - Charlie "Chip" Black
Serving as The Morning Show's executive producer and Alex and Bradley's supervisor is Mark Duplass' Charlie "Chip" Black.
Season 3 is set to address the revelation that Chip actually lied to Alex about testing positive for COVID-19 so that he could work with her for the documentary series on UBA+. 
In a press kit obtained by The Direct, Duplass described his dynamic with Alex as being emotionally codependent with her: 
"There's something about the vortex and the chaos of 'The Morning Show' that seduces him and keeps bringing him back. There is a lot of dysfunction in how much they rely on each other."
Duplass previously appeared in Cyrus, The League, The Lazarus Effect, and Room 104.
Julianna Margulies - Laura Peterson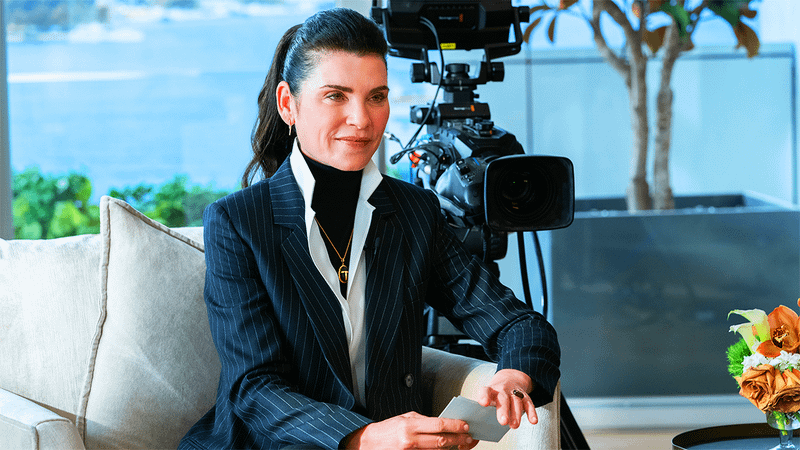 Julianna Margulies' Laura Peterson is one of UBA's anchors who has a secret relationship with Bradley Jackson. 
After serving as a catalyst to allow Bradley to embrace her sexuality, Season 3 is set to explore more of their relationship. Hopefully, the pair will eventually announce their relationship to the world so that Cory can finally move on.  
Margulies previously appeared in The Good Wife, ER, Ghost Ship, and Snakes on a Plane.
Néstor Carbonell - Yanko Flores
A newsroom wouldn't be complete without its resident weatherman, and UBA's is portrayed on-screen by Néstor Carbonell as Yanko Flores. 
In a press kit obtained by The Direct, Carbonell admitted that his character feels like an outsider, noting that he is still "looking for meaning" in Season 3:
"Yanko is looking for meaning which makes him more emboldened, unapologetic, and empathetic while also putting him at odds with his co-host and some of his co-workers."
Carbonell is known for his roles in Bates Motel, Bandit, and Suddenly Susan.
Karen Pittman - Mia Jordan
Karen Pittman's Mia Jordan serves as Bradley Jackson's producer in The Morning Show. 
In the final episodes of Season 2, Mia was the one who sent everyone back home once she learned that Alex tested positive for COVID-19. Mia also had a heartfelt conversation with Daniel about being Black in their industry.
Mia's last interaction with Daniel could serve as a potential launchpad for her to open the topic of racial equality in the newsroom in Season 3.
Pittman is known for her roles in Unthinkably Good Things, And Just Like That..., and What We Do Next.
Janina Gavankar - Alison Namazi
Alison Namazi is one of the anchors in The Twist, the pop culture segment of The Morning Show. The character is played by Janina Gavankar.
Gavankar previously appeared in The Way Back, Blindspotting, and The Mysteries of Laura.
Holland Taylor - Cybil Reynolds
Playing one of UBA's network executives is Holland Taylor's Cybil Reynolds.
In Season 2, Cybil argued with Cory about potentially delaying UBA+'s launch due to the COVID-19 pandemic, but the streaming service was eventually released much to her disappointment.
Taylor is known for her roles in Two and a Half Men, Legally Blonde, and George of the Jungle.
Valeria Golino - Paola Lambruschini
Paola Lambruschini was the documentary filmmaker whom Mitch met while he was in Italy. The character is played by Valeria Golino.
While Paola was romantically involved with Mitch during their stay in Italy, she was also able to convince him to be the main focus of her documentary. 
Cory tried to convince her to release the documentary, but she felt that it would betray Mitch in doing so. It's possible that Paola could end up reconsidering Cory's offer in Season 3. 
Jon Hamm - Paul Marks
Jon Hamm joins The Morning Show's stellar cast in Season 3 as Paul Marks. The character is described as a billionaire tech entrepreneur who appears to have UBA as his main target. 
Speaking as a guest on The Tonight Show in March 2023, Jennifer Aniston teased Hamm's role in the series, hinting that his character has a "big" secret: 
"Everybody has a secret. We're revealing a lot of secrets. There's definitely romance. Mr. Jon Hamm is a big one. We were excited to get him. Isn't he the nicest guy? He's this very handsome leading man and then he's got this funny — it's just so fabulous."
In a press kit obtained by The Direct, Hamm reflected on his upcoming complex role in The Morning Show: 
"When you first meet Paul, you think you know everything about him, 
but as time goes on you realize that the presumptions you made aren't accurate. In a nutshell, Paul is an enigma wrapped in a puzzle, wrapped in athletic leisurewear. I had a wonderful time telling the story, playing the character and moving the narrative forward to an interesting place for the audience. When you work with such amazing actors you're asked to play at a very high level which is what I like to do."
Hamm previously appeared in Providence, Mad Men, Good Omens, Black Mirror, and Top Gun: Maverick.
Natalie Morales - Kate Danton
Joining The Morning Show's cast is Natalie Morales as Kate Danton. She is Stella's best friend from Standford who has past ties with Paul Marks.
Morales is best known for her roles in No Hard Feelings, Dead to Me, Parks and Recreation, and The Little Things.
Nicole Beharie - Christina Hunter 
Another fresh face who will appear in The Morning Show Season 3 is Nicole Beharie as Christina Hunter. 
Christina is a competitive new anchor who is hard on herself and everyone around her.
In a press kit obtained by The Direct, Beharie teased what to expect about her character in Season 3, hinting that she will be "forced to deal with the heavier side of things in life:"
"She's stepping into some really big shoes and finding her voice. She is hired as the fun host and she's comfortable in that place as she's always been an athlete who brings a lot of energy and fun to a situation. But suddenly, she's forced to deal with the heavier side of things in life, and it makes her transition and figure out where her power truly lies." 
Beharie is known for her roles in Sleepy Hollow, Shame, 42, and Breaking.
Tig Notaro - Amanda Robinson
Tig Notaro's Amanda Robinson serves as Paul Marks' chief of staff. 
Notaro previously appeared in Army of the Dead, Your Place or Mine, and Instant Family.
Stephen Fry - Leonard Cromwell
Leonard Cromwell is one of the UBA board members who allowed the company to struggle financially. The ruthless character is played by Stephen Fry.
Fry is known for his roles in Red, White & Royal Blue, Wilde, Blackadder, and V for Vendetta.
---
The Morning Show Season 3 is now streaming on Apple TV+.