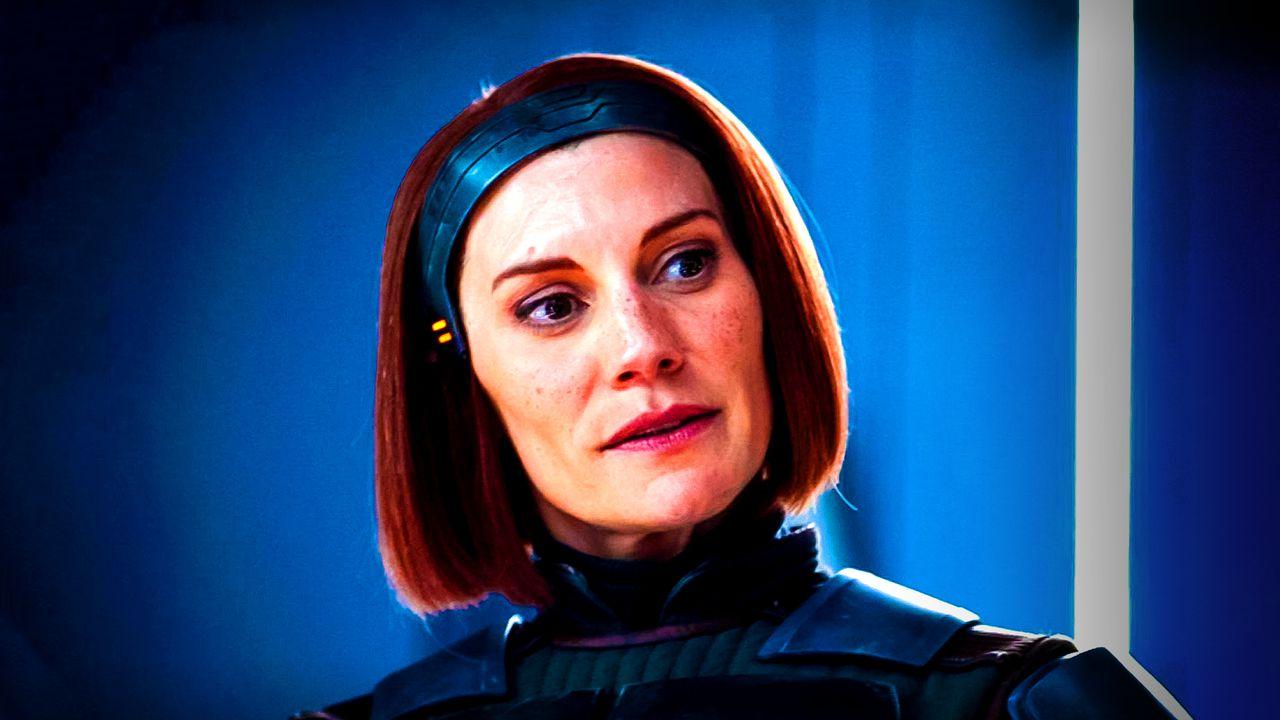 Bo-Katan's more prominent role in The Mandalorian Season 3 led many diehard fans to admire the character in unexpected ways and Star Wars star Katee Sackhoff has taken notice. 
Sackhoff's Bo-Katan took center stage in Season 3, surprising many Star Wars fans since some claimed that Din Djarin and Grogu were sidelined. 
Although trailers painted Bo-Katan as Season 3's main villain, the show's current run on Disney+ debunked those theories since she served as one of the lead protagonists. Not all fans are complaining though, with the Star Wars actress now acknowledging viewers who are happy to see Bo-Katan on-screen for other reasons.
Katee Sackhoff Reacts to 'Thirsty' Star Wars Fans
In an interview with Kristian Harloff, Bo-Katan Kryze actress Katee Sackhoff addressed the overwhelming fan reception toward her Star Wars character in The Mandalorian Season 3, including the portion of the fanbase thirsting over her hero.
At one point during the conversation, Sackhoff hilariously pointed out the percentages of Star Wars fans who had different reactions to Bo-Katan's involvement in Season 3, with her jokingly estimating that "two percent" of diehards want her character to sit on their faces: 
"I don't know, 70% are super, super excited about [Bo-Katan], you got ten percent like 'I hated the whole thing,' you got five percent 'you just hate Bo,' and then you got two percent that want me to sit on their face."
The above quote was part of the Star Wars actress' explanation of how she usually rants to her husband about the collective reactions of fans toward Bo-Katan: 
"My husband gets so mad at me, because I will go on social media and I'll be like, 'Everybody f**king hates me. Everybody hates me. They're talking about how stupid this is. This person says that I don't know anything. This person says that watching me act is like watching paint dry. This person says that Katee Sackhoff can't [act] her way out of a paper bag.' And he's like, 'How many people said that? How many people?' I'm like, 'All of them.'"
Sackhoff later laughed about how acknowledging the simping part of the fanbase was crucial to explaining the breadth of the fan response to Bo-Katan as a character:
"I'm trying to give him the whole scope of what we're dealing with here. These are the numbers. This is what we're dealing with… I broke it down for him. He was like, 'Alright, that's true.'"
The Bo-Katan actress also opened up on how "art is subjective," noting that not everyone will always love "what you do:"
"Art is subjective. Not everyone is always going to love what you do and we would be stupid if we thought that everybody would like us, like the work we do, like our talent, and like the stuff that we do. And you just… you gotta let it go."
A clip of Sackhoff's reaction can be seen below: 
When Will Bo-Katan Return?
It isn't surprising that there are "naughty" and "thirsty" Star Wars fans holding their collective breath whenever Bo-Katan shows up on their Disney+ screens, considering how The Mandalorian Season 3 successfully elevated Katee Sackhoff's character.
While Sackhoff's hilarious comment is a fitting acknowledgment of those sections of the fanbase, the actress' honest remark about her haters suggests that she is at peace with the idea that one cannot please everyone. 
It is unknown when exactly Bo-Katan will return after The Mandalorian Season 3's happy ending. 
While there's a safe bet that Sackhoff's Star Wars character is expected to return in the already-confirmed The Mandalorian Season 4, Bo-Katan could make a surprise appearance in Ahsoka, mainly due to the pair's established friendship. 
All episodes of The Mandalorian Season 3 are streaming on Disney+.