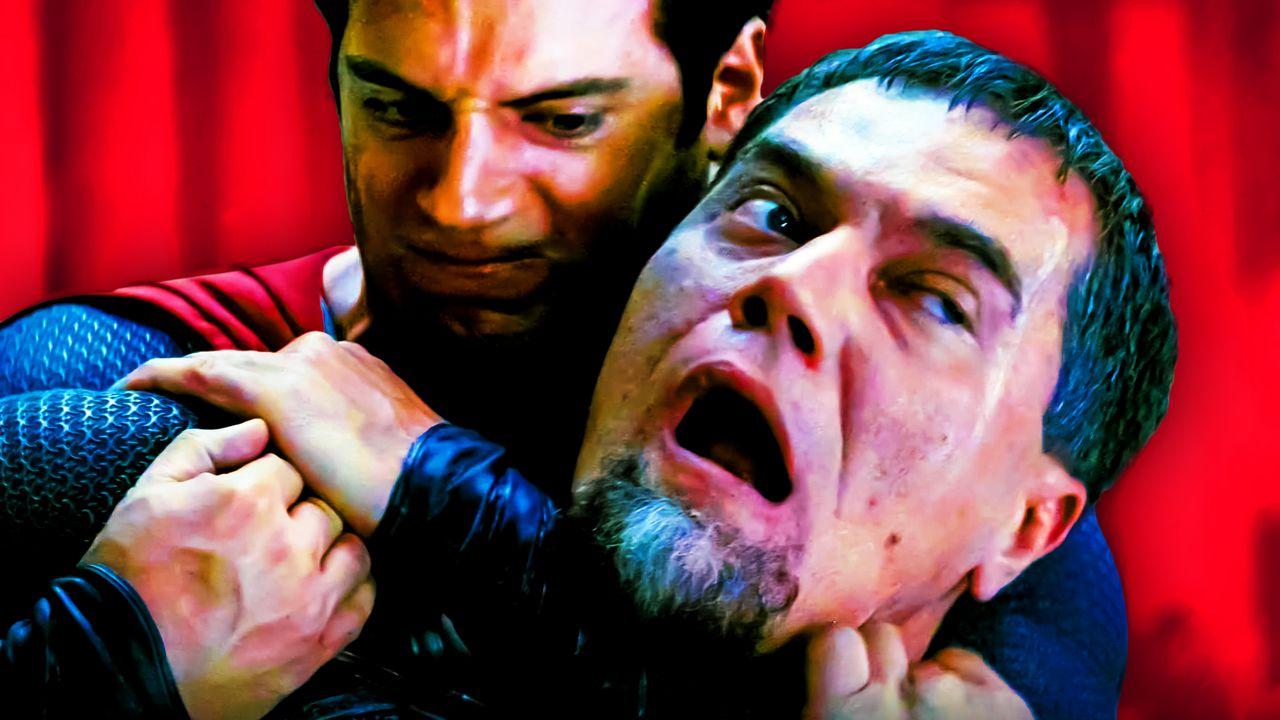 With Michael Shannon returning as Zod in The Flash, the actor remarked on his return to the role after his character's death in Man of Steel.
After a pitched battle through the streets, skies, and buildings of Metropolis, and with dozens of casualties incurred, Superman finally snapped Zod's neck right before the Kryptonian general was about to heat vision a group of bystanders.
That was ten years ago in Zack Snyder's Man of Steel. Now, with The Flash movie set to travel the DC Multiverse, Michael Shannon's memorable villain has an opportunity to make a comeback.
Michael Shannon on Reprising Zod
In a video segment from Vanity Fair, actor Michael Shannon discussed the moment in Man of Steel where his character, General Zod, forces Superman to kill him. This was a moment that he admitted caused some "consternation" with the fanbase:
"So, 'The Flash' comes around. As I recall, at the end of 'Man of Steel,' Superman breaks my neck and kills me, which was the cause of much consternation among some fans because Superman's not supposed to kill people. But I say to Superman, 'It's either me or you,' so he has to do it."
Shannon continued, describing his reaction to getting the call to reprise his villainous role in The Flash:
"So then I get this call, I'm like, 'They saw 'Man of Steel,' right?' And my manager's like, 'Yeah, they saw 'Man of Steel,' but it's different.' I'm like, 'What is it?' 'It's a Multiverse.' I'm like, 'I don't know what that means.'"
As the actor explained, his experience playing Zod for Flash wasn't close to the major commitment he undertook for Man of Steel:
"But it was a very different thing because, like, 'Man of Steel,' it was like a year of my life between the training, we did a whole summer of physical training leading up to the shooting and the shoot was, like, six months long or something. I was in and out of 'Flash' in like, like a flash, like two or three weeks. That's it."
Why? Because the movie is about the Flash and his affiliated characters. It's not another Superman tale:
"'The Flash' isn't my story, you know, I'm there as an adversary, a threat, a problem to be dealt with. 'The Flash' is really The Flash's story."
Previously, Michael Shannon spoke on his appearance in The Flash and how it was initially confusing to him since his character died in a movie from a decade ago:
"I was a little confused. I said, "As memory serves me, I think I died in 'Man of Steel.' Are they sure they got the right guy?" But then they explained to me the whole multiverse phenomenon, which ... I was a little behind the times on that. I can't say that I'm a huge consumer of this genre of films — not that I have anything against them. If I'm going to watch a movie, the odds are it's not going to be one of those, but I sure love making them."
Could Shannon's Zod Ever Appear Again?
Michael Shannon has indeed gone on record that he enjoys playing roles like Zod. He even took an interest in Zod's motivations from Man of Steel and defended the character's actions to a point. 
These movies may not be the type of thing that he actively seeks out in his career, but it's nice to know that he's able to derive some fun out of doing them. 
That being said, it's very likely that his appearance in The Flash will be his final turn as the character. Zod is only alive again because Barry Allen mucked up history by traveling back in time to save his mother, and it's probably safe to say that Zod's reign will be over by the time the end credits roll on Flash.
Moreover, with DC Studios co-CEOs James Gunn and Peter Safran remaking the DC Universe as they see fit, and rebooting much of it in the process, it would seem that Shannon's time as Zod has indeed come to an end.
And that's okay. Shannon is a terrific actor and he should have no difficulty whatsoever finding other work. Perhaps someday he'll even crop up in another superhero movie somewhere?
The Flash races into theaters on Friday, June 16.
---
Release Date
June 16, 2023
Platform
Theaters