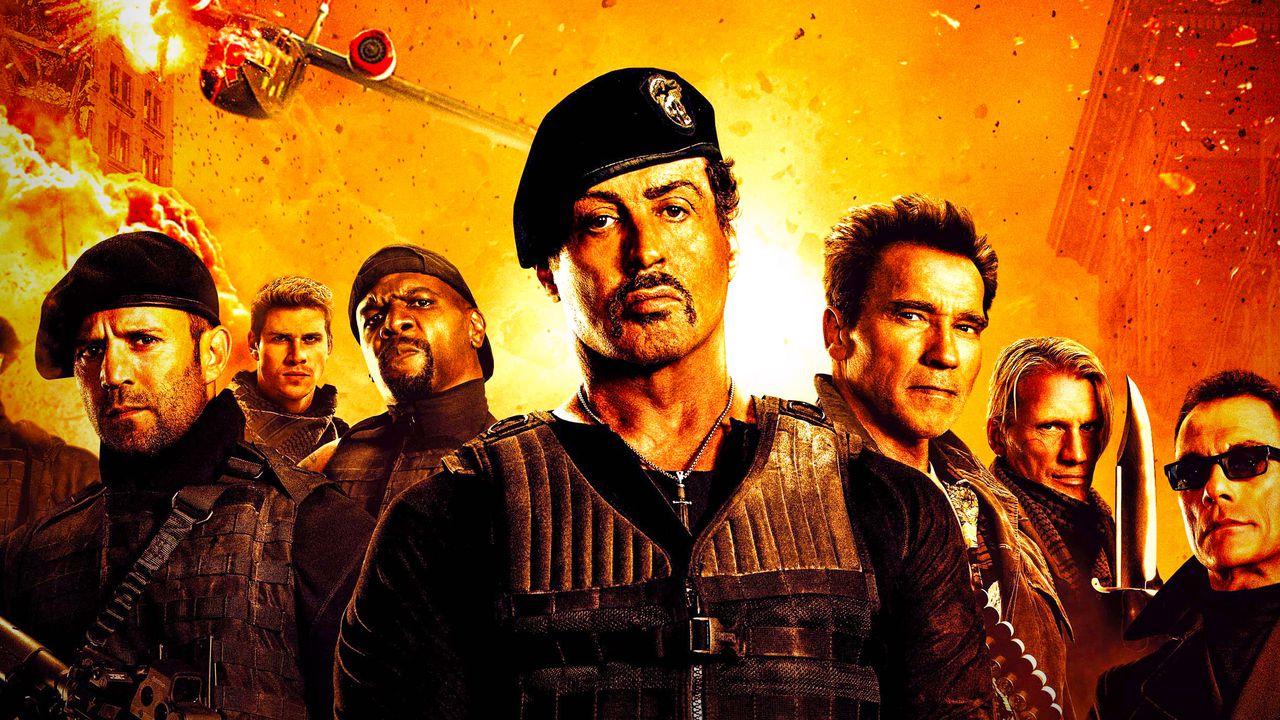 Hot on the heels of the fourth film in the franchise's theatrical release, The Expendables 1-3 are getting removed from the streaming service that currently houses them.
The Expendables movies seem to know what they are. The film series, which stars an ensemble cast of action cinema luminaries like Sylvester Stallone and Jason Statham, relishes its use of high-octane, over-the-top stunts and explosions.
Lionsgate's franchise is now four films deep, with the newest installment suffering diminishing returns. But these flicks do indeed have their fans. At its core, Expandables is mostly a fun 80s action throwback, as evidenced by the actors who star in the movies.
How to Stream the Expendables Movies Onlinie
Netflix, which presently carries The Expendables, The Expendables 2, and The Expendables 3 won't be doing so for much longer. 
The streamer announced that they will remove the three Sylvester Stallone-led action films on October 4.
But fans of the Expendables franchise don't necessarily need to fret, as these movies are offered elsewhere online. 
In addition to being available for rental or purchase through one's favorite video-on-demand storefront, Expendables 1-3 can be streamed on AMC+, Starz, and Tubi (with that last option containing ads that play during the movie).
Is There Any Chance of an Expendables 5?
The Expendables 4, (stylized as Expend4bles) hit theaters on September 22, and… it didn't make much of a splash. 
Critics took issue with Stallone's limited role, bad special effects, and the notion that the film presented a formula that's just perceived as tired by this point. 
The marketing felt weak, further hampered by the SAG-AFTRA strike rendering the movie's stars unable to perform any promotion for it. And on a $100 million budget, Expendables 4 has brought in a paltry $36 million worldwide.
Suffice it to say, another sequel likely isn't in the cards. Stranger things have happened, but the general rule of thumb is as follows: No profit = no sequels.
Expendables 4 producer Les Weldon recently remarked that the future of the franchise is in the hands of the fans. There's also long been discussion of a women-led Expendables installment as well. Whether or not it moves forward remains to be seen.
Sylvester Stallone shows no signs of slowing down though, having recently turned in a brief appearance in Marvel's Guardians of the Galaxy Vol. 3 where he reprised his role of Stakar Ogord. He also stars in Tulsa King for Paramount+.
Expend4bles is now playing in theaters everywhere.