The Afterparty Season 2 is headlined by an all-star cast led by Tiffany Haddish and Ken Jeong. 
The hit Apple TV series was created by Christopher Miller and Phil Lord (Spider-Man: Across the Spider-Verse), and it revolves around a murder investigation as it tackles each character's perspective of what happened during the night of the crime. 
The Afterparty made its debut on Apple TV+ on January 28, 2022. The series was then renewed for Season 2 in March 2022, which premiered in July 2023.
Every Actor & Character in The Afterparty Season 2 
1.) Tiffany Haddish - Detective Danner
Tiffany Haddish reprises her role as Detective Danner, the investigator who helped solved the crime behind Xavier's murder in Season 1. 
In Season 2, Danner is no longer a detective after she quit the force in the Season 1 finale. Instead, the character is now an author who landed a deal to write a book about Season 1's case. 
Danner returns to help solve Edgar's murder in Season 2, but she will do so without a badge.
In an interview with Collider prior to the actors' strike in August 2023, Haddish teased what to expect in Danner's return, noting that she still has "detective tendencies" even though she is just a civilian: 
"This season, I'm a citizen. I'm just a civilian, but I still have detective tendencies. I'm drawn to it, no matter what. I have to help. She enjoys helping and solving mysteries. That's her thing."
Haddish is a renowned stand-up comedian and actress whose credits include Disney's Haunted Mansion, Girls Trip, Back on the Strip, and The Card Counter.
2.) Sam Richardson - Aniq Adjaye
Sam Richardson returns as Aniq Adjaye, an escape room artist who confessed his feelings to Zoe during the Season 1 finale. 
In order to continue impressing Zoe in Season 2, Aniq decides to go to her sister's wedding, but everything goes awry when the groom is murdered. Aniq was the one who contacted Danner to help solve the case. 
In July 2023, Richardson explained to TV Line that Aniq really wants to "make such a great impression" on Zoe's family in Season 2:  
"He's so smooth. He's a ball of nerves trying to meet the next most important people to Zoe other than her child: her sister and parents. He wants to make such a great impression because he also has a big question to ask her some time during this show. He wants their approval because he wants to ask Zoe to marry him. Right from the get-go, the very first thing he does: He keeps putting his foot in his mouth. He just can't do the right thing. He tries to do the right thing throughout the whole series, but he just has a hard time of it."
Richardson is best known for his roles in Veep, Detroiters, The Second City Project, Hocus Pocus 2,  and Champaign ILL. 
3.) Zoë Chao - Zoë Zhu
Zoë Chao reprises her The Afterparty role as Zoë Zhu, Aniq's love interest whose sister, Grace, is getting married in Season 2. 
After her sister is framed for the death of her fiance, Zoë is set to do anything as she works with Aniq and Danner to clear her sibling's name. 
Speaking with TV Line in July 2023, Chao praised Season 2's use of "period genres" as it explores the different perspectives of each character to try and solve the murder: 
"I loved the period genres we got to play. There's Hitchcock, film noir, a Jane Austen episode… in Season 2 we got to go further into these genres with wigs and costumes. That was just such a delight. And figuring out who your character is from 10 different angles and the perception of your character from 10 [other] characters is a unique exercise."
Chao is an actor and screenwriter known for her roles in Strangers, Love Life, Modern Love, Senior Year, Bernadette, and Your Place or Mine. 
4.) John Cho - Ulysses Zhu
John Cho plays Ulysses Zhu, Feng's brother who is described as an adventurer and dubbed the "fun uncle" by his nieces and the family. Ulysses also serves as Feng's (Ken Jeong) archrival.
Cho is known for his roles as Columbus, Star Trek, Searching, Sleepy Hollow, and Cowboy Bebop. 
5.) Paul Walter Hauser - Travis Gladrise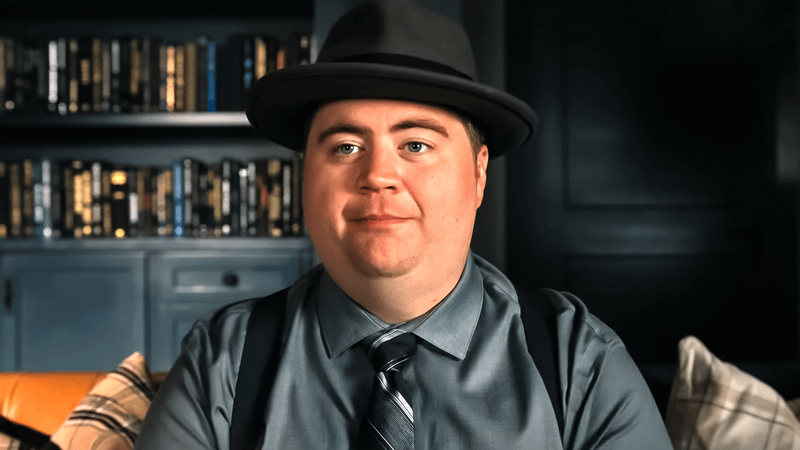 Paul Walter Hauser plays Travis Gladrise, Grace's ex who is considered by many as a prime suspect in Edgar's murder. Travis also immerses himself in Reddit as he is an avid fan of uncovering murder mysteries online. 
Hauser is known for his roles in Black Bird and Reno 911!. 
6.) Ken Jeong - Feng Zhu
Ken Jeong plays Feng Zhu, Zoe and Grace's father who is a successful businessman and owns a food truck. Feng also appears to not like Aniq for his daughter. 
Jeong, who is a real-life doctor, is known for his roles in The Hangover trilogy, Community, Dr. Ken, and Knocked Up. 
7.) Anna Konkle - Hannah Minnows
Anna Konkle portrays Hannah Minnows, Edgar's adopted sister who loves Grace as her future sister-in-law. Throughout the episodes, the character is described as a fun-loving person, but there's a chance that she could be a prime suspect.
Konkle is an actress known for her roles in PEN15 and The Drop. 
8.) Poppy Liu - Grace Minnows
Poppy Liu plays Grace Minnows, Zoe's sister whose groom/future husband died. Aniq actually saw Grace putting something in Edgar's drink during the night of his murder, strongly implying that she is the culprit.
However, Aniq and Detective Danner are expected to do anything that they can to prove that Grace is innocent. But who knows? Maybe she is indeed the murderer.
Liu's past acting credits include American Born Chinese, Dead Ringers, and iCarly.
9.) Elizabeth Perkins - Isabel Minnows
Elizabeth Perkins plays Isabel Minnows, Edgar's mother and Grace's (future) mother-in-law. 
Isabel appears to not like Grace as her daughter-in-law, with her clearly being hostile against her. Aside from her pure hatred toward Grace, Isabel is also mad at everyone around her.
Perkins is known for her work in The Flintstones, Miracle on 34th Street, Finding Nemo, and Minx Season 2. The actress also served as Aunt May's voice in Across the Spider-Verse.
10.) Jack Whitehall - Sebastian R. Drapewood
Jack Whitehall plays Sebastian R. Drapewood, Edgar's business partner and best man at his wedding. 
Whitehall has a stellar acting background which includes roles in Fresh Meat, Good Omens, and Robots. 
11.) Zach Woods - Edgar Minnows
Zach Woods plays Edgar Minnows, Season 2's murder victim, Grace's groom, and Zoe's brother-in-law. Interestingly, the character carries a lizard on his shoulder for unknown reasons.
Edgar is a successful tech businessman who died from poisoning. 
Woods' past credits include Silicon Valley, Veep, and Avenue 5. The actor is also known for playing Gabe on The Office.
12.) Vivian Wu - Vivian Zhu
Vivian Wu plays Vivian Zhu, Grace and Zoe's mom who is deemed secretive due to the fact that she is calm during the night of the murder. 
The reason behind that could likely stem from the fact that she doesn't want Edgar for her daughter, or she could be hiding something sinister such as being the killer.
Wu is known for her roles in Teenage Mutant Ninja Turtles III, Dead Pigs, and Away. 
13.) John Early - Detective Culp
John Early portrays Detective Culp, Danner's partner investigator who tries to help uncover the mystery behind Edgar's murder. 
Early is a comedian whose past roles include 30 Rock, Search Party, and Fort Tilden. 
14.) Will Greenberg - Judson
Will Greenberg plays Judson, Sebastian's cousin who attends Grace and Edgar's wedding.
Greenberg is known for his role as Todd in TBS' Wrecked, and his other credit include Workaholics.
15.) John Gemberling - Jaxon
John Gemberling portrays Jaxon, Sebastian's other cousin who is Judson's brother. 
Gemberling is known for his roles in Marry Me, Making History, and Broad City.
16.) Zack Calderon - Kyle
Zack Calderon plays Kyle, Grace and Edgar's wedding videographer. There's a chance that Kyle could have recorded who the murderer is. 
Calderon's other acting credits include The Wild. 
17.) Ben Schwartz - Yasper
Ben Schwartz makes his surprise return as Season 1 character Yasper. In the debut season, Yasper was the one who killed Xavier. 
In Season 2, Yasper made a brief appearance in the Sebastian-centric fifth episode. 
The Afterparty creator Christopher Miller explained the character's return to TV Line, noting that it would be a "real shame" to not include Yasper in Season 2: 
"We thought it would be fun to bring back some of the characters from the first season and then try to figure out how to engineer it so that we could get them in the story and have it make any sense at all … There were other ones that we had thought about, but the one we thought would be a real shame to not include was Yasper, even being in prison."
Schwartz is known for his roles in Parks and Recreation and Space Force.
18.) Jamie Demetriou - Walt
Jamie Demetriou plays Walt, a partygoer in the wedding who (sadly) no one remembers. 
Demetriou's other credits include The Great, Rovers, and Tripped.
19.) Jade Wu - Aunt Ruth
Jade Wu plays Ruth, Grace's aunt who attends her wedding. 
---
The Afterparty Season 2 is now streaming on Apple TV+.