Netflix's Surviving Summer is back for Season 2, bringing an impressive cast of actors into the spotlight.
The series revolves around the life of competitive surfers in Australia, with its focal point being teenager Summer Torres. After getting kicked out of her high school in the United States, Summer moves to Australia and falls in love with both surfing and one of the surfer boys. 
Surviving Summer made its debut on Netflix on June 3, 2022. It was then renewed for Season 2, which premiered on Friday, September 15.
Every Actor & Character in Surviving Summer
Sky Katz - Summer Torres
As a rebellious teenager, Sky Katz's Summer Torres is kicked out of her school in Brooklyn, leading to her transfer to Shorehaven in Victoria, Australia. 
In Shorehaven, Summer meets a group of surfers who turn her life upside down. The character struggles at first during her first few days of stay in Shorehaven, but meeting new friends and opening up to her newfound family helps her to treat the town as her true home. 
Summer also develops feelings for Ari Gibson, and this romantic involvement allows her to view life differently. Season 1 ends with Summer returning to New York, but her journey for self-discovery leads to her coming back to Shorehaven in Season 2 to finish what she started.
Katz is best known for her role as Tess O'Malley in Raven's Home. 
Kai Lewins - Ari Gibson
Ari Gibson's Kai Lewins is a talented surfer from Shorehaven who starts a bond with Summer once she arrives in Australia. He is also the son of Thommo and Abi, the friend of Summer's mom who took her in. 
After Kai suffers injuries while surfing, the character experiences a major setback in his career. Working through the trauma of his injuries, Ari had several panic attacks, but Summer ultimately helped her recover. 
The pair's bond eventually leads to romance, but the fact that Kai has a new girlfriend named Wren makes things complicated for Season 2. 
Lewins previously appeared in The Twelve, Moon Rock for Monday, Roar, and Wild Boys.
Lilliana Bowrey - Poppy Tetanui
From her relentless dedication to incredible talent, Lilliana Bowrey's Poppy Tetanui is considered by many as Shorehaven's best surfer. 
Aside from her remarkable skill, Poppy also has a good heart since she is the first to introduce Summer into town and its surfing world. 
In fact, Poppy is the one who teaches Summer how to surf. In Season 2, Poppy decides to seek new love, but it could sacrifice her time for surfing competitions.
Joao Gabriel Marinho - Marlon Sousa
Originally from Brazil, Joao Gabriel Marinho's Marlon Sousa transfers to Shorehaven due to his willingness to pursue surfing. Marlon plays a part in Ari's major injury, leading to them not talking to each other. 
Marlon also pursued Bodhi in the past, even though he is aware that Ari had feelings for her. 
Despite that, the two former friends reconcile. After his break-up with Bodhi, Marlon appears to be in love with someone else when Season 2 begins. 
Savannah La Rain - Bodhi Mercer
Savannah La Rain's Bodhi Mercer is initially insecure about her surfing skills since she is amazed by her best friend Poppy's incredible talent. 
While Bodhi's dedication to surfing is undeniable, the character's love for her family and friends is pretty much remarkable in its own right. 
After downplaying herself in Season 1, Surviving Summer's sophomore run allows Bodhi to take her talent to new heights while also finding new love along the way.
La Rain is known for her roles in Big Shot, Ocean Boy, and Mako Mermaids.
Chris Alessio - Manu Tetanui
Portraying Poppy's older brother and Shorehaven's surf coach is Chris Alessio as Manu Tetanui. 
Although he shoulders tons of responsibility in his career and family, Manu is still a loving coach and brother, but he doesn't hesitate if he wants to get strict in training the town's surf club. 
Dustin Clare - Thommo Gibson
Thommo Gibson is Ari's father and Abbie's wife who welcomed Summer into his home once the newbie surfer transferred to Shorehaven. The character is played by Dustin Clare.
Clare is known for his roles in Pacific Rim: Uprising, Sunday, and Eye of the Storm.
Adrienne Pickering - Abbie Gibson
Acting as Ari's overprotective mother and Summer's new parental figure in Shorehaven, Adrienne Pickering's Abbie Gibson tries her best to be the best version of herself around her kids and husband. 
Pickering previously appeared in The Reef, Secrets & Lies, and Rake. 
Pacha Luque-Light - Lily Tran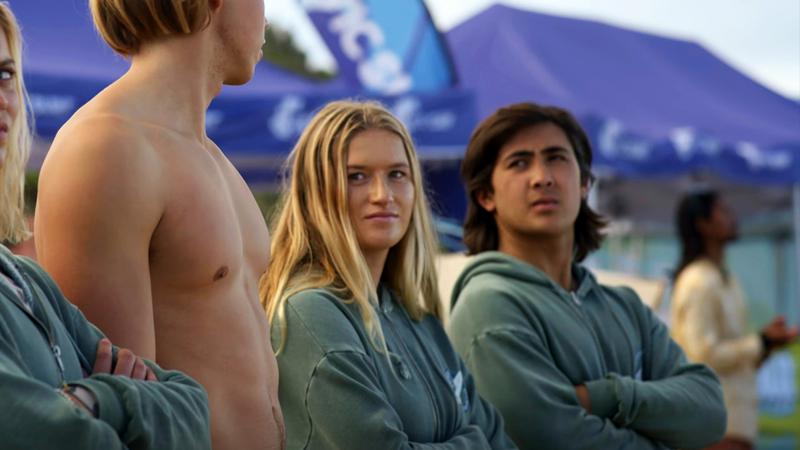 Serving as one of the villains in Season 1, Pacha Luque-Light's Lily Tran made things difficult for Summer when she arrived in Shorehaven. Lily was one of Summer's rival surfers in the competition. 
Mitchell Hardaker - Griff Temple
While Lily Tran is Summer's arch-rival, Mitchell Hardaker's Griff Temple is a member of the Anchor Cove surfer team who antagonizes Poppy, Bodhi, and Marlon. 
Charli Wookey - Sheridan Morehouse
Joining Lily Tran in tormenting Summer during her time in Shorehaven is Charli Wookey's Sheridan Morehouse. The character is a hateful bully and is a surfer from the Anchor Cove team.
Wookey is best known for her role as Siobhan in Crazy Fun Park.
Kate Beahan - Margot Torres 
Margot Torres is Summer's mother who forced her to move to Shorehaven from New York due to her being assigned to the Middle East for work at the beginning of Surviving Summer.
In Season 1, Margot constantly clashes with Summer over the different decisions that she made, especially in her pursuit of surfing. 
However, in Season 2, the character's controlling nature eventually dies down, with her even supporting her daughter in the national surfing competition instead of going back to New York.
Beahan previously appeared in Flightplan, Burning Man, and The Return.
Annabel Wolfe - Wren Radic
Joining Season 2 as Ari's new girlfriend is Annabel Wolfe as Wren Radic. Similar to Ari, Wren is also a competitive surfer and she serves as the new antagonistic force that bullies Summer in the new season. 
Wren won the national competitions prior to her arrival in Shorehaven. Aside from being a talented surfer, Wren is also an overprotective and controlling girlfriend to Ari, and she is also jealous of the fact that her boyfriend and Summer have a history. 
Wolfe is known for her roles in Doctor Doctor, The Unlisted, Black Snow, Home and Away.
Josh Macqueen - Baxter Radic
Playing Wren's brother is Josh Macqueen as Baxter "Bax" Radic. While he is a rebellious teenager, Baxter tries to be better so that Summer falls in love with him. 
Throughout Season 2, Bax and Summer spend significant time with one another, with Summer even admitting that she likes Bax at one point. However, Summer's love for Ari still prevailed.
Macqueen previously appeared in Significant Others and Black Snow.
Olympia Valance - Elo Radic
Rounding out the Radic siblings is Olympia Valance as Elo, the eldest of the three. 
Elo serves as the new coach of the Victorian State Team in Shorehaven, and she is determined to bring her former team down in Season 2. Interestingly, though, Elo was thrown out by her past team due to bullying. 
Valance's credits include Neighbours, Heat, and Playing for Keeps.
Cantona Stewart - Prawnie Tetanui
Prawnie Tetanui is Poppy and Manu's brother who also loves surfing, and he is portrayed on-screen by Cantona Stewart. Prawnie is a supportive brother and a caring friend, with him even having feelings for Summer.
Stewart is known for his role as the young Arthur Curry in Aquaman. The actor is also a talented surfer in real life.
Asmara Feik - Honey Gibson
Ari's younger sister, Honey Gibson, is played by Asmara Feik. While she is Thommo and Abbie's youngest child, she is ultimately the one who encourages them to allow Ari to surf again. 
Honey is also close friends with Summer, with the latter teaching the former how to use the skateboard in Season 1.
Emmanuelle Mattana - Tuscany
Emmanuelle Mattana's Tuscany serves as the Queensland captain in Surviving Summer. 
Mattana previously appeared in Mustangs FC and The Messenger.
---
Surviving Summer Season 2 is now streaming on Netflix.