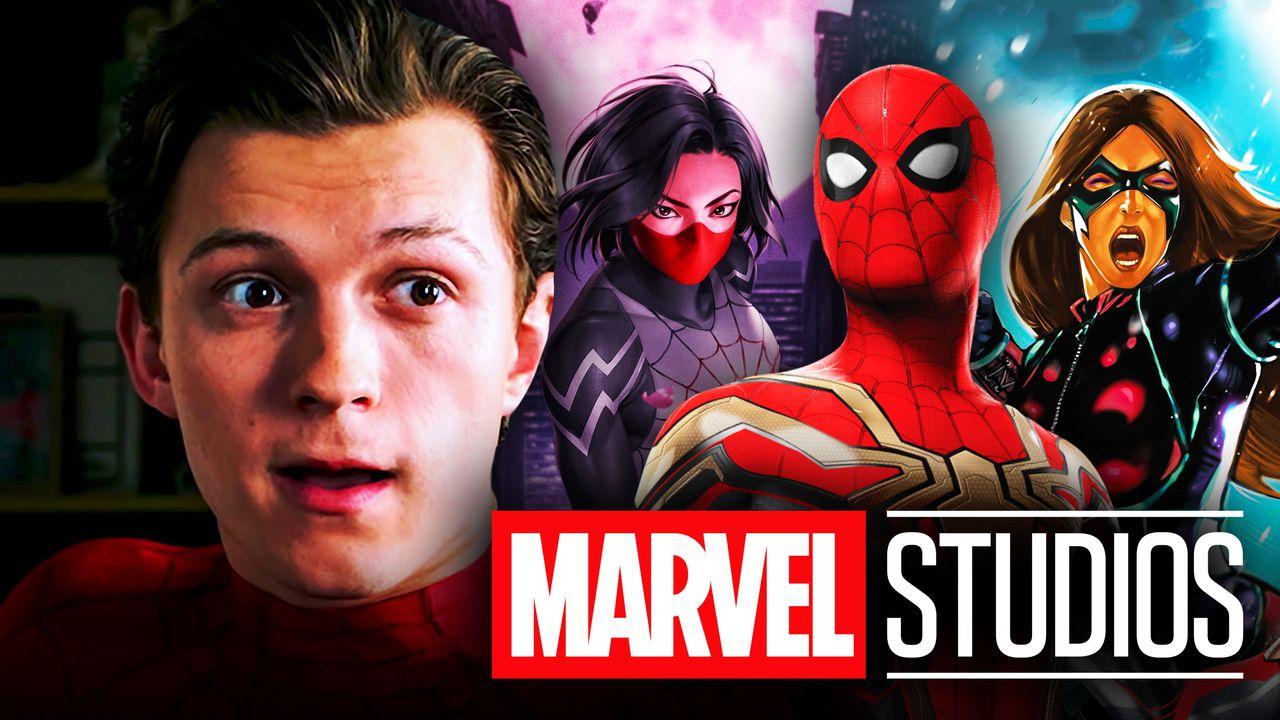 The worldwide release of Spider-Man: No Way Home is just around the corner and fans are at the edge of their seats waiting for Tom Holland's MCU threequel. More has been revealed regarding the film's plot and characters that can be expected to appear, but what's still very unclear is what will follow Spider-Man's third MCU outing. 
Sony producer Amy Pascal recently teased that they're already getting ready to make the next Spider-Man installment "with Tom Holland and Marvel" while revealing that three more movies featuring the web-slinger will be added to the MCU. 
But fans also know of the plans to keep adding to Sony's Universe of Spider-Man Characters with upcoming films like Morbius and Kraven the Hunter. But if Tom Holland's Spider-Man is sticking around in the MCU for a bit longer, will these Sony villains ever have a run-in with a wall-crawler in their own universe? 
Tom Holland and Zendaya have suggested several spin-offs that Sony could explore, including characters like a comic-accurate female wallcrawler and even MJ's Jackpot. 
Tom Holland Wants a Jackpot Marvel Movie 
Tom Holland, Zendaya, and Jacob Batalon were recently interviewed by Extra ahead of the theatrical debut of Spider-Man: No Way Home, and the actors were asked what the future of Spider-Man looks like. 
The interviewer brought up an earlier report that Holland said he'd be "doing something wrong" if he was still playing Spider-Man in his thirties. Holland was quick to correct her, jokingly saying his words are "always misconstrued" and that "no one actually speaks the truth." 
Holland followed this by claiming that he "doesn't know what the future of Spider-Man looks like" or "whether (he's) going to be a part of it:" 
"I don't know what the future of Spider-Man looks like. I don't know whether I'm going to be a part of it. Spider-Man will always live on in me, and I know that Amy in the studio are keen to figure out what the next chapter Spider-Man looks like. If that happens to be with me, then that's very exciting. But, you know, if it's time for me to walk away, then I'll do so proudly." 
The Peter Parker actor went on to explain how he's been misinterpreted when expressing his desire to pass the torch to the next Spider-Man actor, claiming that he'd be "taking up an opportunity for someone to come in and change what being Spider-Man means" if he stuck around the role for too long: 
"And what I was referring to in that interview where I said 'if I was playing Spider-Man when I'm 30 I've done something wrong,' is because I would be taking up an opportunity for someone to come in and change what being Spider-Man means. You know, Spider-Man can be more diverse, it could be a female character, it could be anything." 
Intrigued by this notion, Extra asked Zendaya if fans could see her be the next Spider-Man. While she quickly laughed and said she would "leave the Spider-Man-ing to" Tom Holland, she did reveal that she and the crew "always talks about wanting to see Miles" Morales in the MCU. 
Holland's face lit up with the mention of other iterations of Spider-Man joining the fold, adding that he'd "like to see Silk" as well, and that he thinks "a really cool Jackpot movie" could also be made (while suspiciously smirking at the MJ actress): 
"I'd like to see Miles, I'd like to see Silk. I think you could do a really cool Jackpot movie." 
This prompted Zendaya to look back at Tom and admit she'd "like to see (him) Iron Man-ing the young Miles" in the MCU by acting as the mentor to the new Spider-Man as Tony Stark did for his Peter Parker. 
Holland was excited by this idea, saying it'd be "awesome," "amazing," and "so cool." 
Is It Time for More Spider-Men? 
Perhaps the most exciting takeaway from this conversation with Tom Holland and Zendaya is that they regularly talk about wanting to see Miles Morales enter the MCU. If the two biggest stars from the most successful Spider-Man franchise ever are on board, then it can only be a matter of time before Brooklyn's web-slinger swings into action on the big screen. 
As for their other Marvel mentions, there may already be some seeds planted for the other spin-offs that Holland wants to see. 
For instance, Silk already has a potential spin-off series lined up for production with Sony. However, audiences have already met Cindy Moon aka Silk in the MCU as one of Peter Parker's classmates in Spider-Man: Homecoming.
With the announcement of the animated Disney+ series Spider-Man: Freshman Year, perhaps Cindy will be brought back into the spotlight as audiences explore Spidey's MCU origins. It was the same spider that bit Peter Parker in Marvel Comics that was also the catalyst for Cindy Moon's transformation into Silk, so it would be more than fitting if fans learn through this series that Peter wasn't the only one to be bitten by a radioactive spider. 
What's also worth noting is how Holland looked at Zendaya right as he suggested that a "really cool Jackpot movie" could be made about her character MJ. Perhaps that's already been a topic of discussion between Marvel Studios and Sony?
There was a time in Marvel lore when Spider-Man suspected Jackpot - another selfless New York City crime fighter that's been libeled by The Daily Bugle - to be his love interest Mary Jane. Considering MJ seems to be taking some of the heat following Spider-Man's murder accusations, this would offer a unique transition for Zendaya's MJ to become her own hero. 
Many would say Zendaya is still budding as MJ and that we've only scratched the surface of what her character brings to the table; what better way to fully explore MJ's complexities than with her own spin-off project as the Marvel hero Jackpot? 
Spider-Man: No Way Home will surely offer several spin-off possibilities by the time the credits roll. Find out which Marvel characters could show up next when the film hits theaters on December 17. 
---