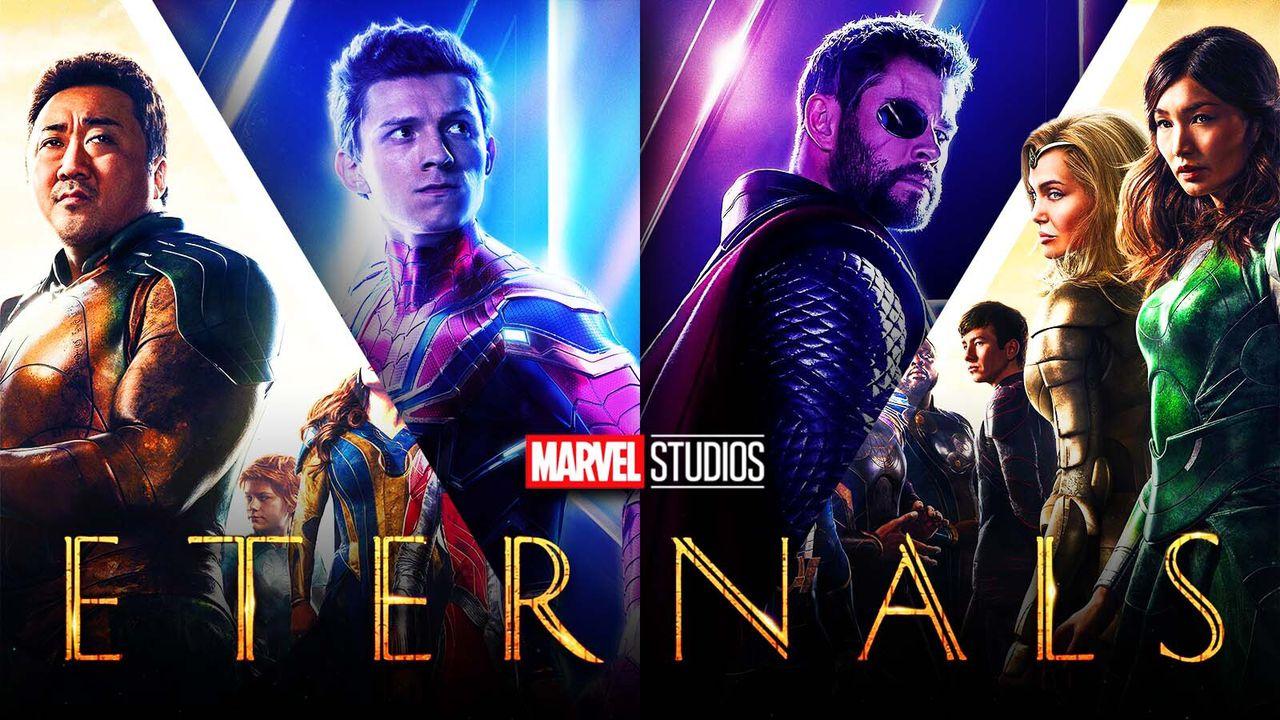 Eternals hasn't even hit theaters yet, and fans have already been treated to nods to the entire comic book genre. The many trailers and promos released so far have included references to Superman, Captain America, Iron Man, Doctor Strange, and more. 
With Eternals taking place across thousands of years of human history, it seems safe to say director Chloe Zhao's Marvel epic will be rich in Easter eggs and references to real and fictional worlds alike.
As the long-awaited release continues to move ever closer, a new promo has made reference to two more Avengers.
Eternals References Thor & Spider-Man
During a newly-released promo for Marvel Studios' Eternals, Kumail Nanjiani's Kingo made reference to MCU Avengers Spider-Man and Thor.
In what appears to be an interview, as a microphone can be seen next to the celebrity Eternal, Kingo mentions that "the Avengers have Thor [and] Spider-Man." but they have Thena, Angelina Jolie's hero:
"The Avengers have Thor... Spider-Man... but we have Thena."
Interestingly, Richard Madden's Ikaris also appears to be present for the scene, which seemingly takes place in some luxurious setting owned by Kingo himself.
The references to the wider MCU are accompanied by brief snippets of footage of the heroes from Avengers: Infinity War, with Thor's clip highlighting the creation of Stormbreaker.
Meanwhile, a quick glimpse of Tom Holland's Spider-Man sees the wall-crawler swinging through the streets of New York early in Infinity War.
The full promo can be seen below:
The Avengers Are the MCU's Celebrities
Since the Eternals have sworn and abided by an oath not to interfere in human affairs unless Deviants are involved, it's unlikely any of the immortal team have encountered any of the Avengers. But the constant name-drops to Earth's Mightiest Heroes continue to reaffirm the celebrity status these heroes have within their universe.
Now that Eternals will finally see the team stepping back into the limelight for the first time in decades, perhaps future projects may see Gemma Chan's Sersi and the gang interacting with the wider MCU.
With every new project, Marvel Studios' goal continues to be to build out a larger and deeper universe that can ultimately converge in grand-scale team-ups. So while the inevitable Avengers 5 may still be some time away, it would be shocking if at least a few of the Eternals weren't present to help take on the next big threat.
Eternals hits theaters on November 5, 2021.
---