The release of Spider-Man: No Way Home is drawing near, and soon fans will see several Marvel worlds collide. From Sam Raimi's Spider-Man movies starring Tobey Maguire to Marc Webb's films featuring Andrew Garfield, characters like Alfred Molina's Doc Ock and Jamie Foxx's Electro will reprise their roles from past Spidey franchises in the MCU threequel. 
With these inclusions, many fans are hoping to see Tobey Maguire and Andrew Garfield make their respective returns as Spider-Man to assist Tom Holland in fighting off all of these Multiversal villains. 
There's a good chance that Spider-Man: No Way Home will feature several different iterations of the web-slinger and his rogues' gallery that have been seen through the years — plus a minimum of two new suits that Tom Holland's wallcrawler will wear. 
With the anticipation for all of the potential Spider-Man appearances that fans might see in the upcoming Multiversal mishap, The Direct has put together a list of the 17 best-looking Spider-Man Funko Pops!
17) Marvel Holiday Spider-Man Ugly Sweater 
What better way to start a list than with some holiday cheer? 
Ugly Sweaters are a fan-favorite look around the holidays, and Spider-Man joins in on the festive fun with this Funko Pop! Peter Parker looks especially proud of his sweater as he wears it over his costume, whether he's being ironic or genuinely proud of his latest gift from Aunt May. 
If anyone can spread some holiday cheer this season, it's a three-inch Spider-Man wearing an ugly sweater. 
Order the Spider-Man Ugly Sweater Funko Pop here. 
16) Spider-Man Gamerverse 
Ahead of what would become the biggest opening weekend for a PS4 video game, Sony partnered with Funko in 2018 to bring fans a new Pop! celebrating the titular hero of Marvel's Spider-Man for the PlayStation 4.
Jumping in a familiar pose for fans of Marvel's webhead, Spider-Man is displayed jumping forward while extending his arm to shoot a web from his wrist. 
Showing off the new oversized Spider symbol on his chest as part of Spidey's new Advanced Suit, the evolution of this costume played a key role in the game's plot and is one of the story's most defining elements. 
Order the Spider-Man Gamerverse Funko Pop here. 
15) Marvel: Infinity Warps Arachknight 
If the iconic white cowl, red webbed mask, or the name "Arachknight" didn't give it away, the Infinity Warps line of Marvel Comics mashed together some of fans' favorite Marvel characters, including Spider-Man and Moon Knight. 
Arachknight has the same general power set as Spider-Man with the addition of Arachknight Darts that he throws on top of using his web-shooters. He also wears the white cowl of Moon Knight with a giant, white spider sprawled across his chest. 
This Marvel Comic merged the stories of Peter Parker and Marc Spector, as well as their supersuits. Funko took this Spider-Man Pop! and put one of his coolest, rarest costumes on it. 
Order the Marvel: Infinity Warps Arachknight Funko Pop here. 
14) Marvel 80th First Appearance Spider-Man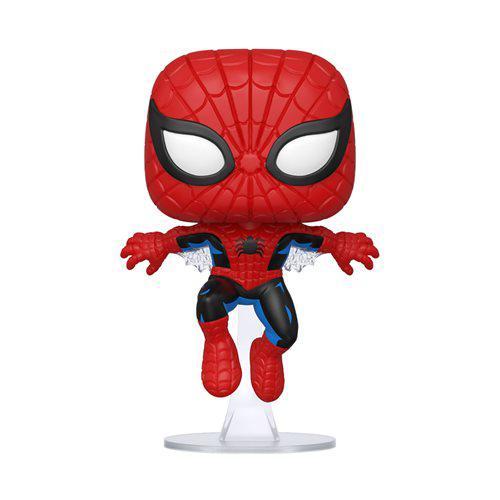 General audiences' familiarity with the friendly neighborhood hero is why many believe that Spider-Man: No Way Home is the choice project to properly introduce audiences to Marvel's Multiverse. since movie-goers of all ages are so fond of, and familiar with, the history of Spider-Man on the big screen in all his various forms. 
Spider-Man is commonly known as many fans' first favorite superhero because of how adaptable and relatable his story is to so many different people. Marvel recently celebrated its 80th anniversary by releasing the First Appearance Spider-Man Pop!, which takes Spidey back to his roots as the hero everyone knows and loves. 
Spider-Man's iconic red-and-blue getup has withstood the test of time, acting as a template for various iterations over dozens of comics and shows. This Spidey Funko shows off where the wallcrawler's look got started. 
Order the Marvel 80th First Appearance Spider-Man Funko Pop here. 
13) What If..? Zombie Hunter Spidey 
In Episode 5 of What If…? on Disney+, the world is overtaken by a zombie apocalypse, and only a handful of displaced Avengers are left to find a cure before it's too late. 
Doctor Strange didn't survive the zombie virus, but his Cloak of Levitation lived on and assisted Spidey and the Avengers throughout the Disney+ episode, even letting Peter Parker wear it for a time as they worked to avoid the zombies while searching for an answer. 
This MCU Spider-Man Pop! is yet another unique example of just how versatile Peter Parker can be across various Marvel properties. It's also an example of the fun and creative adventures that can be taken with a character as familiar and beloved as Spider-Man. 
Order the What If..? Zombie Hunter Spidey Funko Pop here. 
12) Spider-Man Miles Morales Classic Suit 
Marvel's Spider-Man: Miles Morales introduced gamers to a new take on the webhead, complete with a new powerset that includes bioelectricity. 
Mimicking the pose on the PlayStation game's cover, this Miles Morales Funko Pop! celebrates the Brooklyn web-slinger as he soars through the air with an electric-charged fist. Any fan of the Miles Morales game will immediately recognize the iconic look of this Funko figure. 
Order the Spider-Man Miles Morales Classic Suit Funko Pop here. 
11) Marvel Holiday Gingerbread Spider-Man 
If the Ugly Sweater Spider-Man Pop! wasn't festive enough, another great holiday Funko turns Spider-Man into a Christmas cookie! 
It's the holiday season, and what better way is there to celebrate than with fan-favorite Marvel characters in the form of three-inch gingerbread men? 
Swinging from his frosting web and looking more delicious than usual in his classic red-and-blue threads, the Holiday Gingerbread Spider-Man Funko Pop! is a fun and creative way to bring some holiday cheer to a collector's household while still sticking with the iconic Marvel theme. 
Order the Marvel Holiday Gingerbread Spider-Man Funko Pop here. 
10) Marvel's Sandman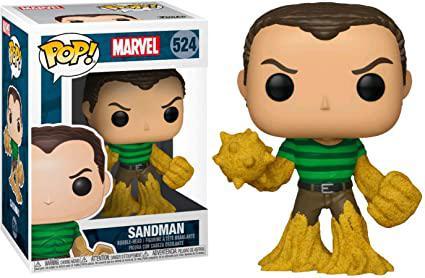 If Funko ever gets points for creativity, they had better have gotten some for the Pop! figure of Marvel's Sandman. 
Harnessing big comic-accuracy energy, the Sandman Funko shows Flint Marko threateningly using his powers to enlarge his fist on one arm while forming a giant morning star on the other. 
The only time fans have seen Sandman in live-action was in San Raimi's Spider-Man 3, but with his confirmed return in Spider-Man: No Way Home, it won't be long before audiences get to see the iconic Spidey villain back in action. 
9) Venom Poison Spider-Man 
Every so often, Funko drops a Pop! that takes after a deep cut from Marvel Comics, and the new Poison Pop! is a great example of that. 
Appearing in the comics as an alternate-reality Peter Parker whose psyche was destroyed and overtaken by the Venom symbiote, Poison was easily one of the darkest iterations of the web-slinger. 
But with that new dark side also came a sick new look for Spider-Man. Poison's all-white body contrasts the giant, lifelike Spider symbol writhing across his chest is reminiscent of Eddie Brock's Anti-Venom, teasing that Peter Parker is acting as the opposite of what he should be. 
Order the Venom Poison Spider-Man Funko Pop here. 
8) Spider-Man: Homecoming Vulture 
The MCU's Spider-Man franchise has brought some of the most enjoyable original takes on Marvel characters - specifically with the movies' villains. 
Michael Keaton's Adrian Toomes is a prime example of this, as he and Marvel Studios turned one of the comics' silliest-looking villains into one of the slickest, most intimidating antagonists in MCU history. 
The Vulture Funko Pop! shows off that original MCU flair given to the Spider-Man villain's design, from the intricate detail in his wings' razor-sharp blades to his brown-and-green flight suit.
Vulture is one fun MCU villain, and this Pop! from Spider-Man: Homecoming captures perfectly how Marvel Studios can modernize even the kookiest of bad guys. 
7) Marvel's Superior Octopus 
Although he may look like Spider-Man, he's anything but.
After escaping the grip of death by transferring his mind into the body of an android, Otto Octavius used his new form to join the ranks of HYDRA, where he built new tentacles for this new Spider-inspired appearance. 
Doc Ock also made a new suit for himself, made to resemble his Superior Spider-Man costume from when he took over the body of Peter Parker.
This Superior Octopus Funko Pop! is a great original collectible from one of Spider-Man's coolest, most criminal imposters. 
6) Spider-Man Miles Morales Game Advanced Tech Suit 
One of the many fan-favorite elements in Marvel's Spider-Man: Miles Morales is how effortlessly Miles glides through the air when he swings from his webs, establishing his Spidey style as he's thwipping his way through the city. 
This Funko figure shows Miles Morales in his Advanced Tech Suit that was introduced in the latest PlayStation game, giving his classic red-and-black look a modern, tech-enhanced update.
And with the addition of Miles' webs in his hands as he kicks through the sky, the Funko figure is fondly reminiscent of the joy that comes along with the in-game web-swinging experience. 
Order the Spider-Man Miles Morales Game Advanced Tech Suit Funko Pop here. 
5) Spider-Man Captain Universe 
When Spider-Man gained access to the Uni-Power via a lab accident, his red-and-blue getup was cosmically combined with the iconic look of Marvel's Captain Universe. This new form gave Spidey even further enhanced senses, strength, and speed, while also allowing him to fly and even use telekinesis. 
The Spider-Man Captain Universe Funko Pop! shows off the immense new power levels that overtook Peter Parker with the orange-and-yellow effects on his hands. This introduces collectors to a whole new side of Spider-Man that jumps to the cosmic side of Marvel Comics - somewhat similar to how fans will see Peter Parker find himself dabbling in the Mystic Arts in No Way Home. 
Order the Spider-Man Captain Universe Funko Pop here. 
4) Spider-Man: Far From Home Mysterio (Glow in the Dark) 
If there's anything that the marketing for Spider-Man: No Way Home has taught us, it's that Spider-Man is nothing without his rogues' gallery.
In fact, if it wasn't for one villain in particular, much of the fun mess that would be created in the third MCU Spider-Man film would never come to exist. But even if Jake Gyllenhaal's Quentin Beck wasn't to thank for the Multiversal mayhem that would come with No Way Home, the Glow-In-The-Dark Mysterio Funko Pop! is still easily a fan-favorite. 
Celebrating an instant MCU icon, the Mysterio Pop! puts the faux hero on display just as he intended the world to see him - his face shrouded by an ominous cloud of smoke while showing off his mesmerizing green magic as his cape flows in the wind behind him. 
3) Avengers: Endgame Iron Spider with Nano Gauntlet 
As many would now agree, no one ever expected to see Peter Parker swinging around on the big screen in a Stark Tech Iron Spider suit while carrying an Infinity Gauntlet. But when Avengers: Endgame debuted in 2019, Spider-Man took part in a historic battle against Thanos and his army to save the universe. 
Perhaps one of the most memorable moments of Endgame's final moments is when the Infinity Gauntlet gets passed around from hero-to-hero and ends up in the hands of Peter Parker, which forced him to protect the Gauntlet (and himself) from an army of swarming Outriders by activating his suit's "Instant Kill" feature. 
This Funko's eyes glow red to show that the Iron Spider armor is still in "Instant Kill" mode as it clings to the Nano Gauntlet. 
Order the Avengers: Endgame Iron Spider with Nano Gauntlet Funko Pop here. 
2) Spider-Man Miles Morales Game Crimson Cowl 
Sony's Marvel's Spider-Man: Miles Morales was released in 2020 as a sequel/spin-off game to 2018's Spider-Man on PlayStation 4, and it brought a lot more to the table in the form of a second web-slinger from Brooklyn. 
One of the biggest thrills of playing the 2020 Spidey spin-off was the distinct difference that can be seen in Miles' compared to Peter Parker, in both his movement and his threads. 
This Funko Pop! displays Spider-Man swinging in his Crimson Cowl Suit, which showcases the unique, urban look that Miles brings to the table as he gracefully yet forcefully throws around his webbing as he traverses through the city - much like how players experience web-swinging in the game. 
Order the Spider-Man Miles Morales Game Crimson Cowl Funko Pop here. 
1) Spider-Man: No Way Home Integrated Suit 
Who would've thought 2021 would give fans so many Funko Pops of Spider-Man stealing Doctor Strange's moves? 
Appearing in the highly anticipated Spider-Man: No Way Home, Tom Holland's Peter Parker will be sporting a new look that comes with a sweet upgrade: a little dash of the Mystic Arts from the Sorcerer Supreme. 
Shown wielding magic with his web-shooter while a mystical web hovers above his chest, Spider-Man will be borrowing some of Doctor Strange's abilities in the MCU threequel for reasons still unknown. This is a big step up from Parker's use of Stark Tech to help him out, and this Funko Pop! promises that Pete's latest performance will provide some great new MCU visuals. 
With the multiversal threats that the wallcrawler will be facing in the new blockbuster flick, it looks like Spider-Man will need all the help he can get; gaining access to the Mystic Arts will surely be a helpful tool on Spidey's belt. 
Order the Spider-Man: No Way Home Integrated Suit Funko Pop here.