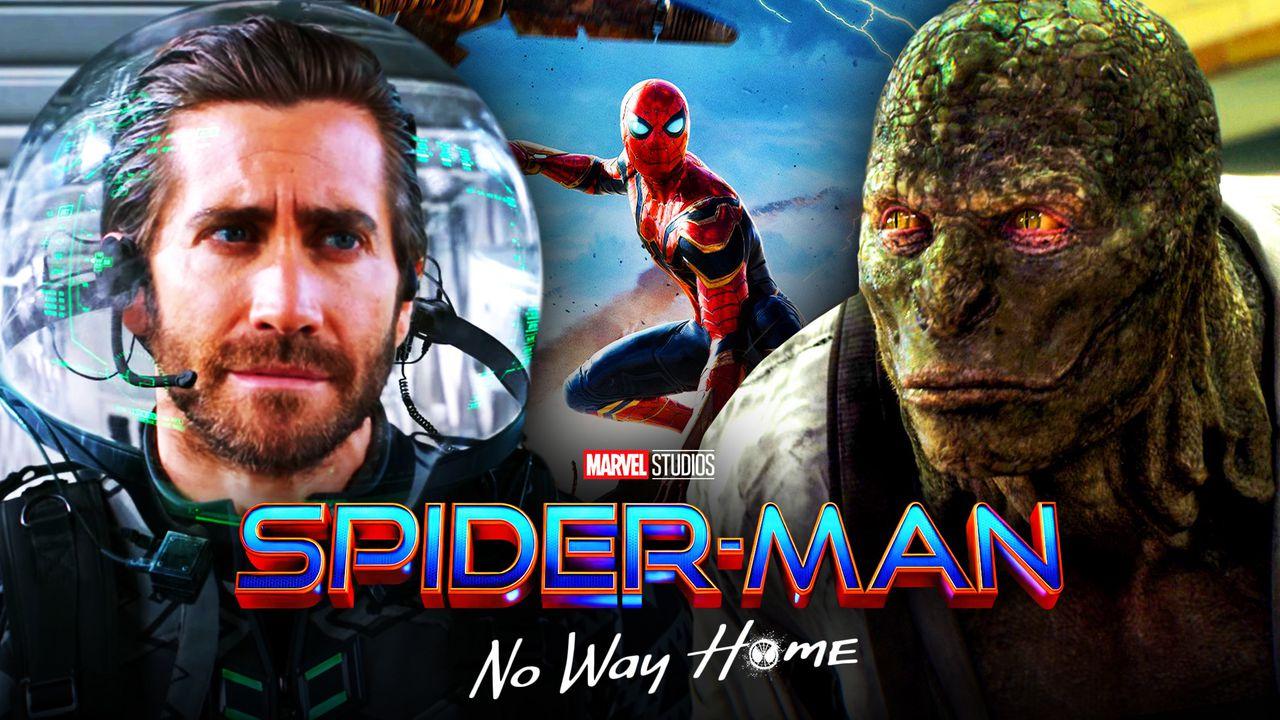 The release of Spider-Man: No Way Home is finally within sight, but fans still aren't sure exactly what the film is going to be about. 
Lots of rumors and rumblings have suggested from very early on that No Way Home will be a multiverse story, and that's only been solidified by each of Sony's marketing efforts for the third MCU Spider-Man flick. 
For instance, Sony just released the first promotional poster for No Way Home only six weeks before the film's release. Before this, a handful of stills and a single trailer were all that the production company had revealed to the public. 
The poster brings more questions than answers about Tom Holland's third solo outing as the wallcrawler - with one of the biggest mysteries being just how many bad guys is Peter Parker going to have to deal with in No Way Home? 
How Many Villains Will Spider-Man 3 Have? 
The new promotional poster for Spider-Man: No Way Home features Peter Parker in his Iron Spider armor, and he's surrounded by Doc Ock's metal tentacles. 
Willem Dafoe's Green Goblin can also be seen for the first time, lurking in the background of this image. 
Hints of lightning and a sandstorm continue to tease other Spidey villains appearing in the film, like Jaime Foxx's Electro and Thomas Haden Church's Sandman. 
Despite at least four different villains being teased in this single promotional image, several rumors and plot leaks have suggested that another antagonist from past Spider-Man films will appear in No Way Home. 
Namely, many fans expect to see Jake Gyllenhaal's Mysterio appear in some form in the upcoming film as the one who spun this crisis into motion for Peter Parker. However, Quentin Beck has yet to be more than teased in any promotional material, and his essence is apparently absent from this most recent marketing stint. 
Another player that was featured in No Way Home's marketing was Rhys Ifans' Lizard from The Amazing Spider-Man, who was spotted in the first and only trailer for the upcoming film. So why wasn't Andrew Garfield's first foe teased in the new poster for the MCU threequel like the other villains that are seeping in from the multiverse? 
Trickery and Multiversal Madness Abound
Keeping Mysterio out of No Way Home's marketing at least makes sense for the story, since Jake Gyllenhaal's MCU character is currently presumed dead with Spider-Man being framed for his murder. Anlthough some believe fans haven't seen the last of Quentin Beck, the MCU world thinks he's gone for good and there are those who want to hold Spider-Man responsible. For Mysterio's plan to work, he has to stay gone... for now. 
On the other hand, The Amazing Spider-Man's Lizard was seen in No Way Home's trailer, but is curiously nowhere to be seen on the new poster for the film.
The only look fans have gotten of Lizard in No Way Home is a very dark sequence in which he lunges at Peter Parker, in a lair that a new promotional image revealed to belong to Doctor Strange. 
Since fans know that Lizard was being kept in some sort of prison within the confines of the Sanctum Sanctorum, there is a chance that the scaley foe is only featured briefly in the film as one of the many possible Spider-Man villains that could be plucked from the multiverse. 
This could also lend credence to the theory that the multiverse is beginning to blend together, and the physical location of the Sanctum Sanctorum in the MCU is the same geographical location of Lizard's prison cell in The Amazing Spider-Man.
Since Doctor Strange's spell-gone-wrong in No Way Home's trailer is likely what causes the multiversal havoc that takes place in the film, it would make sense that things would begin where the sorcerer cast the spell. Lizard is the only living person in The Amazing Spider-Man universe that knows Spider-Man's identity to be Peter Parker. Doctor Strange's spell could be reaching beyond just the MCU, and Lizard's inclusion in No Way Home may be the indicator of this taking place. 
Sound like a stretch? Alongside the release of Sony's new poster for No Way Home, Spider-Man actor Tom Holland promised that the third MCU Spidey adventure will "blow your mind." And considering Tom Holland's threequel is rumored to be longer than two-and-a-half hours, it's safe to say Spider-Man: No Way Home will have plenty of time to explain every multiversal shenanigan.