Power Rangers Cosmic Fury brings back familiar faces from the ever-expanding franchise while also introducing new heroes and villains into the mix. 
The hit Netflix series makes Power Rangers history by bringing back most of the Power Rangers Dino Fury cast as the franchise celebrates its 30-year-anniversary. This is a historic move since it marks the first time that the core group of rangers returns for the third time. 
Cosmic Fury revolves around the return of Lord Zedd, one of the original Power Rangers villains who clashed with the Mighty Morphin team from the 90s. 
Power Rangers Cosmic Fury made its debut on Netflix on Friday, September 29. 
Every Main Actor & Character in Power Rangers Cosmic Fury
Russell Curry - Zayto
Despite dying at the end of Power Rangers Dino Fury as the Red Ranger, Russell Curry's Zayto returns in Cosmic Fury after being revived by the Morphin Masters. 
Zayto becomes the Zenith Ranger in Cosmic Fury, helping the team to take down Lord Zedd and his minions. 
While the Power Rangers franchise catapulted Curry's career to greater heights, the actor is also known for his roles in Unfair & Ugly, Just One Night, and Boiling Pot.
Hunter Deno - Amelia Jones
Hunter Deno's Amelia Jones previously served as the Pink Ranger of Power Rangers Dino Fury. 
At the end of the season, it was revealed that Amelia was a Rafkonian and her parents were brainwashed into becoming Void Queen and Void Knight in Dino Fury.
In Cosmic Fury, though, Amelia makes history as she becomes the first female Red Ranger of the franchise, leading the team to save the cosmos from Lord Zedd's threat. 
Deno has a stellar resume of acting credits, which includes roles in David Makes Man, Dr. Bird's Advice for Sad Poets, and Behave, Kids.
Kai Moya - Ollie Akana
Reprising his role as Ollie Akana from Dino Fury, Kai Moya returns as the Blue Ranger. 
In Power Rangers Cosmic Fury, Ollie is corrupted by Lord Zedd, leading to his transformation into the Evil Blue Ranger. Ultimately, he is cured just in time to help the rangers in the fight against Lord Zedd and his allies.
Best known for his role as Declan in The Villains of Valley View, the actor previously appeared in Saved by the Bell and NCIS: Hawaii. 
Tessa Rao - Izzy Garcia
Returning to the world of the Power Rangers is Tessa Rao as Izzy Garcia, the Dino Fury Green Ranger who later turns into the Cosmic Fury Green Ranger.
Izzy is the first female Green Ranger of the franchise as well as the first openly LGBT+ character who dons the ranger costume. 
Aside from being a member of the Power Rangers, Rao is also known for her roles in Into the Rainbow and Auckward Love.
Chance Perez - Javi Garcia
Playing Izzy's brother and the Cosmic Fury Black Ranger is Chance Perez's Javi Garcia.
In the trailer, it is revealed that Javi loses his arm at some point in Power Rangers Cosmic Fury, with him later receiving a cybernetic arm as a result. 
In the real world, Chance was actually part of a boy band named, In Real Life, from 2017 to 2020. The actor and singer released his first single, "Can't Trust Summer," in 2021.
Jordon Fite - Aiyon
After serving his time as part of the Ancient Dino Fury Rangers from the planet Rafkon, Jordon Fite's Aiyon was reunited with the present-day Rangers to become the sixth member known as the Gold Ranger in Power Rangers Dino Fury.
Aiyon returns and later transforms into the Cosmic Fury Gold Ranger in the new season. 
Fite is the first African actor to ever play a sixth Ranger in Power Rangers history. Dino Fury and Cosmic Fury serve as his first on-screen appearances as an actor.
Jacqueline Joe - Fern
Jacqueline Joe's Fern was initially a supporting character in Power Rangers Dino Fury, with her being Izzy Garcia's girlfriend. 
While in Dino Fury she is portrayed as a damsel in distress, Fern later joins in the action as the Orange Ranger in Power Rangers Cosmic Fury. 
Although there were Orange Rangers in the past iterations of the franchise, this marks the first time that an actual Orange Ranger became part of the main group of heroes.
Joe previously appeared as Tui in Top of the Lake and Sara in Inside.
David Yost - Billy Cranston
A legendary Ranger who returns to aid the Cosmic Fury Rangers in the new season is David Yost as Billy Cranston. The actor played the original Blue Mighty Morphin Ranger. 
After reprising his role as Billy in the 30th-anniversary reunion titled Mighty Morphin Power Rangers: Once & Always, Yost comes back as a series regular for the first time since his departure in Season 4 of 1996's Power Rangers Zeo.
Speaking with Entertainment Weekly, Cosmic Fury executive producer Simon Bennett explained Yost's return as Billy in the new season, noting that he plays a "significant role" as the Rangers' mentor: 
"We felt it would be a meaningful landmark for fans to have David return to the show in a significant role, playing a mentor. And on a personal level, it was a thrill to be working with the O.G. Blue Ranger. David's calm and positive spirit kept us all grounded and reminded us of the Ranger legacy we were striving to do justice to."
Aside from being a Power Rangers mainstay, Yost's other credits include Degenerate and Ladykiller.
Ryan Carter - Heckyl
In Power Rangers Dino Fury, Ryan Carter's Heckyl became the appointed Keeper of the Dark Energem, with him later transforming into the Blue Solar Ranger. 
After his escapades with his new team in space, Heckyl then returns to help the Cosmic Fury rangers in their fight against Lord Zedd. 
Kelson Henderson - Mick Kanic
As a notable Power Rangers mainstay, Kelson Henderson returns as Mick Kanic in Power Rangers Cosmic Fury. 
Henderson has had a long list of appearances in Power Rangers lore, serving as voices of various characters starting from Power Rangers Dino Thunder. The actor then played a prominent role as Mick Kanic, a loyal ally of the Rangers in Power Rangers Ninja Steel. 
In Cosmic Fury, Mick was given the chance to transform into the Red Ninja Steel Power Ranger by the Morphin Masters.
Shavaughn Ruakere - Dr. Lani Akana
Shavaughn Ruakere's Dr. Lani Akana is Ollie's mom and an archeologist who joins the trip in space in Power Rangers Cosmic Fury.
She plays a significant role in nursing Ollie and Javi on their road to recovery. 
Ruakere's other acting credits include River Queen, Legend of the Seeker, and The Legend of Baron To'a.
Blair Strang - Warden Carlos Garcia
Carlos Garcia is Dinohenge's warden who aids the Rangers in some of their missions. He is portrayed by Blair Strang.
He is Javi's father and Izzy's stepfather. Carlos has no idea that his kids are members of the Power Rangers. 
The New Zealand-Maori actor is best known for his roles as Rangi Heremaia in Shortland Street and Brian King in Nothing Trivial.
Saraid de Silva - Rina Garcia
Rina Garcia is Izzy's supportive mother and Javi's stepmother. Saraid de Silva reprises her role from the first two seasons of Power Rangers Dino Fury.
The actress' other known acting credit is playing a medical officer in Creamerie.
Josephine Davison - Solon
Josephine Davison voices Solon, the Dino Fury and Cosmic Fury Rangers' mentor and a close friend of Zayto and Aiyon.
As a cyborg Solonosaurus, she tries to help the team with upgrades, with her even creating Javi's new cybernetic arm. 
Davison's other roles include playing Gina Rossi-Dodds in Shortland Street and Suzy Hong in Outrageous Fortune.
Kira Josephson - Jane Fairview
Kira Josephson's Jane Fairview is the show's comic relief that usually hangs out in Aiyon's bar. Jane also serves as Buzzblaster's Editor. 
Josephson previously appeared in Kid Sister, M3GAN, Behaving Badly, and 16-Love.
Victoria Abbott - J-Borg
Portraying Jane's robot assistant is Victoria Abbott as J-Borg. In Episode 2 of Power Rangers Cosmic Fury, she suggests transporting citizens of Earth to Venus to lure Lord Zedd into that planet instead. 
Best known for playing Rachel Dundonald in Educators, the actress previously portrayed Kirsty in Top of the Lake and Kate in The Holy Roller.
Jared Turner - Tarrick
Initially playing a villain known as Void King in Power Rangers Dino Fury, it was then revealed that Jared Turner's Tarrick was Amelia's father who was brainwashed by his wife, Santaura. 
In Power Rangers Cosmic Fury, Tarrick becomes the leader of the planet's underground resistance against Lord Zedd. 
Turner previously appeared as Ben Maddox in Go Girls and Ty Johnson in The Almighty Johnsons. 
Greg Johnson - Ed "Pop-Pop" Jones
Greg Johnson portrays Ed "Pop-Pop" Jones, Amelia's adoptive grandfather who knows her secret as a Power Ranger. 
Before playing Pop-Pop in Power Rangers Dino Fury and Power Rangers Cosmic Fury, Johnson also voiced Minizord and General Trayf in Power Rangers Ninja Storm, Stench in Power Rangers S.P.D., and Ka-Ching in Power Rangers Dino Thunder.
Teuila Blakely as General Shaw
General Shaw is the former leader of the Grid Battleforce, an organization known to protect the Morphin Grid from Evox. She is played by Teuila Blakely. 
The character appeared in Episode 2 in a press conference telling the world that they are holding the fort in Lord Zedd's invasion on Earth. 
The New Zealand-born actress is known for her roles in Shortland Street, Filthy Rich, and Power Rangers Beast Morphers.
Torum Heng - Mucus
At the end of Power Rangers Dino Fury Season 2, Torum Heng's Mucus was the only general to survive, with her returning to serve Lord Zedd in Cosmic Fury.
Aside from being a writer, Heng previously appeared in Head High and Ablaze.
Fred Tatasciore - Lord Zedd
Seeking revenge after being banished, Fred Tatascoire's Lord Zedd returns to invade Earth and Levinna while also trying to destroy the Power Rangers once and for all. 
In Power Rangers Cosmic Fury, Lord Zedd becomes Master Zedd. 
In the final battle, Master Zedd is transported and trapped in a nightmare world where he defeats the Power Rangers. 
As a famous voice actor, Tatasciore is known for lending his voice to characters, such as Loz in Final Fantasy VII, Panda Dad in Kung Fu Panda 2, and Goldar in 2017's Power Rangers.
Amanda Billing - Bajillia Naire
Amanda Billing's Bajillia Naire is the chairwoman and CEO of Squid Ink Inc. who helps free Lord Zedd to gain profit from the war that he will start across the cosmos. 
Power Rangers Cosmic Fury isn't the first time that Billing became part of the franchise as she previously portrayed Principal Hastings in Power Rangers Ninja Steel and Super Ninja Steel. 
Brooke Williams - Squillia Naire
Squillia Naire is Bajillia's daughter who is obsessed with social media. She joins Lord Zedd in his quest to destroy the Power Rangers. She is voiced by Brooke Williams. 
Williams has a long list of acting credits, and her notable roles include playing Aurelia in Spartacus, Maria in Slow West, and Hannah Jones in 12 Monkeys.
Chris Howden - Inkworth
Acting as the loyal butler of Bajillia Naire and later Lord Zedd, Chris Howden's Inkworth will do anything for his masters even if it hurts him. 
Campbell Cooley - Slyther & Scrozzle
Campbell Cooley voiced two characters in Power Rangers Cosmic Fury, namely Slyther and Scrozzle. 
After serving as Void King's third general, Slyther found redemption by helping the Cosmic Fury Rangers in the clash against Lord Zedd. 
Meanwhile, Scrozzle was freed by Lord Zedd, becoming his ally in the war against the Power Rangers. However, in the end, Scrozzle ultimately betrays Zedd to use his energy to erase the good from the universe.
Cooley is a Power Rangers mainstay who voiced characters in various projects, such as Power Rangers S.P.D., Power Rangers Mystic Force, and Power Rangers Samurai.
Mark Wright - Doodrip
While boasting that he's the villain's "Employee of the Month" throughout his appearance, Mark Wright's Doodrip is the one responsible for turning Blue Ranger into one of Lord Zedd's evil minions. 
In Episode 1, the serpent-themed beast fighter general sprinkled poison into the Rangers, leading to Ollie's heel turn. 
Before his Power Rangers Cosmic Fury appearance, Wright served as a stage actor in Wellington, and he is best known for his role as Mick Ryan in Peppermint Twist.
Ashton Brown - Jozotic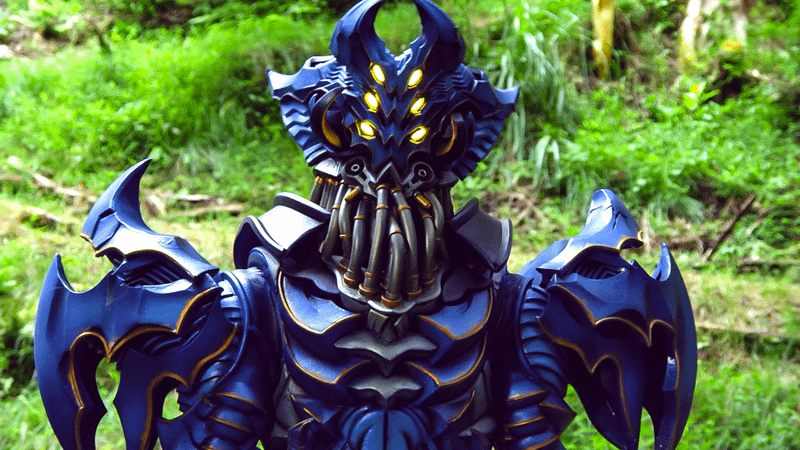 Ahston Brown voiced Jozotic, a monster who teamed with the evil Blue Ranger to find the other Rangers on Erridus. 
Brown is also a veteran in the Power Rangers franchise, with him voicing characters in Power Rangers Megaforce, Power Rangers Super Ninja Steel, and Power Rangers Beast Morphers.
Joseph Witkowski - Omwhyzo
When Squillia was tasked to join Lord Zedd on Earth, Joseph Witkowski's Omwhyzo was the bodyguard assigned to her by Bajilia to protect her daughter. 
Omwhyzo is a crow-themed monster who has feelings for Squillia. 
Daryl Habraken - Red Morphin Master
As the Red Morphin Master, Daryl Habraken's Power Rangers character served as the overall mentor of the team. 
In Power Rangers lore, the Morphin Masters are an ancient group that dedicated their lives to studying the Morphin Grid. They are also responsible for creating Power Rangers. 
Habraken previously appeared as Blair in Auckward Love and Blaine Rylands in Shortland Street.
Susan Brady - Rita Repulsa
Susan Brady's Rita Repulsa returned in the finale in a hilarious scene that revolved around Lord Zedd's punishment. 
After Zayto learns that Lord Zedd is not yet ready to be redeemed, he traps the villain in a nightmare world where he gets to relive his worst fear of being married to Rita Repulsa over and over again. 
Aside from being the voice of Rita Repulsa, Brady is also best known for lending her voice to the Mystic Mother in Power Rangers Mystic Force.
---
Power Rangers Cosmic Fury is now streaming on Netflix.