Throughout Marvel Studios' Phase 4 slate, fans have been introduced to a whole new roster of characters, ranging from Hawkeye's Kate Bishop to Moon Knight to Ms. Marvel and, most recently, Jennifer Walters in She-Hulk: Attorney at Law.
But in Phase 5 of the MCU, a number of Infinity Saga heroes are expected to continue their own post-Endgame stories, including Samuel L. Jackson's Nick Fury. 
The man responsible for assembling the original Avengers, who was last seen in space at the end of Spider-Man: Far From Home, is confirmed to return for 2023's Secret Invasion on Disney+ and The Marvels. 
However, it now seems that Jackson has returned to his signature MCU role sooner than expected in a new ad for Marvel SNAP.
Samuel L. Jackson's Nick Fury Promotes Marvel SNAP
In promoting the Marvel SNAP mobile card game, MCU veteran Samuel L. Jackson posted the following tweet, where a video jokingly shows him being replaced as the Director of S.H.I.E.L.D.
Jackson's tweet reads as follows:
"Effective today, I'm being replaced as Director of S.H.I.E.L.D. Because now, @MarvelSnap gives players control over the entire Marvel Universe. You think you can do as good of a job as I did? We'll see about that."
Marvel SNAP is a collectible card battle game featuring Marvel characters from throughout the Multiverse. 
Much like Nick Fury, players are encouraged to "assemble" their own Marvel team of heroes and villains to battle other players.
The game's promo video begins with Samuel L. Jackson confronting S.H.I.E.L.D's Human Resources upon learning that he's been replaced, saying:
"Sorry to interrupt. Were you planning a surprise retirement party for me too?"
In true Nick Fury fashion, he goes on to sarcastically remark, "I'll try to spare the world from evil overlords better next time."
Fury is then informed that his replacement has put together a fantastic team consisting of Spider-Man, Gamora, Doctor Doom, and even Squirrel Girl. 
This is all before the camera reveals his replacement who, as an obvious Marvel fan, can't help but tell Fury that he's their "screensaver."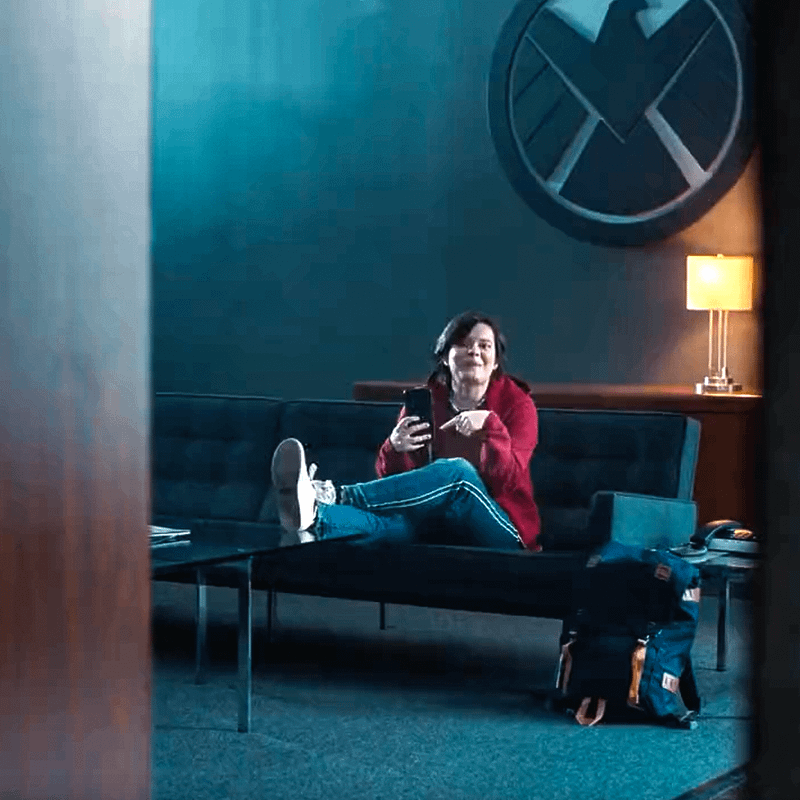 Check out the full Marvel SNAP video below:
Marvel SNAP launches today, October 18th, and is available on iOS, Android, and PC.
The Second Coming of Nick Fury
Even though this ad certainly isn't MCU canon, Samuel L. Jackson's reprisal as Nick Fury is exactly what fans expect from the character. 
However, it is worth noting that Fury will look a little different in Phase 5's Secret Invasion as photos have already confirmed that he's abandoned his signature eye patch and is sporting a beard.
While the reasons behind his new look remain to be seen, it's possible that audiences may get a few answers and even see Fury before Secret Invasion debuts. 
Due to his strong Phase 5 presence, he's definitely a contender for a post-credits scene cameo for either November 11th's Black Panther: Wakanda Forever or early 2023's Ant-Man and the Wasp: Quantumania. 
In the meantime, Marvel fans can get an idea of what it's like to be Fury by strategizing and assembling their own "group of remarkable people" with Marvel SNAP. 
Nick Fury will return in Secret Invasion on Disney+ in Spring 2023.