Netflix just changed its content line-up once again during its usual round of additions and removals, having axed a dozen movies and TV shows from the service for now.
While major streamers like Hulu and Disney+ have engaged in their own rounds of content purging, studios still take on more usual practices of content management with regular removals of projects after licensing contracts conclude.
But while these purges have plenty of fans worried about the future of streaming content, some practices are still running as they have for years, with new projects joining these services and others being temporarily removed.
Netflix Removes Movies & TV Shows in Monthly Update
12 movies and TV shows were removed from Netflix during the streamer's usual round of content swapping. One of them was removed on June 29, with the others being taken off one day later on June 30.
This is no different from how Netflix normally operates, with these projects' licensing contracts ending and helping the streaming giant save on costs of operation.
Those 12 movies and TV shows can be seen below:
1.) Mandela: Long Walk to Freedom (2013)
MCU and DCU star Idris Elba embodies former South African President and civil rights activist Nelson Mandela in a movie based on Mandela's autobiography, chronicling his life, his education, and his 27-year prison sentence.
The plot moves further into Mandela's fight to rebuild South Africa after being ravaged by Apartheid, with the movie actually debuting the same year that the real Mandela passed away at the age of 95.
2.) Chappelle's Show, Season 1-2 (2003-2005)
Comedians Dave Chappelle and Neal Brennan put together a Comedy Central sketch comedy program that starred Chappelle along with a number of famous other expert funnymen, including Mos Def, Bill Burr, and Charlie Murphy.
Chappelle and his team performed sketches that touched on plenty of real-world cultural topics like the entertainment industry, gun violence, and drugs while also including hip-hop or soul music acts.
3.) The Garfield Show Seasons 1-2 (2009-2011)
Running for a total of five seasons, this adaptation of the classic talking orange cat Garfield's story is loosely connected to the cartoon series Garfield and Friends, with voiceover icon Frank Welker embodying the titular comedic cat.
Bringing in top-notch voice talents like Sonic the Hedgehog's Jason Marsden and Star Wars' Mark Hamill, The Garfield Show featured a wild cast of entertaining supporting characters while Garfield went on his adventures.
4.) How to Lose a Guy in 10 Days (2003)
Kate Hudson and Matthew McConaughey star in an adaptation of the How to Lose a Guy in 10 Days book, with the cast also featuring Agatha: Coven of Chaos star Kathryn Hahn in an important supporting role.
McConaughey's Benjamin Barry bets he can make any woman fall in love with him while Hudson's Andie Anderson gets set to write an article about how she led her boyfriend to dump her, pitting them against each other.
5.) Jerry Maguire (1996)
Tom Cruise stars as sports agent Jerry Maguire, who has a crisis of conscience that gets him fired from his job before starting his own management firm in a story inspired by the NFL's first year introducing free agency in 1993.
Starring alongside Renee Zellweger, Cuba Gooding Jr., and a young Jonathan Lipnicki, this film earned five nominations at the 1997 Academy Awards, including a win for Gooding Jr. in the Best Supporting Actor category.
6.) LOL (2012)
Miley Cyrus' Lola works her way through the usual gauntlet of teen challenges in school and at home with her parents (played by Demi Moore and Thomas Jane) after a break-up with her boyfriend breaks her heart.
She then learns that love may have been there for her all along in her relationship with her best friend, Douglas Booth's Kyle, which develops into something new and different.
7.) Puss in Boots (2011)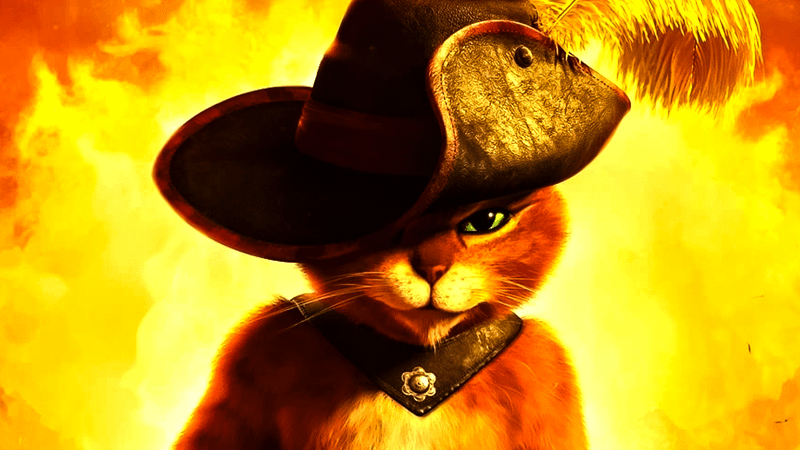 Spinning off from the Shrek quadrilogy, Antonio Banderas' Puss in Boots finally gets his own solo origin story as he finds himself teaming up with an old friend in Zach Galifianakis' Humpty Dumpty.
The two have to team up to steal the fabled Golden Goose that lays golden eggs, joining forces with Salma Hayek's Kitty Softpaws in order to clear his name and reunite with his hometown and his family.
8.) Resident Evil: Afterlife (2010)
Milla Jovovich's Alice returns in the sequel to 2007's Resident Evil: Extinction, which is the fourth of six movies based on the video game series of the same name and set in a post-apocalyptic version of Los Angeles.
Alice goes up against the Umbrella Corp as she works to rescue survivors, looking for a safe haven in Los Angeles before finding the city completely taken over by zombies, which leads to a battle of epic proportions.
9.) Resident Evil: Apocalypse (2004)
Milla Jovovich returns in the second movie of the Resident Evil series, set directly after the events of the first film when Alice escaped from an underground facility that had been taken over by zombies.
She now has to team up with other survivors to steer clear of the oncoming zombie outbreak, moving into Raccoon City for the first time as new characters from the game come to light.
10.) The Stepfather (2009)
Penn Badgley and Dylan Walsh team up for a remake of the 1987 psychological thriller The Stepfather, with Badgley's Michael Harding returning home from military school to find his mother in a new relationship.
Even with this relationship making his mother (played by Sela Ward) happy, Michael is instantly suspicious and distrustful as he starts to see a darker side to this newcomer.
11.) The Taking of Pelham 123 (2009)
John Travolta's criminal mastermind Ryder hijacks a subway train in New York City, threatening to kill the passengers unless he's paid a large random before dispatcher Walter Garber (Denzel Washington) uses his knowledge of the transit to stop Ryder.
But then, Garber realizes that the hijackers still have to find a way to escape from the subway even if their demands are met.
12.) World War Z (2013)
Brad Pitt stars as Gerry Lane, a former United Nations investigator who looks for an immediate solution to a sudden zombie apocalypse that threatens the safety of everybody on the globe.
Lane and his family get stuck in a traffic jam and see the city erupt into mayhem, with a lethal virus turning people into vicious and feral monsters as Lane searches for both the source of the infection and a way to stop it from spreading further.