Apple TV+'s new MonsterVerse series, Monarch: Legacy of Monsters, has finally arrived. Here's an extensive list of the cast and characters of the show.
The upcoming MonsterVerse show, which received generally positive reviews, tells a multi-generational story following a new cast of characters and reveals how the monster-hunting organization of Monarch came to be in the first place. Oh, and, of course, it'll feature Godzilla's jump to TV.
Most of the series takes place just after 2014's Godzilla but before 2019's King of Monsters, as the world is still contending with the fact that skyscraper-sized titans are a real and dangerous threat.
Cast & Characters of Monarch: Legacy of Monsters
Kurt Russell - Lee Shaw
Kurt Russell brings to life the modern-day (circa 2015) version of Lee Shaw. Shaw was a former Army officer who played a key role in creating Monarch. However, decades after its founding, Shaw is stuck on the outside, being monitored daily in a retirement home.
When Cate and Kentaro find him, two descendants of an old friend of Shaw's, he gets himself back into the game.
Wyatt Russell, Kurt's son, actually plays the younger version of the same character, something Kurt noted in a press release "was a unique opportunity" to tackle:
"This was a unique opportunity to do something I could likely never do again with Wyatt… Adds the younger Russell, "Both of us have resisted the gimmick of playing father and son together, but us playing the same role had an artistic element that made it easy to say yes to."
Kurt Russell can be seen as Ego in both Guardians of the Galaxy Vol. 2 and What If…? and is also known for his roles in The Hateful Eight, Escape from New York, and The Thing.
Anna Sawai - Cate Randa
Cate Randa's story begins when she arrives in Tokyo in 2015, looking to uncover some of the secrets behind her deceased father's life. Nothing can prepare Anna Sawai's character from discovering her secret brother and her father's involvement with a monster-hunting government agency.
In a press release for the series, Sawai shared how she knew that she wanted to be involved with the show:
"The meeting started, and they explained that the North Star of the show was going to be about family, and then I noticed Matt Fraction's hands," recalls Sawai. "He has a tattoo that says 'Godzilla' on his fingers. I decided right then that these are people who are really excited about what they're doing, and I wanted to be a part of that."
Anna Sawai can be seen in F9: The Fast Saga, Pachinko, and Girl/Haji.
Ren Watabe - Kentaro Randa
Kentaro, played by Ren Watabe, is another child of Hiroshi Randa, who was in the dark about his father's secret life. After learning the truth, Kentaro feels betrayed, which doesn't pair well with his already-established feelings of abandonment by his father.
His relationship with Cate starts especially strained.
In a press release, Watabe shared how "there are a number of similarities between [himself] and Kentaro:"
"I was shocked to get the role, but there are a number of similarities between myself and Kentaro… I was born and raised in Japan and am fully Japanese, as is Kentaro. The locations we went to were so much fun. We shot on a glacier, and we shot in a desert. The three of us had a lot of adventures."
Watabe's only previous onscreen credit is 2020's 461 Days of Bento.
Kiersey Clemons - May
Kiersey Clemons portrays May, a character with a mysterious past who previously dated Kentaro. Their paths cross again when Cate gets into town, and they stumble into a conspiracy involving their father.
Clemons shared in a press release that while May "has this fearless attitude," she's got "a lot of fears of the unknown:"
"When I talked with [Showrunner] Chris [Black] and Matt [Fraction], they were clear that while May has this fearless attitude and comes off as a badass, that is merely a cover because she has a lot of fears of the unknown of the world they're getting into."
Clemons was recently seen in The Flash, Praise Petey, and Fairfax.
Wyatt Russell - Lee Shaw
Wyatt Russell's Lee Shaw, a younger version of the character Kurt Russell also plays, is an Army Officer who forms an unbreakable bond with scientist Keiko and cryptozoologist Bill Randa. The trio created the company known as Monarch.
In a press release, Russell revealed that in their journey of going monster hunting, the trio need to "[ask] the military for help:"
"The three of us make a pact that if we're going to be more than just another monster hunting club, we need more resources, and that means asking the military for help, which also means that the devil is now on our shoulders."
Wyatt Russell played John Walker in The Falcon and the Winter Soldier, who will also be appearing in Thunderbolts.
Mari Yamamoto - Keiko
Keiko is a young Japanese scientist who is about numbers and results. She forms a close bond with Lee Shaw and Bill Randa as the three start a journey to discover the undiscovered—leading to the organization known as Monarch.
In discussing the trio's friendship in a press release for the series, Mari Yamamoto noted that the three "bond professionally and personally:"
"The relationship between the three of them fuses into a bond professionally and personally, and eventually, she has a choice to make. These three show up as friends and as family members. Bill and Keiko are soulmates, wedded intellectually in science. It's a fountain of desire between them because their curiosity never ceases."
Yamamoto also plays roles in Pachinko, Kate, and Story Game.
Anders Holm - Bill Randa
Decades before Godzilla, audiences meet Bill Randa, a cryptozoologist who forms an unbreakable bond with Lee Shaw and Keiko. Bill has been looking for monsters for a long time, with his current mission being to find out what happened to the World War ll Naval vessel he was serving on that mysteriously vanished.
Holm exclaimed in a press release that "Godzilla is not the engine of the show," but rather, it's "the characters:"
"The show has layer upon layer, but you have to realize that Godzilla is not the engine of the show… The characters are the engine of the show with Godzilla and this world of Titans. It is the backdrop for these amazing human stories about family, betrayal, and finding new connections across the globe."
Holm is most known for his time in Workaholics, and the actor also appeared in Game Over, Man! and The Intern.
Joe Tippett - Tim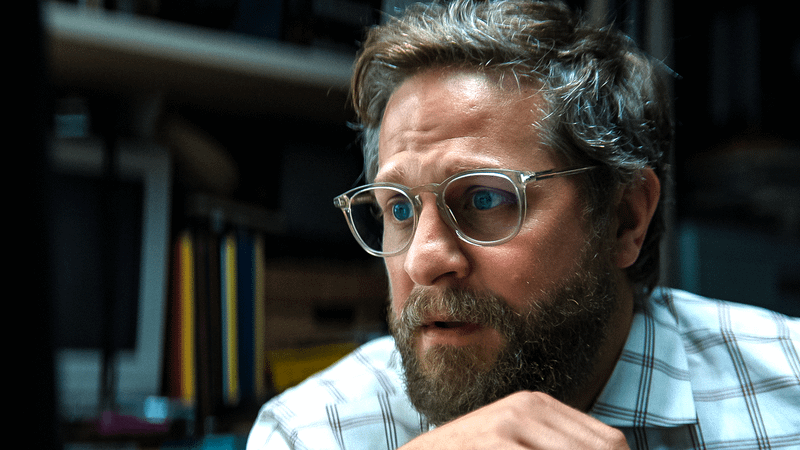 Tim is an ambitious Monarch agent played by Joe Tippett, who, after getting a whiff of leaked information, decides he can handle it himself. Obviously, things don't go as smoothly as he hoped.
Some of Tippett's previous roles include Mare of Easttown, The Morning Show, and Spirited.
Elisa Lasowski - Duvall
Elisa Lasowski also works for Monarch alongside Tim, accompanying him on his mission into the field to recover lost company information.
Lasowski can also be seen in Somers Town, Versailles, and Hyena.
Takehiro Hira - Hiroshi Randa
Takehiro Hira's Hiroshi Rando is the father of both Kate and Kentoro, though neither child knew the other existed. He is assumed to be dead as the series starts.
Hira played key roles in The Swarm, Snake Eyes, and Girl/Haji.
Mirelly Taylor - Natalia Verdugo
Mirelly Taylor's Natalia Verdugo is a higher-up in the Monarch organization and the boss of Joe Tippett's Tim.
Audiences can see more of Taylor in Power Book IV: Force, SEAL Team, and Christmas is Canceled.
Qyoko Kudo - Emiko
Emiko is Cate's mother and is married to Takehiro Hira's Hiroshi Randa. However, Qyoko Kudo's character had no idea about his second secret family.
Kudo can be seen in other projects such as The Wolverine, People Just Do Nothing: Big in Japan, and Babel.
Jess Salgueiro - Barnes
Jess Salgueiro's Barnes is another Monarch agent who becomes involved in the show's unraveling conspiracy.
The actress was previously in The Boys, Frasier, and Letterkenny.
John Goodman - Bill Randa
Bill Randa, played by John Goodman, was actually first seen in Kong: Skull Island. Here, he makes a brief appearance on that titular island where he does something that sets the events of Monarch: Legacy of Monsters into action.
Goodman is also known for his roles in Monsters Inc., 10 Cloverfield Lane, The Righteous Gemstones, and more.
Monarch: Legacy of Monsters is now streaming on Apple TV+.
---
Russ Milheim is the Industry Relations Coordinator at The Direct. On top of utilizing his expertise on the many corners of today's entertainment to cover the latest news and theories, he establishes and maintains communication and relations between the outlet and the many studio and talent representatives.