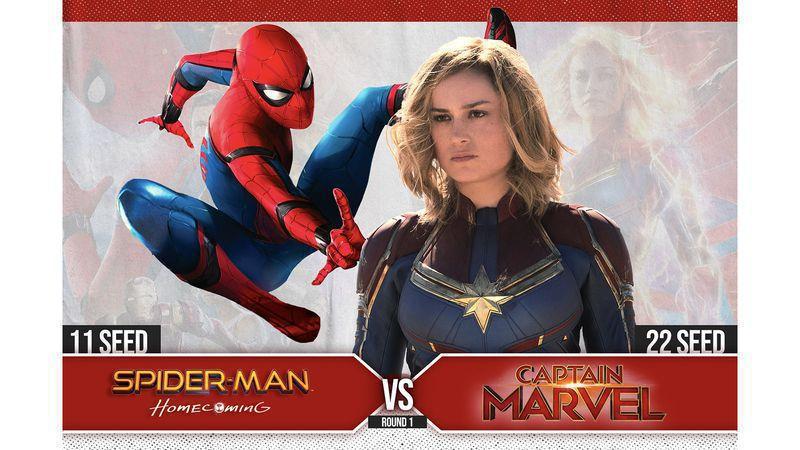 "Hey Peter Parker..." What an exciting matchup as two of the MCU's biggest stars face off in Round One of the MCU Madness Tournament ! We have one of the most beloved characters in Marvel history taking on one of the fastest up and coming superstars of the comic book movie world. Spider-Man: Homecoming has a chance to make some noise in this tournament as the MCU's first take on the legendary character. But first, it has to get past Captain Marvel, a movie many fans believe is ranked much lower than it should be, as the first-ever female-led MCU movie. VOTE BELOW!
Released: 2017
Director: Jon Watts
Phase: 3
Box Office: $880,166,924
Synopsis: Thrilled by his experience with the Avengers, young Peter Parker (Tom Holland) returns home to live with his Aunt May. Under the watchful eye of mentor Tony Stark (Robert Downey, Jr.), Parker starts to embrace his newfound identity as Spider-Man. He also tries to return to his normal daily routine -- distracted by thoughts of proving himself to be more than just a friendly neighborhood superhero. Peter must soon put his powers to the test when the evil Vulture (Michael Keaton) emerges to threaten everything that he holds dear.
Pros: After his epic introduction in Captain America: Civil War, Peter Parker gets his own smaller scale adventure with Spider-Man: Homecoming. This movie had a lot going against it prior to its release; five other web-crawler solo films had come before it and the world was starting to feel Spider fatigue. However, this movie does a great job of combining great action, comedy, a dynamic villain and an excellent supporting cast with a vintage, yet fresh, Spider-Man story. Also... Iron Man.
Cons: As mentioned before, this movie had a lot of hurdles to jump being the 6th Spider-Man film in 15 years. Marvel Studios attempts to differentiate from those films with a variety of changes that may seem jarring to the casual moviegoer. There is also a rather large error in timing ("Eight Years Later") at the beginning of the movie that most people try to forget about.
Released: 2019
Director: Anna Boden, Ryan Fleck
Phase: 3
Box Office: $1,128,274,794
Synopsis: Captain Marvel (Brie Larson) is an extraterrestrial Kree warrior who finds herself caught in the middle of an intergalactic battle between her people and the Skrulls. Living on Earth in 1995, she keeps having recurring memories of another life as U.S. Air Force pilot Carol Danvers. With help from Nick Fury (Samuel L. Jackson), Captain Marvel tries to uncover the secrets of her past while harnessing her special superpowers to end the war with the evil Skrulls.
Pros: Captain Marvel is one of the most interesting films in the tournament because many believe it will outperform its #22 seeding. This movie features an interesting take on the origin story as audiences learn who Carol Danvers is when she herself learns her backstory. With a great amount of action and a look into the past of one of the MCU's greatest characters (Nick Fury), Brie Larson has a great debut as this now fan-favorite character. Tie a bow on that with a great plot twist and dynamic shift in the middle of the movie, and we have a STRONG #22 seed.
Cons: Many believe this movie feels very out of place being set in the mid-90s. After being teased in Avengers: Infinity War, many people did not know what Captain Marvel's role in the MCU would be. And despite a rather exciting end-credit scene, many believe there wasn't much done for the overall story of the MCU leading into it's biggest event, Avengers: Endgame.
Other Round 1 Matchups:
#10 Doctor Strange vs. #23 The Incredible Hulk
#12 Spider-Man: Far From Home vs. #21 Captain America: The First Avenger