After a brief appearance in December's Guardians of the Galaxy Vol. 3 trailer, new photos offered fans a good look at Will Poulter's debut as Adam Warlock. 
Adam Warlock has been a long time coming to the MCU, after first being teased back in the post-credits scene of Guardians of the Galaxy Vol. 2. 
And Guardians 3 seems to only just be the beginning for the gold-skinned Marvel hero, with Poulter hoping to "go on a journey" with his MCU character. While this may be the end for this current Guardians team, fans are hotly anticipating what the threequel does for this new intergalactic character. 
Now, after a number of teases leading up to this, fans can finally ogle over every detail of Adam Warlock's MCU look.
Meeting Adam Warlock in New Photos
New images posted by Empire Magazine revealed the first official full-body images of Adam Warlock in Guardians of the Galaxy Vol. 3.
Will Poulter's intergalactic hero can be seen sporting god-like armor, almost resembling something Thor or Loki would wear in the MCU.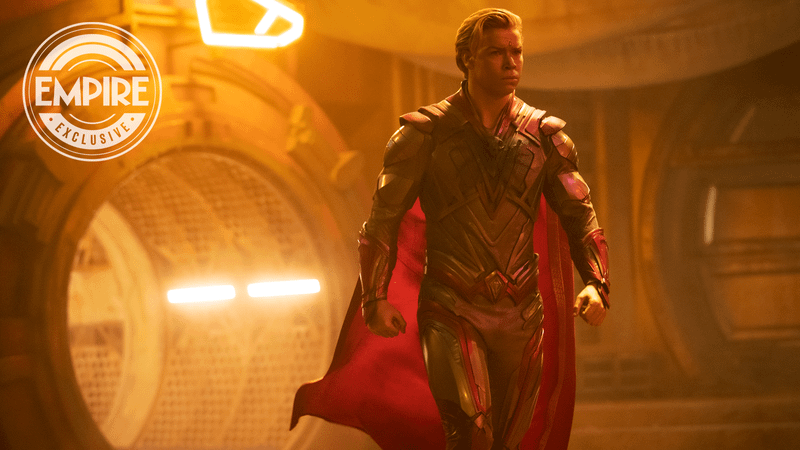 His shining gold skin and silver tunic are also complimented by a bright red cape, something Marvel Comics fans will recognize from the character's storied comics history. 
While the look is not pulled straight from the comics page, there are little touchstones harkening back to the source material. Aside from the red cape, Poulter's hero sports the gem embedded in his forehead. While it is unlikely to be the Soul Stone like his comic counterpart, the Jewel is still there. 
Other comic book details in the look include the skull on the neckline, along with a noticeable belt buckle (although the movie one is significantly toned down).
Warlock's Costume Shines Ahead of MCU Intro
It is always an exciting time to see either a new hero's costume or a returning favorite's new look in the MCU. And Adam Warlock is no different. 
The fan-favorite comic book character has been a long time coming, having been a key figure in many iconic Marvel storylines including the original Infinity Gauntlet run.
And now audiences can finally pour over every detail of Will Poulter's character. While he does not look exactly like his comic book counterpart, there are enough touchstones to make this a worthy adaptation.
This all comes after chatter around the character's on-screen look said his MCU costume would be a significant departure from the source material. 
Yes, Will Poulter's golden thighs are not being displayed like a prize-winning pumpkin pie, but this still feels true to the character. It's a strong god-like look, that still feels distinctly Adam Warlock. 
So no, he does not have the bright red unitard and golden championship belt, but there are tributes to almost all of those classic comic costume elements. 
More of Adam Warlock can be seen when Guardians of the Galaxy Vol. 3 hits theaters on May 5.