Every hero needs a great suit; and through the years, Marvel has more than delivered in reimagining comic book character suits for the big screen and now on Disney+. 
Apart from conventions, Halloween is when fans can experience what it's like to have a superhero's wardrobe; and earlier this year, Marvel acknowledged just that when Wanda and Vision wore costumes based on their classic comic book-inspired costumes in WandaVision's "All-New Halloween Spooktacular! episode. 
For Marvel fans looking to live out their own MCU Halloween special this year, The Direct compiled a list of the best Halloween costumes for a very Marvel Halloween. 
Top 10 Marvel Halloween Costumes for Women
10. Captain Marvel Costume
"I have nothing to prove to you." - Carol Danvers, Captain Marvel
For those determined to channel an MCU heroine for Halloween, why not one of the most powerful Avengers to ever grace the screen? In addition to appearing in What If...? on Disney+, Captain Marvel also made a cameo in a recent MCU film and has her own sequel titled The Marvels slated for a 2023 release.
This Captain Marvel costume from Rubie's is a long-sleeve jumpsuit that comes with a foam belt. 
9. Black Widow Taskmaster Costume
"You get to make your own choices now." - Natasha Romanoff, Black Widow
While this style of suit and mask is typically reserved for men's Halloween styles, that is not the case with Black Widow's Taskmaster-inspired costume.
Taskmaster's Halloween look consists of a polyester jumpsuit that comes with an attached hood, a plastic mask, foam belt, and scarf, as well as a padded abdomen and arms.
8. Eternals' Sersi Costume
"We're Eternals. We came here seven thousand years ago, to protect humans from the Deviants." - Sersi, Eternals
Even though Marvel Studios' Eternals isn't set to debut until November 5, 2021, Marvel fans can still dress as Sersi from the upcoming film this season.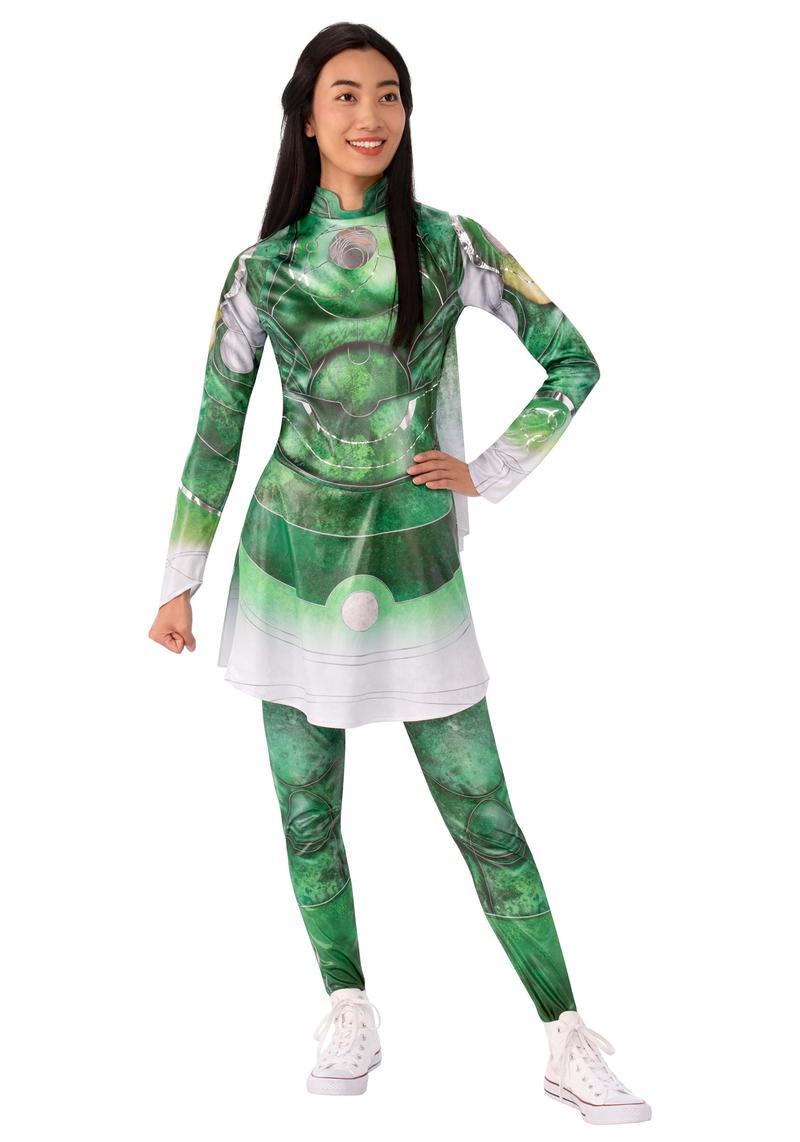 Marvel's Sersi costume consists of two pieces. Shoes/boots are not included. 
7. Black Panther Shuri Costume
"The real question is, what are those?!" - Shuri, Black Panther
Princess of Wakanda and the country's chief science officer, Shuri made quite an impression in 2018's Black Panther and is expected to take on a leading role in 2022's Black Panther: Wakanda Forever. 
This Shuri costume comes with the top, pants with shoe covers, two armbands, and molded gauntlets. 
6. Avengers: Endgame Time Heist Suit
"You know your teams, you know your missions. Get the stones, get them back." - Steve Rogers, Avengers: Endgame
For Marvel fans looking to execute their own Halloween time heist, the mission should be to get the candy; get it back. Whatever it takes. 
This women's Avengers: Endgame suit is a long-sleeve jumpsuit that comes with attached shoe covers.
5. Black Widow White Snow Suit Costume
"It's funny. My whole life, I didn't think I had any family. Turns out I got two." - Natasha Romanoff, Black Widow
Natasha Romanoff has sported a number of looks throughout her run in the MCU, but her white snowsuit from her stand-alone solo film has to be one of the best. 
This officially licensed Marvel Studios Black Widow costume is also from Rubies and consists of a jumpsuit with a belt and cuffs.
4. Yelena Belova Black Widow Costume
"It's a fighting pose. You're a total poser." - Yelena Belova, Black Widow
The only way to elevate Black Widow's white snowsuit is with Yelena Belova's vest. It has so many pockets.
This costume inspired by Yelena Belova's Black Widow attire, includes almost everything pictured above except for the white boots. 
3. Sylvie Laufeydottir from Loki Costume
"Just because I have to work with you doesn't mean I wanna hear your voice." - Sylvie, Loki
One of the newest additions to the MCU is Sylvie from Loki on Disney+ who successfully killed He Who Remains and possibly freed the multiverse. 
Loki's Sylvie costume consists of multiple pieces, including her cape, signature golden, horned headband, and more.
2. Dora Milaje Black Panther Costume
"The Dora Milaje have jurisdiction wherever the Dora Milaje find themselves to be." - Ayo, The Falcon and the Winter Soldier
Wakanda Forever! Listed as an officially licensed Disney and Marvel Studios costume, this Dora Milaje costume from Rubies is listed as an officially licensed Disney and Marvel Studios costume; and while Dora recently appeared in The Falcon and the Winter Soldier on Disney+, fans can expect to see more of them in Black Panther: Wakanda Forever in 2022. 
In addition to the tunic, the costume comes with attached gauntlets, a belt, and pants with attached boot-tops. Vibranium not included. 
1. WandaVision's Classic Scarlet Witch Costume
"I'm a Sokovian fortune teller." - Wanda Maximoff, WandaVision
Of course, Wanda Maximoff's Halloween costume from WandaVision's Halloween special earns the top spot on this list; and just like WandaVision, this costume is completely meta in that it's a costume of a costume. 
Officially licensed by Rubies, Wanda's comic book-inspired costume comes with a bodysuit, cape, gloves, and headpiece.
LATEST NEWS
TRENDING