Justified: City Primeval's cast has familiar faces and exciting newcomers. 
Created by showrunners Dave Andron and Michael Dinner, Justified: City Primeval is an eight-part revival show that continues the story of FX's Justified series. 
The series is inspired by Elmore Leonard's novel City Primeval: High Noon in Detroit, and it revolves around U.S. Marsha Raylan Givens' clash against a dangerous new outlaw. 
Justified: City Primeval - Every Actor & Character
1.) Timothy Olyphant - Deputy U.S. Marshal Raylan Givens
Timothy Olyphant reprises his role as Deputy U.S. Marshal Raylan Givens in the Justified revival mini-series. Not only did the actor's portrayal of Givens in Justified's first run on FX earn him an Emmy nomination, but it also allowed him to effortlessly step inside a Western lawman-type character for his future roles. 
In Justified: City Primeval, Givens investigates a murder of a public official in Detroit that pits him against a dangerous and deadly outlaw. 
Olyphant is best known for his roles in Fargo Season 4, The Mandalorian, The Book of Boba Fett, and Once Upon a Time in Hollywood. 
2.) Aunjanue Ellis - Carolyn Wilder
Aunjanue Ellis portrays Carolyn Wilder, a defense lawyer who is hired by Clement Mansell when he is pursued by Raymond Cruz and the police. The character is a passionate lawyer who eventually gets entangled in a romantic situation with Cruz while also learning Mansell's evil side. 
Ellis' past credits include King Richard, Lovecraft County, and Quantico. 
3.) Boyd Holbrook - Clement Mansell / The Oklahoma Wildman
Boyd Holbrook plays Clement Mansel aka The Oklahoma Wildman, Justified: City Primeval's main villain. In the book, Mansell is a dangerous criminal and murderer whose main goal is to exploit rich men. 
The character also has the means to keep himself one step ahead of the law to avoid getting arrested. 
Holbrook was recently featured in Indiana Jones and the Dial of Destiny, and his past roles include Milk, Narcos, Gone Girl, and Logan. 
4.) Adelaide Clemens - Sandy Mansell
Adelaide Clemens portrays Sandy Mansell, Clement's girlfriend and his accomplice in his crimes. During the pair's operations, Sandy is the one who seduces wealthy men who they eventually target. 
Clemens' other roles are from the Rectify series and Under the Banner of Heaven. 
5.) Vondie Curtis-Hall - Marcus "Sweety" Sweeton
Vondie Curtis-Hall is Sweety in Justified: City Primeval, a local bar owner in Detroit and a criminal who is in cahoots with Mansell in the novel.
In the series, though, the character is confirmed to be a former musician who wants to escape his past criminal life while also having a connection to Carolyn Wilder.
Curtis-Hall is best known for his past acting stings in Coming to America, Die Hard 2, and as Ben Urich in Netflix's Daredevil series. 
6.) Marin Ireland - Maureen Downey
Marin Ireland plays Maureen Downey, a Detroit cop who is working alongside Raymond Cruz in the novel. It seems that the character is set to portray a similar role in the revival as she works alongside Timothy Olyphant's Raylan Givens to uncover Mansell's evil plans.
Ireland's past acting credits include The Umbrella Academy, The Irishman, and Hell or High Water. 
7.) Norbert Leo Butz - Norbert Bryl
Norbert Leo Butz portrays Norbert Bryl in Justified: City Primeval, a character described as one of the best homicide cops in Detroit despite having a self-inflated ego. 
Butz is known for Better Nate Than Ever, Bloodline, and Debris. 
8.) Victor Williams - Wendell Robinson
Victor Williams plays Wendell Robinson, a veteran Detroit detective who helps Raylan in his quest to stop Mansell. 
Williams' past acting credits include The Affair and The King of Queens.
9.) Vivian Olyphant - Willa Givens
Vivian Olyphant is Timothy's real-life daughter who appropriately portrays Raylan Givens' daughter, Willa, in the series. 
Justified: City Primeval marks Vivian's onscreen debut. 
10.) Ravi Patel - Rick Newley
Ravi Patel plays a recurring character named Rick Newley in Justified: City Primeval. 
Patel is known for his roles in Wonder Woman 1984, The Valet, and Master of None. 
11.) Alexander Pobutsky - Skender Lulgjuraj
Alexander Pobutsky portrays Skender Lulgjuraj in Justified: City Primeval. In the novel, the character is a wealthy Albanian who becomes the target of Mansell's diabolical scheme when he is seduced by Sandy. 
Pobutsky's past credits include small roles on Daisy Jones and the Six and The Blacklist. 
12.) Paul Calderon - Raymond Cruz
Paul Calderon plays Raymond Cruz, the original main character in Elmore Leonard's novel City Primeval: High Noon in Detroit. Instead of him leading the charge, Givens will be the one pushed to the forefront, but his appearance may hint that he is involved in the case.
Calderon is known for Out of Sight, Bosch, and King of New York.
13.) Matt Craven - Dan Grant
Matt Craven joins Timothy Olyphant as the only confirmed returning cast member of the original series who returns to Justified: City Primeval. 
In FX's Justified, Dan served as Raylan's original boss in the Miami field office.
Craven's past credits include Deja Vu, X-Men: First Class, and Crimson Tide.
14.) Keith David - Judge Alvin Guy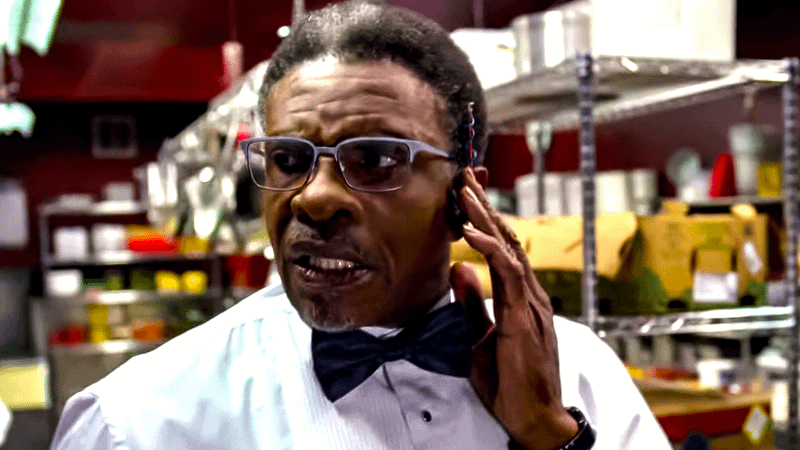 Keith David portrays Judge Alvin Guy, a Detroit judge who had a run-in with Mansell that essentially served as the launchpad of the show's story. 
David is known for his roles in Platoon, The Thing, and Jordan Peele's Nope.
15.) Amin Joseph - Jamal
Amin Joseph plays Jamal in Justified: City Primeval, Carolyn Wilder's ex in the series. 
Joseph is known for Snowfall, Call Me King, and Send Help. 
16.) Jalen Gilbert - Tyrone Power
Jalen Gilbert plays Tyrone Power, Carolyn Wilder's client during Justified: City Primeval's first episode. 
Gilbert's past roles include Work in Progress, Shameless, and Chicago Med.
The other cast members of Justified: City Primeval are listed below:
Joseph Anthony Byrd - Trennell
Yosef Kasnetzkov - Besnik Darke
Regina Taylor - Diane
Eddie Martinez - Hector
---
Justified: City Primeval airs on FX on Tuesdays.