John Cena's Peacemaker just finished its first full season on HBO Max, becoming the first fully streamed project in DCEU history. All eight episodes helped make the story a major success from both fans' and critics' perspectives alike. Impressively, the Peacemaker season finale brought that to new levels by setting viewership records for the streaming network upon its debut.
Warning - the rest of this article contains spoilers for the Season 1 finale of Peacemaker.
Part of what made that finale such a hot topic was the participation of the DCEU's Justice League, including full appearances from Jason Momoa's Aquaman and Ezra Miller's Flash.
Having been teased throughout the episode by Danielle Brooks' Leota Adebayo and others, Peacemaker found himself in front of Superman, Wonder Woman, Aquaman, and the Flash after defeating the butterflies. This all ended with Arthur Curry and Barry Allen discussing the NSFW rumor about Aquaman's activities with fish, leaving viewers stunned at what came to be.
Even in an interconnected universe, having these big-screen stars show up alongside Cena was a major accomplishment as the DCEU continues to move forward. Following that event, Cena shared his thoughts on what came to be for the first time and explained how incredible it all was.
John Cena on Peacemaker's Justice League Cameos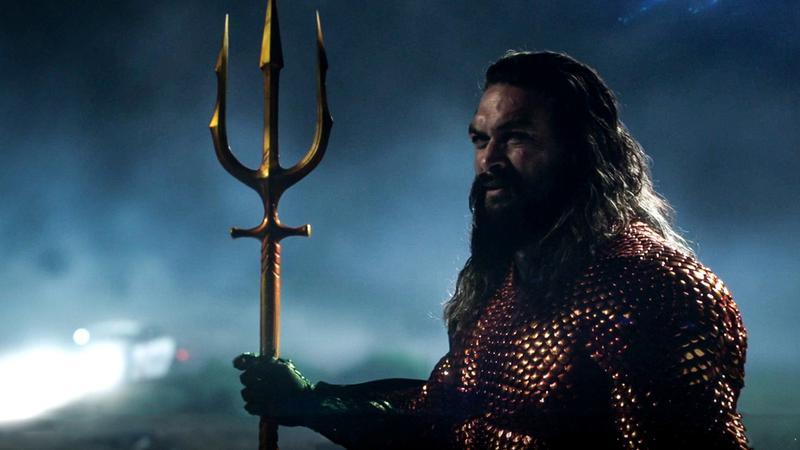 Peacemaker star John Cena spoke with Fandom about the unexpected cameos from the Justice League in the Season 1 finale.
Cena referred to this inclusion as "incredible for many reasons," particularly with his character being so "jealous of the other superheroes." Due to that jealousy, his Christopher Smith simply felt the need to "bad mouth everybody," only adding to the feeling of insecurity he so often feels in the show:
"It was incredible for many reasons. I think the most important thing is what all the participants did for our show. Peacemaker is a jealous superhero. Well, I don't know if he's even a superhero, but he's jealous. He's jealous of the other superheroes because of what they have. And he wants that and he doesn't have it. So he has to bad mouth everybody… Calling The Flash a d-bag, weaving his jokes about Aquaman in there, and talking about Wonder Woman's desire for him. Everything he says is just indicative of how insecure he is. He wants to be where they are."
As for the perception of the show itself, Cena loved how it gave "vindication to Peacemaker" as a character while also pushing the show forward in big ways. With the anti-hero being a virtual unknown before The Suicide Squad, his solo series helped put him "right up into the conversation" with DC's biggest names in the game:
"That scene at the end, I believe gives vindication to Peacemaker, but more so, it really does a whole hell of a lot for our show. You have a virtually unknown character in Peacemaker. We saw him a little bit in The Suicide Squad and then you meet him and his crew over these eight episodes. What happened at the end, to me, brings the character – which means the whole team with him – from like a fourth or third-tier player in the game, right up into the conversation with every big name in the DC universe."
Cena also expressed his gratitude to both Momoa and Miller for "(putting) themselves in the limelight" and making it so that they weren't the punchline of a joke, all for "the good of (the) show." Cena saw that as "a very important moment" for the show and praised director James Gunn for his ability to get people talking about what transpired:
"I'm forever grateful [to Momoa and Miller], because they did us a huge solid by doing that. And they were able to put themselves in the limelight and get everybody talking, but they do so in a way where the joke's not on them. And they did it for the good of our show. Whether that was their intention or not, it really, really, really, really helped us, especially after eight episodes of people being excited about the show, to put a stamp on it. It lets everybody know that there's a new player in the DC Universe and that this is what's going on. 'These folks are now on an equal playing field, wow!' That's my takeaway from that. I think that was a very important moment for us. And of course, it gives everybody a whole lot of stuff to talk about and James Gunn is really good about making people talk about stuff! So mission accomplished in that regard."
Cena Thankful for Peacemaker's Success
John Cena took a major chance by playing a largely unknown character like Peacemaker in 2021's The Suicide Squad, even for how big of a star he already is. Now, he's had the opportunity to be a part of one of the DCEU's biggest events yet with four members of the Justice League making cameos in his own HBO Max solo series.
With Cena now fully invested in bringing the Peacemaker role to life, his interaction with Momoa and Miller helped solidify his place amongst DC's elite, especially with this being Cena's first solo project. Getting this kind of storytelling with such big characters in the narrative is something that's already being celebrated, and it's clear that the star knows how monumental it is for the DCEU as a whole.
Given that Season 2 has already been confirmed, fans will be looking forward to seeing what Cena and Gunn do to top a Justice League-level moment like the one in this finale. The details on that are still being worked out, but considering how many people watched the first eight episodes, it will be a topic of discussion for some time to come.
Season 1 of Peacemaker is now available to stream on HBO Max.