Funko jumped on the marketing train for Guardians of the Galaxy Vol. 3 with new figurines for the MCU threequel ahead of its May 2023 release.
Although Guardians 3 is only the second MCU movie of the year to release, it's become the most anticipated superhero movie of 2023 amongst fans as hype builds for its debut. While its popularity amongst its Marvel Studios peers continues to rise, the threequel's merchandising run also adds to that excitement with new collectibles and commemorative items highlighting the film's biggest characters.
The team's last release, The Guardians of the Galaxy Holiday Special, came with a special round of Funko Pops! that gave the team holiday-themed items to show off in their figurines.
Now, with Phase 5 of the MCU only a few weeks away from starting after the new year, Funko took the opportunity to put the Guardians back in the spotlight with a new round of Pops! that show where they'll be in their next adventure.
New Funkos Release for Guardians 3
Funko released pre-orders for nine new Funko Pops! highlighting characters from Marvel Studios' Guardians of the Galaxy Vol. 3.
Chris Pratt's Star-Lord stands ready for battle in his new team uniform with his blasters in hand, complete with facial hair and a focused look in his eyes.
Pre-order the new Star-Lord Pop! here.
Bradley Cooper's Rocket Raccoon comes fully dressed in his Guardians team outfit with a small device in his hand, which could potentially be Quill's Zune that he got at the end of Guardians of the Galaxy Vol. 2.
Pre-order the new Rocket Pop! here.
Vin Diesel's new Alpha Groot boasts a smile on his face, and while he's only shown with two arms here, his new body boasts four extra appendages that he'll use in battle.
Pre-order the new Groot Pop! here.
Dave Bautista's Drax the Destroyer dons his Guardians uniform - a strange change of pace for the character due to his "sensitive nipples."
Pre-order the new Drax Pop! here.
With a blaster in one hand, Karen Gillan's Nebula raises up her left arm, which is a completely different build from the ones fans have seen in previous appearances.
Pre-order the new Nebula Pop! here.
Pom Klementieff's Mantis changes outfits for the first time in MCU history, wearing the Guardians' uniform with her hand on her hip.
Pre-order the new Mantis Pop! here.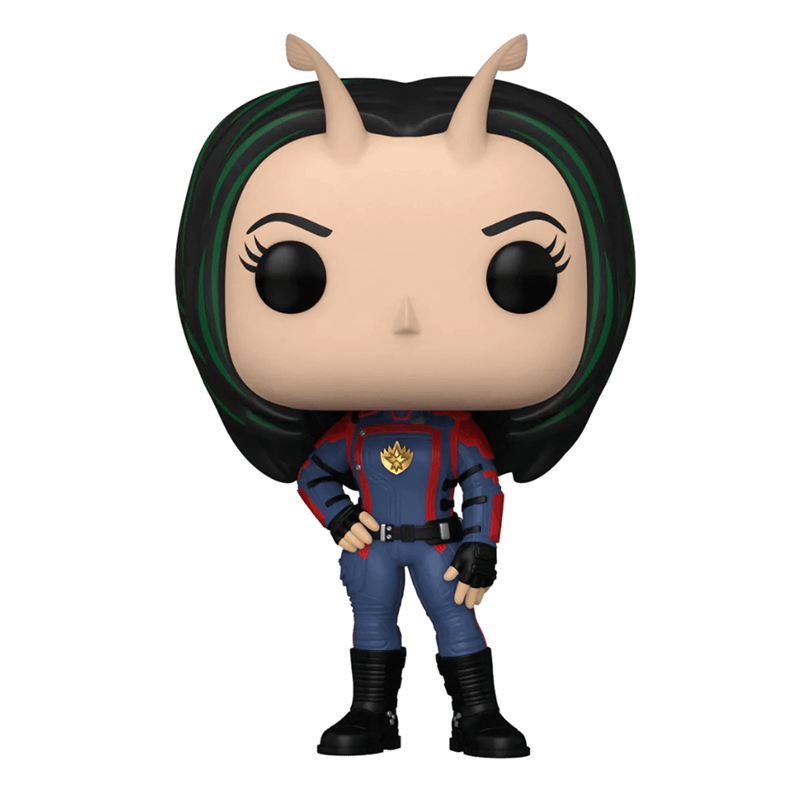 Sean Gunn's Kraglin is highlighted ahead of his latest MCU appearance, showing off Yondu's old fin on his head along with a large scar on his left eye.
Pre-order the new Kraglin Pop! here.
Will Poulter's Adam Warlock Funko comes in a solid gold color, complete with the gem on his forehead and a fancy new superhero suit and cape.
Pre-order the new Adam Warlock Pop! here.
Maria Bakalova's Cosmo the Space Dog is commemorated in Funko form, with the new canine addition sitting in place with her tongue sticking out.
Pre-order the new Cosmo Pop! here.
On top of the normal group of Funkos, Alpha Groot also comes in jumbo form with "Jumbo Groot," which will be sold exclusively at Target.
Additionally, Rocket gets a different Pop! with him wearing the outfit that he uses in Knowhere - a figurine that will be a BoxLunch exclusive.
Cosmo also gets a second variant of her Funko pop that's described as a Flocked Funko, giving her a fur-like texture instead of the usual plastic. This Pop! will be a Hot Topic exclusive.
Guardians 3 Marketing Hypes Up MCU Threequel
Funko pulls out all the stops with this new line of Pops! for Guardians 3, celebrating the core team of heroes along with the exciting new additions that are set to take starring roles in the threequel. Highlighting the characters' new costumes along with upgrades to their weaponry heading into the next adventure, these figurines are sure to be a hit once they become fully public before the movie hits theaters.
The only notable exception in this lineup is Zoe Saldaña's Gamora, who will make a thrilling return to this franchise after being absent from the Holiday Special. Although she was seen in a couple of short shots from the original trailer for the movie, she'll be one of the threequel's big surprises early in the runtime as fans wait to find out what she's been up to since leaving Earth in Avengers: Endgame.
While these are sure to be far from the last collectibles that come for Guardians 3, they'll be fantastic additions to any Funko collection before the Guardians take on what will be their final mission as a team together.
Guardians of the Galaxy Vol. 3 will debut in theaters on May 5.
LATEST NEWS
TRENDING