Apart from Shang-Chi and the Legend of the Ten Rings, so far, Marvel's Phase 4 has largely centered on familiar characters from the MCU with WandaVision, Loki, Black Widow, and later this year, both Spider-Man: No Way Home and Hawkeye.
That all looks to change with Marvel's Eternals - an epic tale of ancient, powerful aliens who have lived on Earth in secret until now. 
While Eternals features an ensemble cast of MCU newcomers like Angelina Jolie and Salma Hayek, several members of the cast have been seen on screen together before, including Game of Thrones stars Richard Madden (who played Robb Stark) and Kit Harington (the actor behind Jon Snow). 
Eternals Richard Madden Talks Game of Thrones Co-Star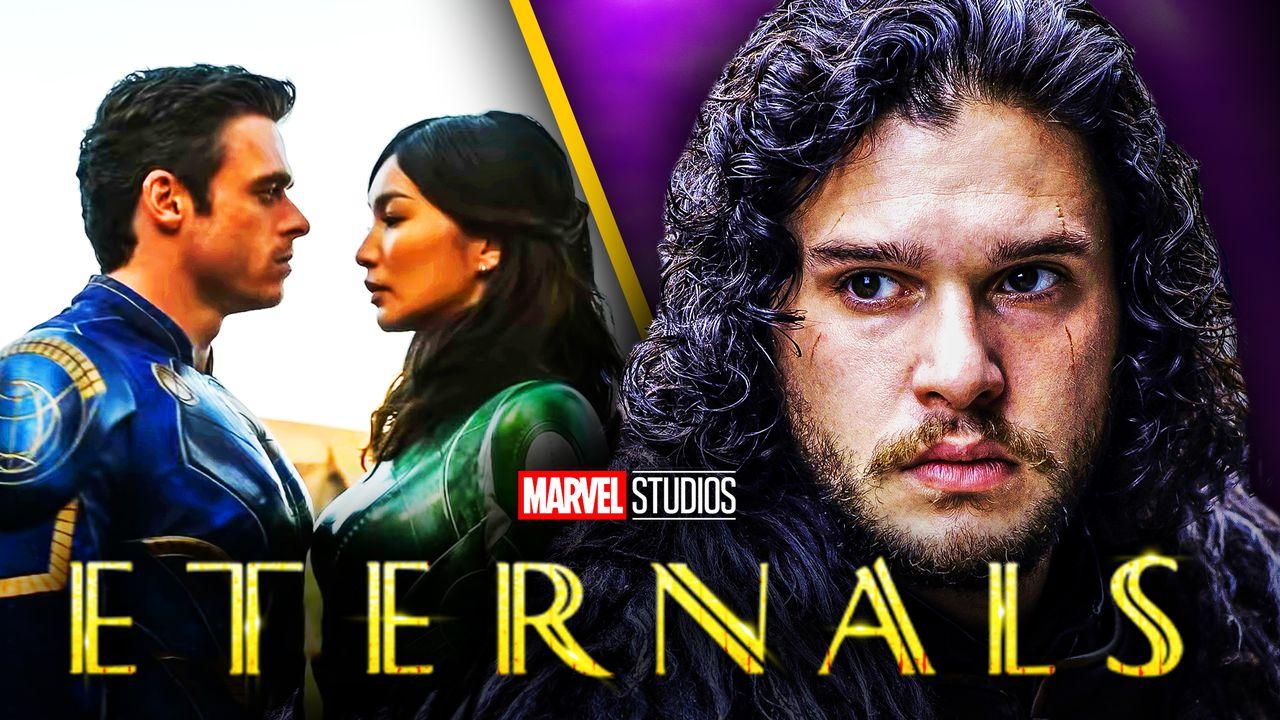 In talking with Entertainment Weekly, Richard Madden was asked about reuniting with fellow Games of Thrones actor Kit Harington, admitting that it was "just great," but that it's "sad" that "we don't get to do a lot in [Eternals] together:"
"Just great. I mean, I've been friends with Kit for many, many years, and sadly we don't get to do a lot in the film together. But I get to have one moment with him where we say hello, and it's nice to be on set with someone you know and trust and have known for a long time. On set, it was kind of like hanging out with your friends, and then it's like, 'Oh, right, we've got to do acting now? Okay.'"
While Eternals is a departure from Game of Thrones, it's also different than most MCU projects to date.
When Madden was asked why Eternals and his character of Ikaris appealed to him, the actor claimed it was the "fascination" that comes from playing a character "that's thousands and thousands of years old:"
"For me, it was the fascination of when you've got a character that's thousands and thousands of years old, what is it about them that makes them want to keep living? What is it about the world around them that they find joy in?"
Richard Madden's Ikaris vs. Kit Harington's Dane Whitman?
While several members of the Eternals cast - like Madden and Harington - are well-known to general audiences, their characters are relatively unknown within the MCU, despite the fact that Madden's Ikaris and his fellow Eternals have been on Earth for centuries.
While Madden has questioned his character's motives and inspirations considering his age, fans also have questions about the history of these immortal heroes and the rules that have kept them out of the limelight until now. 
What audiences do know is that Madden's Ikaris has a romantic relationship with fellow Eternal Sersi, played by Gemma Chan. Even though Madden and Harington have little time together on screen, Sersi is the bridge between the two as she also has a connection with Harington's character - Dane Whitman - who's expected to become a Marvel hero himself known as the Black Knight. 
Just how Sersi will navigate these two relationships - and what that means for the film and the threat at large - is one of the film's many mysteries. However, since this is the MCU, it's unlikely that Eternals is the last time Madden and Harington will appear on screen together within the Marvel Cinematic Universe.
Eternals will debut in theaters worldwide on November 5, 2021.
LATEST NEWS
TRENDING