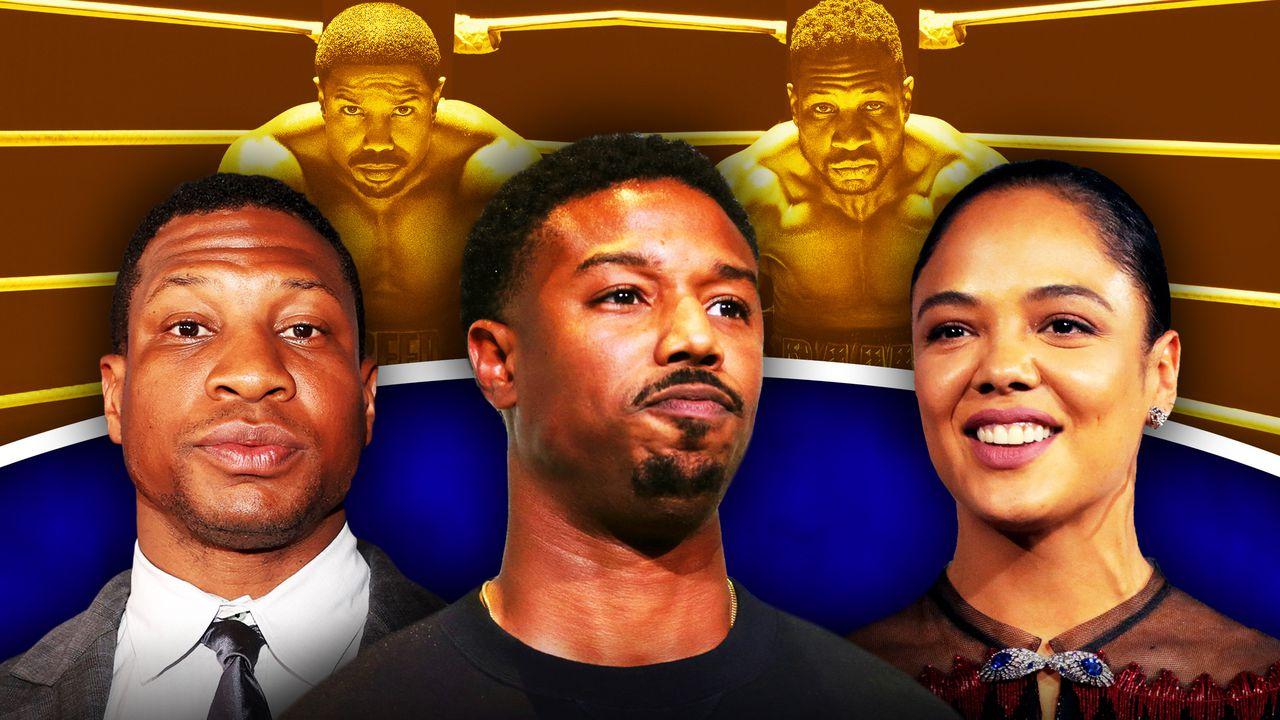 After nearly five years since Michael B. Jordan last entered the ring as Adonis Creed, the actor is back with Creed 3 alongside a star-studded cast full of some of the best actors going right now. 
Creed 3 is just the latest boxing blockbuster in the long-running Rocky/Creed franchise. After the series got its start being written and produced by star Sylvester Stallone, Michael B. Jordan will follow in those footsteps, making his directorial debut with the latest in-ring epic. 
The threequel has been heralded as an "intense emotional journey" by critics, with some calling it "by far the best" Creed film. This time around, Jordan's titular heavyweight champion is joined by the likes of Jonathan Majors, Tessa Thompson, and a whole lot more.
Confirmed & Reported Actors
1.) Michael B. Jordan - Adonis "Donnie" Creed (Johnson)
Michael B. Jordan headlines Creed 3 yet again, taking on the starring role of Adonis "Donnie" Creed (born Adonis Johnson). Fans last saw the character as he took down a mountain of a man, Viktor Drago (the son of the boxer who killed Donnie's father in the ring). 
When the threequel picks up, Adonis has retired from fighting and is enjoying life as a father, helping to raise his daughter Amara alongside Tessa Thompson's Bianca Taylor. However, he is forced to put the gloves back on when a force from his past (Jonathan Majors' Damian "Dame" Anderson) comes back into his life. 
2.) Tessa Thompson - Bianca Taylor
Back for her third Creed film in Creed 3 is Tessa Thompson's Bianca Taylor. The Philidelphia native is now married to Michael B. Jordan's Adonis Creed and has given birth to a beautiful baby girl, Amara. 
After starting out as a fledgling musician looking to make it a career in the first Creed movie, Bianca has grown to become a successful R&B/hip-hop act, even providing entrance music at points for her heavyweight champ husband. Ever since the first movie, Biance has slowly felt the slow progression of hearing loss, with the worry she would eventually go fully deaf. 
3.) Jonathan Majors - Damian "Dame" Anderson
A newcomer to the franchise with Creed 3 is Jonathan Majors' Damian "Dame" Anderson. The Ant-Man and The Wasp: Quantumania actor comes hot off his Kang the Conqueror debut, entering the ring as a long-lost friend of Michael B. Jordan's Adonis looking for his comeuppance.
Growing up, Damian and Adonis get in trouble with the law, and while Michael B. Jordan's character was picked up and raised by a family of means, Majors' "Dame" was not as fortunate. Instead, he spent years of his life incarcerated, and after being released and seeking out Adonis, it becomes clear Damian is not visiting with the best of intentions.
4.) Thaddeus J. Mixon - Young Adonis "Donnie" Johnson
Thaddeus J. Mixon joins the threequel as a younger version of Michael B. Jordan's titular boxer.
While it is unclear how involved the Safety and South of Heaven actor will be in Creed 3's plot, with Adonis' past playing such a big part in the film, Mixon will at least get a bit of screen time. 
5.) Spencer Moore II - Young Damian Anderson
As was the case with Thaddeus J. Mixon Micheal B. Jordan's Adonis Creed, Spencer Moore II will play the younger version of Jonathan Majors' Damian Andreson. 
Audiences will see the young actor in some pivotal sequences, as the film explores the two different sides of the coin between "Dame" and "Donnie."
6.) Wood Harris - Tony "Little Duke" Evers
Another familiar face from the Creed franchise comes in the form of Wood Harris (of The Wire fame) as Tony "Little Duke" Evers. 
The boxing trainer has been a part of every Creed movie up to this point. Harris' "Little Duke" is the son of famed trainer Duke Evers from the original Rocky films, the man responsible for training both Apollo Creed and Rocky Balboa. 
7.) Florian Munteanu - Viktor Drago
After playing the main antagonist and then ultimately reconciling with Adonis Creed in Creed II, Florian Munteanu's Viktor Drago is back for Creed 3. Fans will recognize Munteanu for his recent work as Razor Fist in Shang-Chi and the Legend of the Ten Rings, having been thrust into the spotlight since the last Creed film.
It is unknown how the character will play into this story, but with him and Adonis seeing eye-to-eye by the end of the last film, perhaps he could be in the Creed corner this time around rather than in the ring throwing blows with him. 
8.) Phylicia Rashad - Mary Anne Creed
Playing the wife of one heavyweight champ and the mother of another is Phylicia Rashad as Marry Anne Creed. The Cosby Show actress has appeared in all three Creed films, going from fervent detractor to reluctant supporter of Adonis' boxing career. 
Having seen her husband, Apollo, die in the ring at the hands of Ivan Drago in Rocky IV, she has come a long way. She accepted her family lacing up the gloves again, as Adonis honors the legacy of his father with each and every fight. 
9.) Mila Davis-Kent - Amara Creed
Audiences were first introduced to Amara Creed as a baby at the tail-end of Creed II, so Mila Davis-Kent plays an aged-up version of the character in the third movie. 
Like her character, Davis-Kent is deaf in real life, which will surely play into the story as her mother Bianca also experiences the effects of hearing loss. 
10.) Tony Bellew - "Pretty" Ricky Conlan
Fans will immediately recognize Tony Bellew's "Pretty" Ricky Conlan when he pops up on-screen in Creed 3. The character is back after playing the main antagonist of the first Creed film. 
Since Adonis earned the respect of "Pretty Ricky" at the end of that first movie, the former real-life professional boxer's character could (like Florian Munteanu's Viktor Drago) join Team Creed in the threequel, helping Michael B. Jordan's character to train for his toughest test yet. 
11.) Jose Benavidez - Felix Chavez
Professional boxer Jose Benavidez is another new face for the Creed franchise, showing up in the third boxing blockbuster as Felix Chavez. After the retirement of Adonis Creed, Chavez follows in his footsteps and becomes the world heavyweight champion. 
In Creed 3, Adonis attempts to set up a match with Chavez, but due to a series of events, ends up going up against Jonathan Majors' Damian Andersen instead. 
12.) Selenis Leyva
Latina actress Selenis Leyva joins Creed 3 in a yet-to-be-named role.
It has been revealed the Orange is the New Black star will be playing the mother and coach to the current champ, Feliz Chavez, but aside from that, her part remains shrouded in mystery.
13.) Canelo Álvarez
Real-life Mexican boxer Canelo Álvarez joins the long list of actual professional fighters on the Creed 3 cast. 
It is currently unknown if Álvarez will be playing a character or himself in the upcoming blockbuster, but it seems likely he will go up against either Micheal B. Jordan or Jonathan Majors in the ring. 
14.) Kehlani
Rounding out the Creed 3 cast is singer-songwriter Kehlani. 
The musician is a part of the film's sprawling soundtrack and looks as though she will cameo as a friend/colleague of Tessa Thompson's Bianca, perhaps even providing the entrance music for the final showdown between Adonis and Damian.
Where Is Rocky in Creed 3?
One name fans may be wondering about in Creed 3 is Sylvester Stallone's Rocky Balboa. The character and actor have been a figurehead of the franchise since its 1976 debut. 
However, the upcoming Creed sequel will not feature an appearance from the Hollywood icon. 
Star and director Michael B. Jordan recently told HOT97 that Rocky was not in the film because he "want[s] Adonis to stand on his own two feet," and the focus of this movie to be on "childhood traumas that shaped [Adonis] today."
This means that "this story was really about Adonis Creed moving forward with his family," and Stallone's character seemingly did not have a place in that. 
While this was a diplomatic answer from Jordan, there seems to be a lot more at play. Speaking with MensHealth, Stallone voiced his displeasure with the direction of the franchise thanks to long-time Rocky producer (and former friend of the actor) Irwin Winkler. 
Stallone sold the franchise film rights to Winkler in 1976 out of desperation. This has led the actor to receive no financial gains from the films aside from what he would make as an actor appearing in them. 
With Winkler still in control of the Rocky name, Stallone opted to bow out from future appearances in the films starting with Creed 3, making it clear that current franchise star Michael B. Jordan has nothing to do with his departure. 
---
Creed 3 hits theaters on Friday, March 3. 
---
Klein Felt is a Senior Editor at The Direct. Joining the website back in 2020, he helped jumpstart video game content on The Direct. Klein plays a vital role as a part of the site's content team, demonstrating expertise in all things PlayStation, Marvel, and the greater entertainment industry.