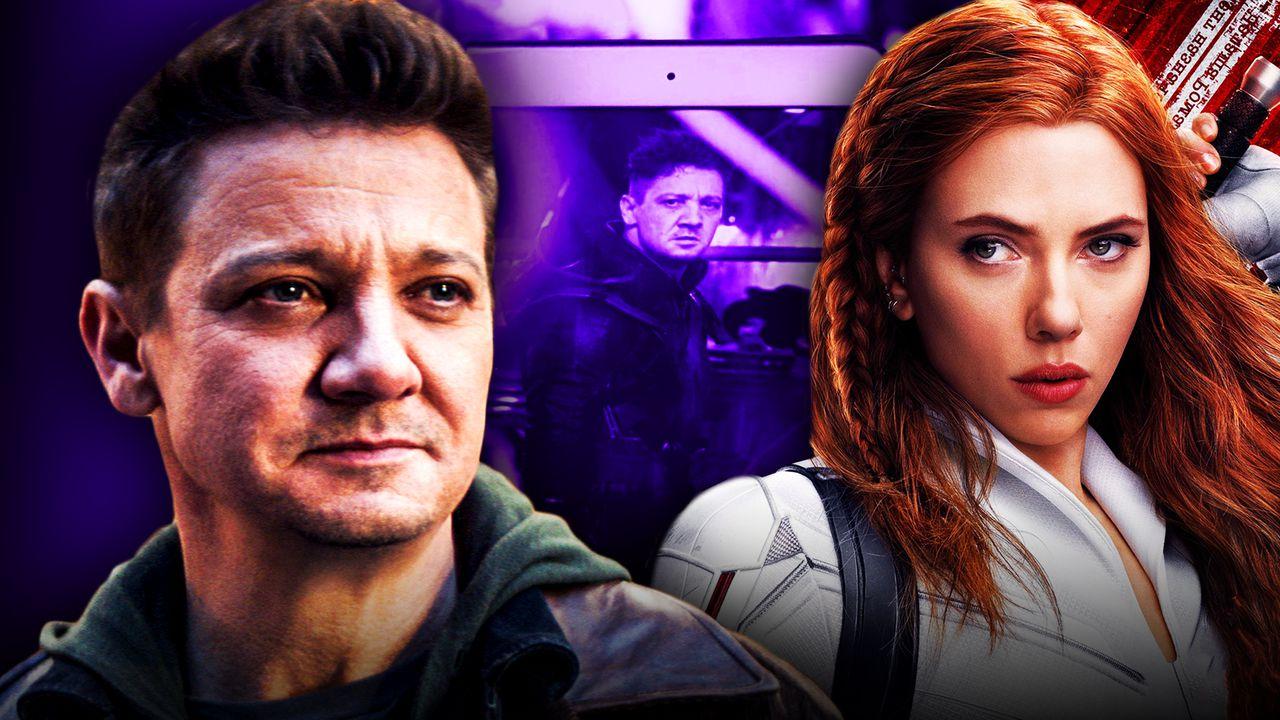 Marvel Studios is a mere few days away from its fifth and final Disney+ release of the year, Hawkeye, which will be star Jeremy Renner's first-ever solo project within the MCU. While he will team up with MCU newcomer Kate Bishop and take on something of a mentor role in this six-episode epic, Hawkeye will still show that Clint Barton has a lot left in the tank.
Of course, most of the marketing and media coverage has focused on Barton becoming a hero once again while trying to do his job with enough time to get back to his family for the holidays. This comes with some terrifying new villains in the form of Fra Fee's Clown and Alaqua Cox's Echo - rumors have even teased a potential reprisal of Vincent D'Onofrio's Kingpin coming into the mix too.
Even looking at all of these threats, one character that hasn't seen much of the spotlight yet is Florence Pugh's Yelena Belova, who is on a mission to take Hawkeye down after the post-credits scene in 2021's Black Widow. At the Hawkeye premiere event in Hollywood, Renner even had the chance to look back on the first time he saw this scene and what it meant for his future in the MCU.
Renner on Black Widow's Post-Credits Scene
At the Hollywood premiere event for Marvel Studios Hawkeye, Jeremy Renner spoke with Variety about his cameo in the post-credits scene from Black Widow.
Renner reminisced on how he was with his niece, who was shocked to see her uncle on Val's iPad and on Yelena Belova's radar in this scene, although he ended up laughing it off:
"Well I was with my niece, Daphne, who's here, and she's like 'Uncle Jeremy, what did you do?!' 'I didn't do anything!' I had no reaction, I was laughing with my niece."
Kate Bishop star Hailee Steinfeld also tackled this subject, sharing that her reaction was something of total shock and awe as she showed her status as a diehard MCU fan. She praised the franchise for its "delicately interwoven details" in every project and looked forward to finding out what the Yelena tease would evolve to be in her show.
"My reaction was more like 'No way! It's all happening!' I never fail to get incredibly excited. I even geek out over, I mean…one thing in the MCU is the delicately interwoven details throughout each and every film and TV show and piece or whatever. It's incredible, so I saw that, and I was like 'I saw that, I don't know what it means yet, but I'm gonna find out."
Yelena Belova On the Hunt for Hawkeye
In Phase 4's first movie, Black Widow, Yelena Belova visited Natasha Romanoff's grave only to meet Julia Louis-Dreyfus' Val, who was first introduced in The Falcon and the Winter Soldier on Disney+. Val painted Clint Barton as Natasha's murderer and sent Yelena on a mission to take him out, which set up quite an intense storyline for the Hawkeye series.
It's clear that while Jeremy Renner got a good laugh out of seeing himself in Black Widow, Hailee Steinfeld knew that it was a turning point within the MCU as Yelena Belova set herself up for a role alongside both archers. How this conflict comes to a resolution is still a mystery, but that post-credits scene immediately made a huge impact on Hawkeye's next outing coming to Disney+.
Right now, there are no signs pointing to when Florence Pugh's Black Widow disciple will come into play amongst everything else that Barton and Bishop have to tackle as a duo. Whenever that does come, though, it will undoubtedly make waves for the heroes and everybody around them.
The first two episodes of Hawkeye will debut on Disney+ on November 24.
LATEST NEWS
TRENDING