While Black Panther: Wakanda Forever did prominently feature Danai Gurira's Okoye, the sequel's three deleted scenes centered around the character would've further pushed her to the forefront. 
Okoye is set to have a more significant role in the MCU, especially after her game-changing stint in Black Panther 2. In the movie, the character was stripped of the role of Dora Milaje's leader, leading to her transformation into a Midnight Angel. 
As Okoye is poised to embrace an exciting future, a rundown of hidden interactions and an emotional wrap-up to her arc have emerged online. 
Okoye's Cut Role In Black Panther: Wakanda Forever
1.) "Outside The Scope"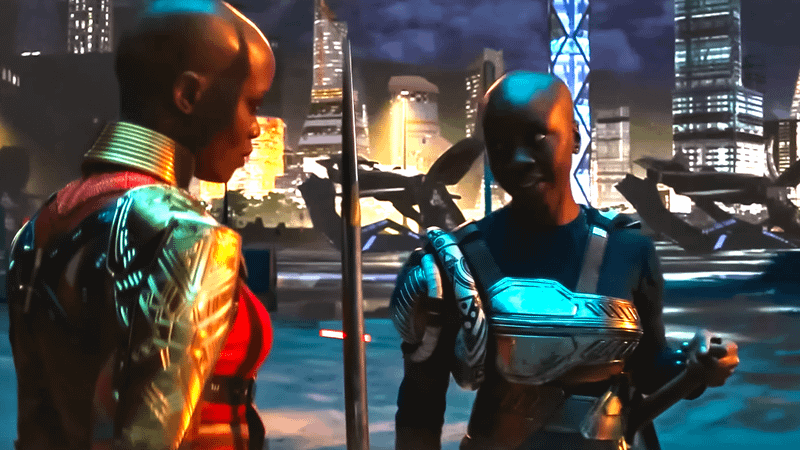 In this deleted clip, Okoye tries to defy Queen Ramonda's orders to find Shuri, but Ayo and the Dora Milaje ultimately stop her, which leads to an emotional encounter: 
2.) "Daughter of the Border"
Danny Sapani, who portrays Okoye's uncle, tries to convince his niece to challenge for the throne as part of the Border tribe. However, the former Dora Milaje leader is conflicted about the offer because Shuri is still in danger: 
3.) "Anytime, Anywhere"
Okoye and Shuri had a heartfelt moment in this never-before-seen sequence in Black Panther 2, with the former telling the latter that she will not return as a member of the Dora Milaje. 
What comes next for Okoye relies on "wherever [her] new space suit takes [her]," seemingly teasing her Disney+ spin-off: 
Why Did Marvel Delete Some of Okoye's Best Scenes?
It's quite unfortunate that Marvel Studios left some of Okoye's pivotal scenes in Black Panther 2's cutting room floor. 
It is unknown if the removal was due to the sequel's lengthy runtime or if these scenes are being saved as flashbacks for the character's Disney+ series. 
Despite that, seeing them now allows fans to discover Okoye's struggles and growth after being removed from her post as the Dora Milaje's leader.
In fact, Black Panther 2's deleted ending opened up many exciting opportunities for Okoye, considering that she is not restricted by Wakandan laws. 
While seeing her as a Midnight Angel would potentially cause some trouble for outside forces, Okoye has proven time and time again that she can hold her own against formidable enemies, thus leading to thrilling adventures that could further her growth before Black Panther 3. 
Black Panther: Wakanda Forever is now streaming on Disney+.