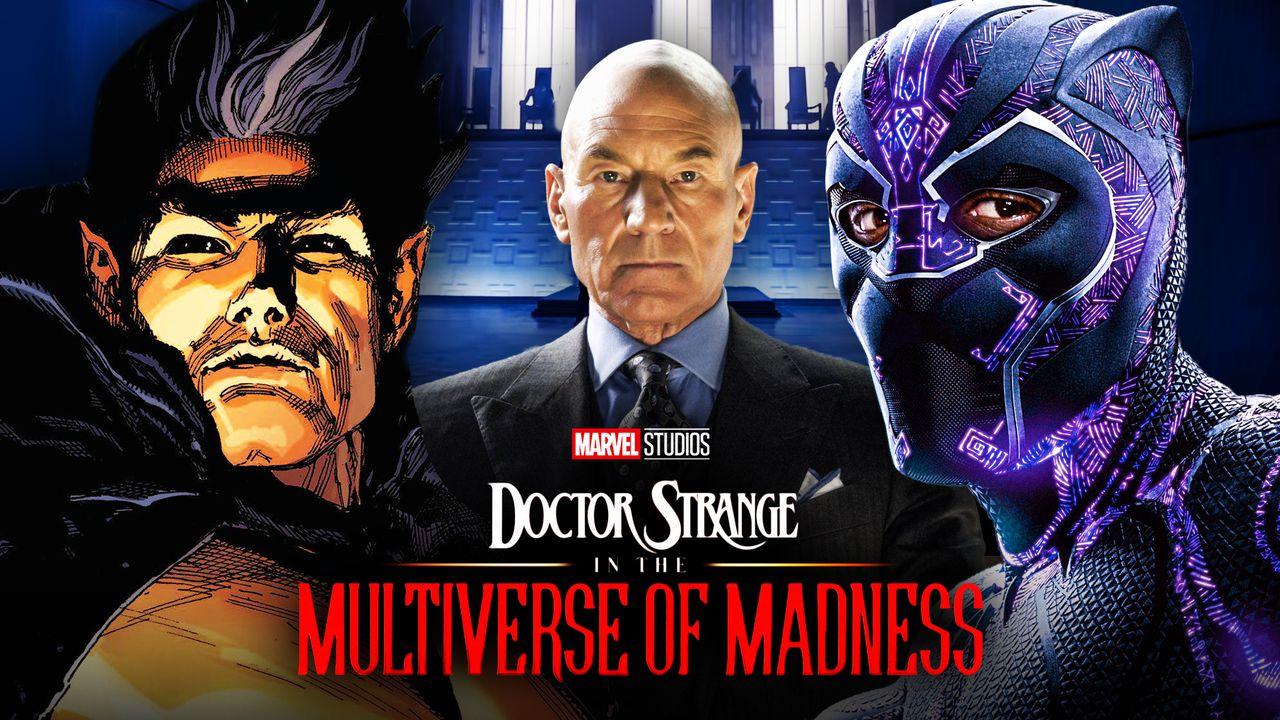 Marvel Studios has a trio of highly-anticipated sequels adding to its theatrical MCU slate this year, starting off with the dimension-jumping shenanigans in Doctor Strange in the Multiverse of Madness. This comes before Taika Waititi's Thor: Love and Thunder in early July and the much-awaited Black Panther: Wakanda Forever in November.
Black Panther 2 is set to introduce a couple of brand-new characters into the mix, most notably including Tenoch Huerta's Namor the Submariner - an anti-hero which Marvel Studios just gained the rights to use in film. With him will come the entire lost city of Atlantis, which is also set to play a huge role in the upcoming sequel as the underwater nation engages in battle with Wakanda thanks to technology from Dominique Thorne's Ironheart.
Namor is also known as a classic member of the Illuminati from Marvel Comics, who officially made their debut in Doctor Strange in the Multiverse of Madness this past weekend. Recently, the sequel's head writer even looked at what the chances were of having Namor be a part of that group as it made its long-awaited cinematic debut.
Doctor Strange 2 Writer on Namor in the Illuminati
WARNING: The rest of this article contains spoilers for Doctor Strange in the Multiverse of Madness.
Doctor Strange in the Multiverse of Madness writer Michael Waldron addressed the absence of Namor the Submariner in the MCU's Illuminati during a chat with Variety.
While Namor was initially on the table for potential inclusion in the group for Doctor Strange 2, Waldron noted how "Marvel had other plans for him" in the MCU's future (which fans now know will be in Black Panther: Wakanda Forever), ultimately preventing his appearance in Multiverse Of Madness:
"[We] talked about him, because he's certainly an original member of the Illuminati. But I think Marvel has other plans for him in the MCU. And so he didn't make his way in this particular movie."
Waldron also dove into how the Illuminati came into play, explaining how both he and Marvel Studios president Kevin Feige bounce ideas off each other for whom they want to be in the group. The head writer noted how Feige was "as excited about all that stuff" as anybody else, calling the process "a big, geeky team effort" to bring that team together:
"That's kind of a combination of us putting forth, 'Well, what if we did this?' But also, Kevin's as excited about this stuff as we are, so sometimes those ideas are coming from Kevin saying, 'Well, what if we got so and so? I'm gonna do it! I'm gonna make the call!' So he's as excited about all that stuff as any of us. It's a big, geeky team effort to see what we can assemble for that team."
Waldron also revealed that it was always the plan to have Wanda Maximoff kill off the Illuminati, which he described as truly "the madness of the Multiverse." He called the moment "a great way to knock the audience off their feet" as they saw something that made them feel safe before Wanda showed just how powerful and terrifying she can truly be
"Yeah, that was there in my first draft of the script. That was the madness of the Multiverse to me, really. You introduced this superhero team that makes the audience feel like they're finally safe, and then the Scarlet Witch eviscerates them. It was a great way to knock the audience off their feet. And then hopefully, you spend the rest of the movie terrified of Wanda and what she's capable of."
"The Illuminati Will See You Now...Except for Namor"
Marvel fans celebrated the debut of the MCU's Illuminati in Doctor Strange 2, which included names like Hayley Atwell's Captain Carter, Patrick Stewart's Professor X, and even John Krasinski as Reed Richards. Even as exciting as that moment was, some fans noticed a lack of a certain ocean-based anti-hero who's been a part of the team on numerous occasions.
Nearly every piece of comic art depicting the Illuminati includes a version of Namor, seeing as he's one of the group's founding members going back decades. But looking at how he'll get an even bigger role in Black Panther 2 than what the Illuminati had in Doctor Strange 2, his introduction should have just as big of an impact when it comes.
It will also take away the confusion of him being potentially a Multiversal Variant, which is already being discussed with Krasinski as he could potentially play Reed Richards in Marvel Studios' Fantastic Four. The great part of it all is that Namor is confirmed to be on his way, and even if he's not a part of the Illuminati yet, he'll be a part of the MCU for the foreseeable future.
Doctor Strange in the Multiverse of Madness is now playing in theaters. Black Panther: Wakanda Forever will arrive on the big screen on November 11.