Sometimes, a film's hype can skyrocket based solely on imagery.
Before there was any footage for Batman v Superman , a simple logo that combined the two titular characters' emblems made the superhero clash a must-see. The same goes for Marvel flicks, as the first concept art for Chadwick Boseman's Black Panther sold fans that the eventual T'Challa-led movie would be a faithful adaptation.
In the age of the internet, any casting can be brought to life with a stroke of the digital brush.
NEWS
Six long years after he was announced to play the character, Dwayne Johnson's Black Adam is finally becoming a reality.
DC's Chief Creative Officer and acclaimed comic artist Jim Lee took to Twitter to showcase two Black Adam sketches, and two more that BossLogic turned into colorful concept art. On top of these reveals, Lee also praised Black Adam star Dwayne 'The Rock' Johnson, calling him "the best at what he does."
This first set of images shows the titular anti-hero in all his black-and-gold glory. Black Adam sits upon a throne with a slew of slain bodies at his feet.
The second set of images pits Johnson's Black Adam against Djimon Hounsou's ancient wizard version of Shazam, appearing a bit more able-bodied than when he popped up in 2019's Shazam! .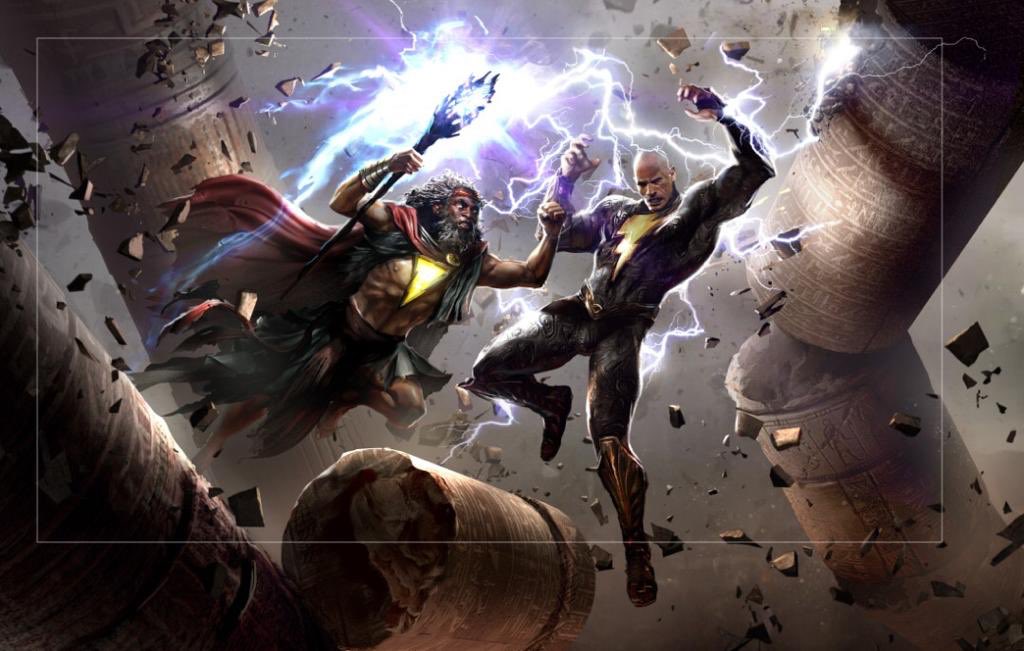 WHAT THIS MEANS
Black Adam may still be years away from reaching the silver screen, but this new concept art, coupled with The Rock's DC FanDome presentation , is making the long-awaited anti-hero flick a bit more tangible.
The first image is the most gripping of the set. The background shows two twin doors smashed open, likely meaning the former ancient Egyptian slave didn't exactly ring the doorbell before entering the throne room.
Adam's pose is strikingly similar to how he perches himself in the comics. The one knee up with both arms resting on the throne is faithful to some of his iconic comic imagery. The slain soldiers at his feet wear modern riot gear, so this art is likely set in modern times after Adam resurfaces.
The first image is made to look like a movie poster, as it includes both an official title logo as well as the typical distribution emblems on the bottom. Interestingly, the rating is labeled as PG-13. While no official rating is expected until well after the movie is finished filming, a PG-13 would make sense since Adam is expected to crossover with the family-friendly Shazam! in due time. DC is not afraid to slap an R-Rating on their comic flicks, especially with their villainous installments, but this one makes sense to keep PG-13.
Regarding the second set of images, fans may recall that Djimon Hounsou's ancient wizard version of Shazam was reduced to ashes in Shazam!. Still, it's only appropriate that this art is from the ancient Egypt days. The Wizard did hint at past confrontations with a troublesome champion, and it looks like those teases will be capitalized on in Black Adam .
So far, only Johnson as Black Adam and Noah Centineo as Atom Smasher have been confirmed for the upcoming DCEU anti-hero installment, but this art suggests Djimon Hounsou will reprise his role as The Wizard.
Other noteworthy elements of the Wizard/Black Adam battle concept art are the ruins around them. Columns peppered with ancient Egyptian symbols could mean this fight leads to major destruction. Even bigger than that, this could be the conflict that entombs Black Adam, imprisoning him until his eventual escape in the 21st century.
Black Adam is set to hit theatres on December 22, 2021.