The Batman embraced a new chapter for Gotham's Caped Crusader by introducing a new iteration played by Robert Pattinson. While the film is currently smashing box office records, much of the discussion online has been centered around the surprise arrival of Barry Keoghan's Joker in its closing moments inside Arkham Asylum. 
Keoghan's role had been tightly guarded in the months leading to the film's premiere. Initially, the actor was reported to be portraying a Gotham City Police officer named Stanley Merkel, but it was later revealed that this was only a placeholder. 
In the actual film, Keoghan's Joker is shown conversing with Paul Dano's Riddler inside their respective cells in Arkham Asylum, confirming that The Batman's universe has its own Clown Prince of Crime. The film's director Matt Reeves later unveiled that there is a deleted scene involving the Joker, which would shed some light on his shared history with the Bat. 
Now, a full look at the deleted scene has been officially released.
Barry Keoghan's Joker vs The Batman
Warner Bros. officially released the deleted scene from The Batman involving Robert Pattinson's Dark Knight and Barry Keoghan's Joker. 
The clip, which can be accessed by answering a series of riddles on rataalada.com, shows a conversation between the Bat and the (future) Clown Prince of Crime. 
The scene opens with Pattinson's Batman visiting Keoghan's Joker to ask about his thoughts about the Riddler's latest murder spree in Gotham. 
Joker mockingly points out to Batman that "it's almost their anniversary," confirming that this isn't the first time that they have met.
The Caped Crusader then gives a stockpile of files that he gathered while investigating the Riddler to the Joker. A closer look at the villain's horrible form is also featured in the clip: 
The Joker, while laughing, reviews the files, saying that there's "violence," and the Riddler is so "meticulous" when it comes to crafting puzzles, as if "he's been planning this his whole life." 
Joker then teases the Bat that he knows who he is, prompting Bruce to ask about the Riddler's identity. However, Joker said that he's a "nobody who wants to be a somebody," citing that his motive is not political. Instead, it is "very very personal." 
Joker then shares that he thinks that the Riddler "thinks that these people [his victims] have all wronged him," before saying that it "probably goes way back."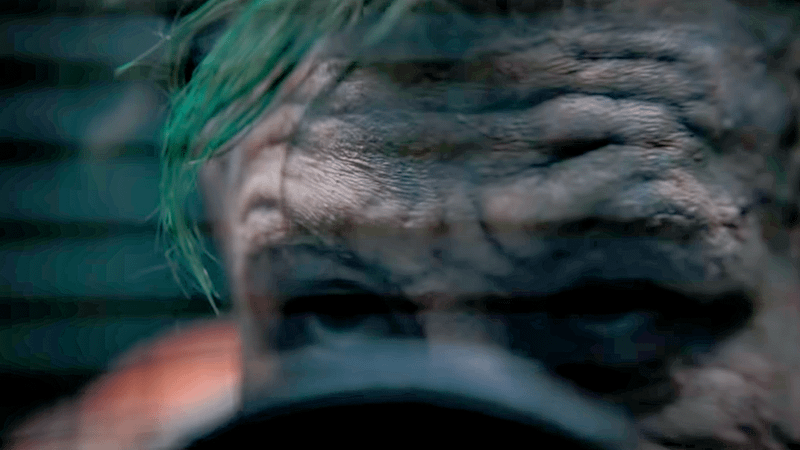 The Bat then asks why the Riddler is writing to him, to which the Joker responds by saying, "Maybe he's a fan of yours, or maybe he has a grudge against you too. Maybe you're the main course."
Joker once again mocks Batman, saying that "this is very upsetting to you." Bruce then tells Joker that he wants to know how the Riddler thinks, to which the Joker responds by pointing out that he knows exactly what he thinks.
Joker then tells the Bat that he's afraid that the Riddler is making him look soft, prompting Bruce to walk out and say that he's just wasting his time. 
Joker, with the last laugh, proclaims what he really thinks of the situation:
"I think deep down, you're just terrified because you're not sure he's wrong. You think they deserved it. You think they deserved it!"
Alongside the reveal, Keoghan shared his reaction to joining The Batman franchise as Bruce's greatest enemy: 
"Honestly I am stuck for words but I am very very BLESSED to play this role after the AMAZING AMAZING Actors before me. Here's my version. Enjoy"
Batman & Joker's Shared History 
Many would agree that this five-minute clip offers a stellar preview of the shared history between Robert Pattinson's Batman and Barry Keoghan's Joker. From the get-go, the footage cements the pair's intriguing dynamic, boosting anticipation for their eventual duel down the line. 
At this point, Bruce only has Alfred and Jim Gordon as his closest allies, with the latter not knowing his true identity as Gotham's protector. Given that he is still in his second year as Batman, it seems fitting that he would go to his captured enemies for assistance.
This scene also suggests that the Bat knows that the Joker has something special about identifying targets just like him, potentially hinting that their first encounter is a significant piece of Bruce's heroic journey. It is unknown if the Joker is Batman's last resort or first option, but this shows that this is a desperate move for the DC hero. 
Meanwhile, the Joker's scary design is another fresh aspect from The Batman universe. Matt Reeves previously shared that he wanted to create a version that "went right back to the roots," citing that this iteration was inspired by 1928's The Man Who Laughs while also portraying him as someone who has a biological condition for his smile. 
The deleted scene managed to showcase not just a whole new take on the villain, but it also creates a sinister vibe that could terrify viewers. 
It remains to be seen where Joker will show up next, but signs point that the Arkham Asylum-centered spinoff on HBO Max is the best bet. 
The Batman is still playing in theaters worldwide.