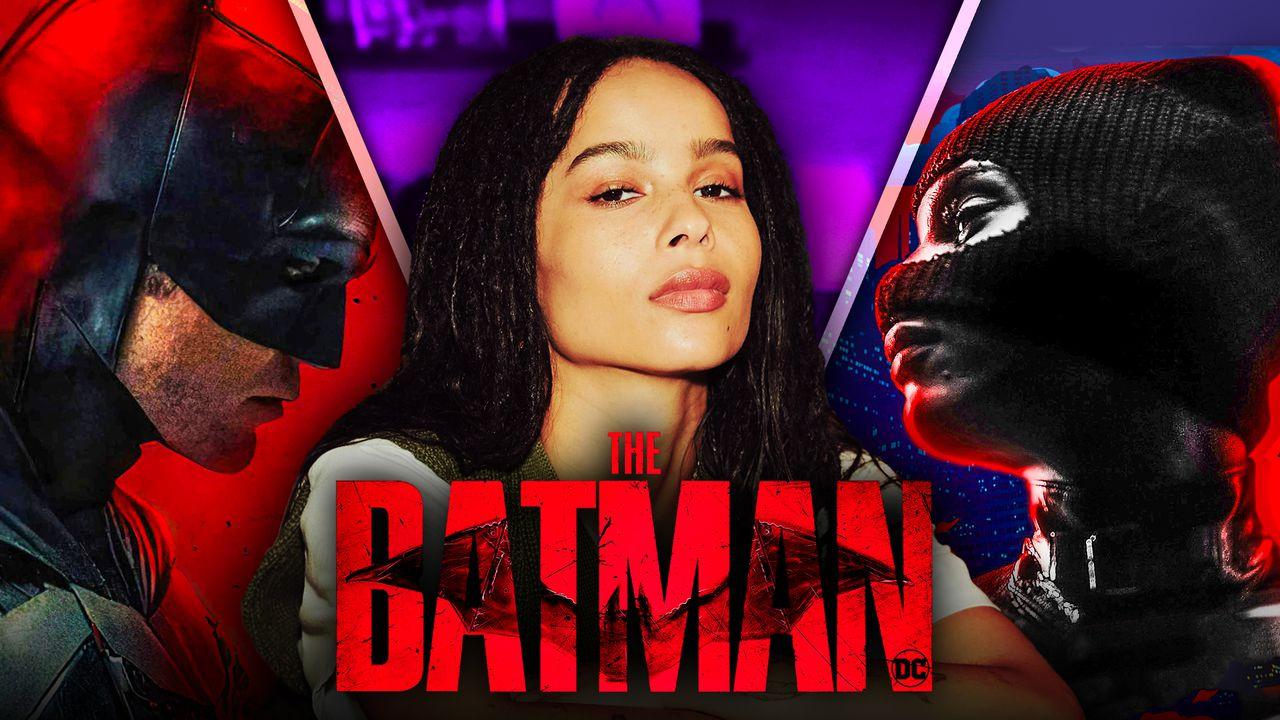 The Batman is the next blockbuster on DC's upcoming slate, bringing audiences a brand-new incarnation of the Dark Knight.
Though word has been relatively hushed about the film's plot, fans can expect another sneak peek at what the film has to offer come this year's DC FanDome. Leading star Robert Pattinson teased that the new footage is "really cool," whilst composer Michael Giacchino provided an audio preview for the film's score.
Even director Matt Reeves chimed in with a quick tease for what's to come, posting a behind-the-scenes image that includes a look at Batman with his trusty grappling hook.
The upcoming trailer is also expected to include another look at Zoë Kravitz' Catwoman, who recently received a new promotional image for DC FanDome.
Now, Kravitz has discussed the talks that led up to her landing the role of Catwoman...
Zoë Kravitz on Getting Her Role in The Batman
In an interview with AnOther, The Batman star Zoë Kravitz opened up about her early conversations with director Matt Reeves that led to her landing the role of Catwoman.
Kravitz admitted that it was initially "a bit of a process" when talking to Reeves about the role, in addition to talking about the "heartbreaking" process of being in talks for projects and not getting them:
"My agent called me and was like, 'They're making a Batman movie and there's a Catwoman role. You're on the list of actors they are looking at.' I think the first thing that happened was I went to LA and met with Matt Reeves, the director, who also wrote the script, and just talked to him. I read the script. Then he talked with me again to hear my thoughts, to see if we were on the same page. I didn't know him well and it was a bit of a process. When these big opportunities come up, these big roles, and you really want them, it's heartbreaking when you don't get them. You put a lot of energy into it."
One thing that Kravitz tried to avoid in these discussions was being "agreeable and likeable [just] to get the role:"
"The thing that I tried to keep in check throughout, though, was just wanting to be agreeable and likeable to get the role. To read the script and say, 'I love it. I love everything about it.' Then I go to the audition and I have this puppy dog energy."
In their discussions, Kravitz wanted to convey to Reeves "what it's really like to work with" her, in addition to her feelings about Catwoman. Luckily for Kravitz, the process was a collaborative one and her thoughts about the character were "welcomed:"
"It was important to give him an idea of what it's really like to work with me. To say what I really think and, if we're on set together, to ask the questions I want to ask. I tried to come at it from the angle where I am showing him what I see and feel about this character. I believe that's why it happened and I got the role. Matt's a fantastic director, and he's really into talking about the character. We had some really good conversations. I had some thoughts about the character once I'd read the script too and they were welcomed."
When asked whether she had seen all the previous Batman films, Kravitz confirmed that she has done her research by watching all of the Dark Knight's screen adaptations in addition to delving into the comics. 
Zoë Kravitz approached the character foremost "as a woman," in order to ensure that she and the creatives behind The Batman were "not fetishizing or creating a stereotype" through Catwoman's portrayal:
"I've seen all the movies, yeah. I've read some of the comics now, but I wasn't a comic head or anything. I also tried to think about it not as Catwoman, but as a woman, how does this make me feel? How are we approaching this and how are we making sure we're not fetishizing or creating a stereotype? I knew it needed to be a real person."
Kravitz' Creative Contributions for Catwoman
It seems that Zoë Kravitz was intent on being heavily involved in developing the character of Catwoman alongside director Matt Reeves and the crew of The Batman, wanting to ensure that her voice was heard in how the character would be portrayed.
Kravitz is looking to move into directing, writing, and executive producing on future products, so her desire to have more of a say in creative decisions makes sense. Luckily, the creatives on the DC production were able to welcome what Kravitz had in mind, which should help to make Catwoman a well-rounded and developed character in the final film.
Selina Kyle has been known to be a heavily sexualized and fetishized character in some of her comic book incarnations, which has often resulted in somewhat reductive portrayals. Therefore, Kravitz actively combating this should ensure that The Batman's take on the character is one that will resonate with audiences.
Fans will be able to discover this new incarnation of Catwoman when The Batman hits theaters on March 4, 2022.
---