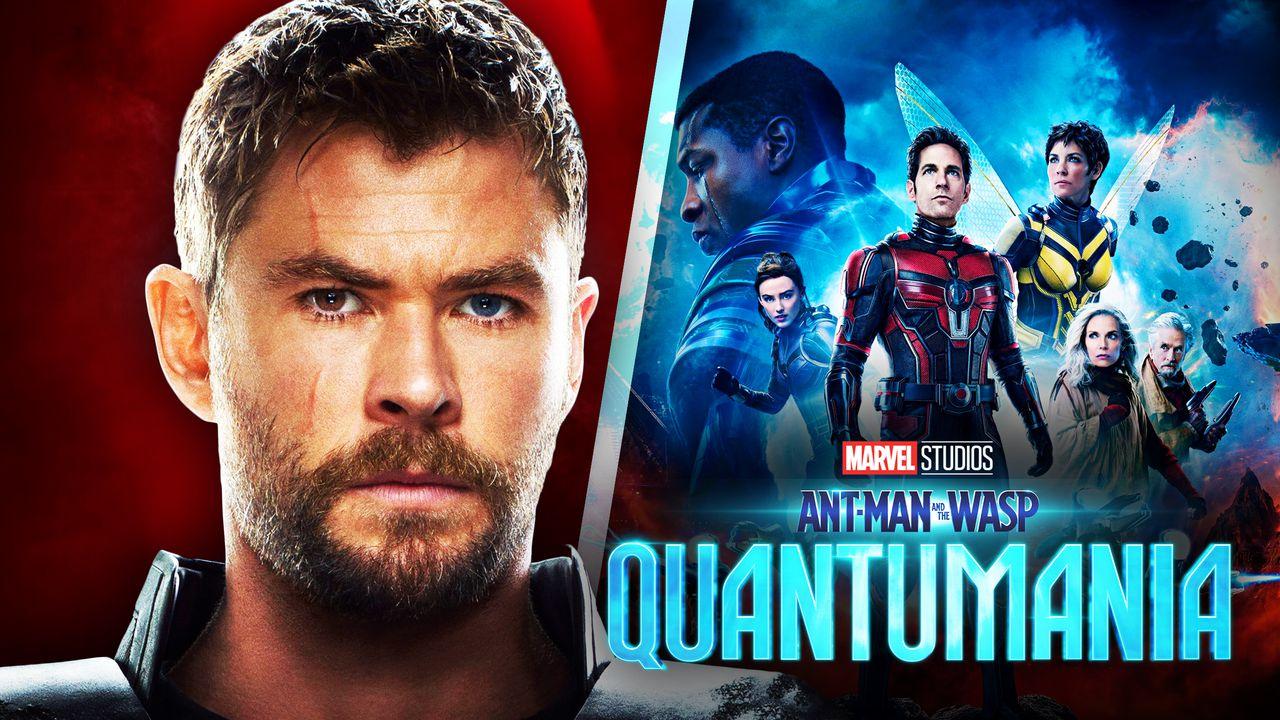 MCU veteran Chris Hemsworth revealed whether he has seen Ant-Man and The Wasp: Quantumania before noting one major problem with the movie.
The MCU's Multiverse Saga projects have undeniably been more controversial than those that came before. Even one of the saga's most important projects, Ant-Man and The Wasp: Quantumania received massive criticism upon release.
The Ant-Man threequel went bigger - or, more accurately, smaller - than the shrinking franchise has ever gone before as the heroic crew headed into the Quantum Realm and came face-to-face with the Avengers' new big villain Kang.
Chris Hemsworth Reveals His Ant-Man 3 Criticism
Thor's Chris Hemsworth recently spoke with GQ Magazine, revealing how he still hasn't seen Ant-Man 3 almost four months after it arrived in theaters to massive backlash and box office disappointment.
First, the Thor actor asked for the interviewer's own opinion on Quantumania, to which he questioned why the threequel had to go so large in scale.
The MCU veteran explained how, since the MCU has been dealing with world-ending stories for so many movies now, the story has to be "a bit more personal and grounded:"
"That's the trick: you have to separate all those stories. The moment it's like [in trailer voice] 'Your world is in danger, the entire universe!' It's like, 'Yeah, so [it] was the last 24 films.' It has to become a bit more personal and grounded." 
On the flip side, Hemsworth has seen Black Panther: Wakanda Forever, a movie he proclaimed a "really cool" MCU affair.
On the subject of his own MCU future as Thor, the actor touched on how he is open to "seeing what they have to offer creatively [and] if there is something new" for his character, but for now, he just wants to "do some other stuff for a while."
Chris Hemsworth Has High Standards for the MCU
Chris Hemsworth himself is no stranger to leading controversial MCU movies, with Thor: The Dark World and Thor: Love and Thunder being regarded as two of the worst films to come out of the blockbuster superhero franchise.
Looking at his particular criticism of Ant-Man and The Wasp: Quantumania perhaps going too grand in scale, perhaps he may have a point. After all, the Ant-Man franchise has its roots in heartfelt family dynamics and lower-stakes threats - two things that were undeniably sidelined for Quantumania.
Clearly, Hemsworth has a very specific standard for any MCU endeavors, as his comments here make clear he believes, despite all the action setpieces and world-ending threats, every movie still has to have a unique personal story to tell about its leading hero.
Ant-Man and The Wasp: Quantumania is streaming now on Disney+.