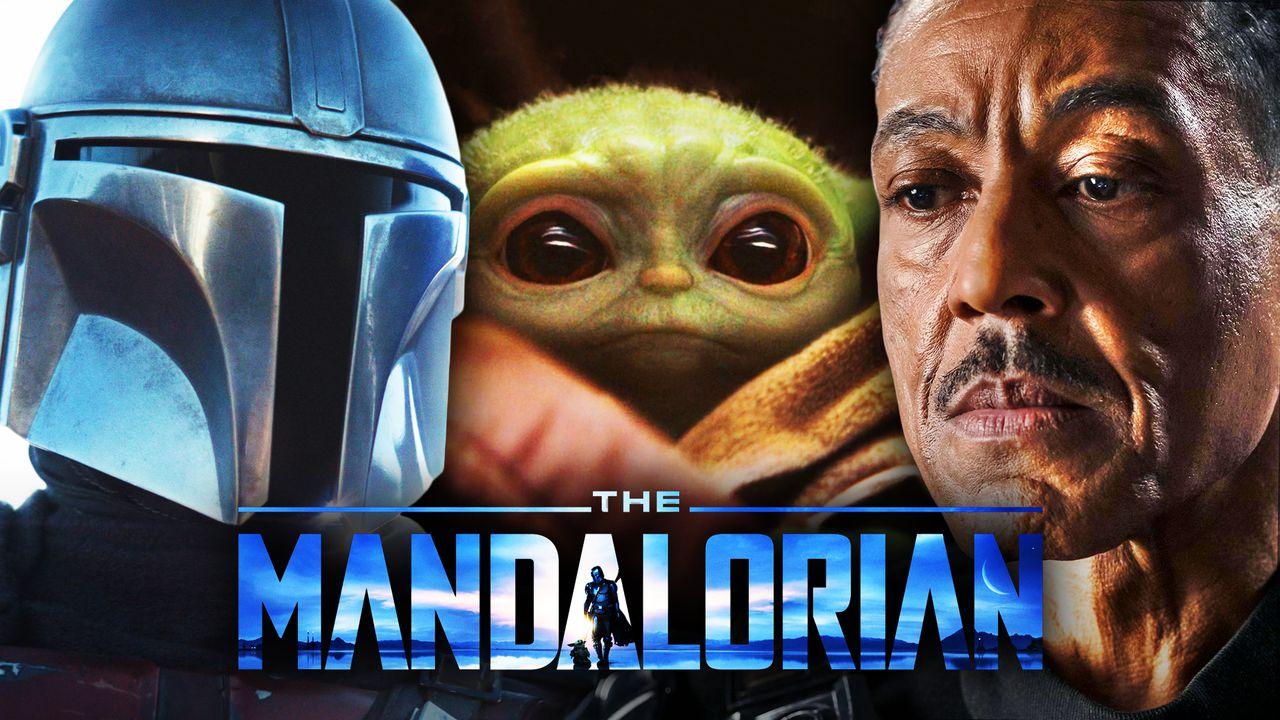 The Mandalorian and Child travel to an ancient site.
PLOT/STORY
Despite Chapter 14 clocking in with the shortest runtime of the season so far, it was by no means a filler. Titled "The Tragedy," the episode kicks off with Mando encouraging Grogu to use the Force and to understand that he needs to be trained by the Jedi before landing on Tython.
Mando then uses his jetpack to bring Grogu to the seeing stone Ahsoka explained in Chapter 13. Grogu eventually manages to tap into the Force and is surrounded by a blue force field that shoots up into the sky. But then, Slave I , Boba Fett's legendary ship, appears.
Boba Fett, still dressed as a Tusken Raider, is here for his armor and accompanied by Fennec Shand, last seen in Season 1's "The Gunslinger." When Stormtroopers arrive in pursuit of Grogu, we finally see why Vader tapped Boba Fett for the job in The Empire Strikes Back .
After decimating Stormtroopers by smashing in their helmets, Boba reappears in his iconic armor to help Mando and Shand destroy the remaining troopers. But this victory and its sense of security is short-lived as Mando's ship the Razor Crest is suddenly destroyed by Moff Gideon's Arquitens-class light cruiser. Dark Troopers shown earlier this season then successfully take the exhausted Grogu.
Before the episode ends, Mando attempts to persuade Cara Dune to spring Migs Mayfeld, last seen in Season 1's "The Prisoner," to help save Grogu. Meanwhile, Grogu is aboard the cruiser choking and throwing Stormtroopers around his cell, before Moff Gideon directs Dr. Pershing to be informed that they now have a donor. - Savannah Sanders
ACTING/PERFORMANCES
While Pedro Pascal and the actors who don Mando's iconic beskar should always be commended for managing to convey emotion and a distinct character without ever showing their face, the star of this episode is absolutely Temuera Morrison as Boba Fett.
Of course, this isn't Morrison's first experience playing Boba or even Jango. Morrison played Jango Fett and all the clone troopers in Attack of the Clones, Boba Fett in the 2004 release of The Empire Strikes Back , and then all the clones again in Revenge of the Sith .
In addition to finally shedding some light on Jango's story and the origins of his armor, Morrison's Boba offered a strong, distinct presence and a powerful performance that was worth the wait. In addition, Boba Fett and Mando's team up to save Grogu is absolutely what fans have always wanted and never knew they needed.
Ming-Na Wen's also delivered a strong performance as Fennec Shand who is now loyal to Boba Fett, but is it possible that the methods of her recovery will serve as a sort of foreshadowing? - Savannah Sanders
PRODUCTION - CINEMATOGRAPHY, MUSIC, EDITING, ETC.
All hail Ludwig Goransson. He knows when to pull back on the score, let the action speak for itself, when to increase the intensity, and exactly how to surprise the audiences.
Once again, it was impossible to tell the physical sets from the screens of the Volume on Tython, which served as the perfect Old Western-inspired setting for this episode's ambush action. The bright, barren landscape was a stark contrast to last week's dimly lit, forested planet of Corvus, but perfectly suited this episode's events.
"The Tragedy" was Robert Rodriguez's first time directing The Mandalorian and he proved to be a great fit. Known for his passion for special effects and technology, he no doubt enjoyed the sandbox The Mandalorian provides. His handling of the episode's choreographed fight scenes, particularly those featuring Boba Fett, was a masterclass in how to use action to enhance the character. Needless to say, Boba Fett's return was in good hands. - Savannah Sanders
A LARGER WORLD
Much of the episode took place on Tython. This planet has been referenced as the site for the Jedi Order's first temple and was featured in the Star Wars: Doctor Aphra comic book series. Seeing how Grogu proved the planet and seeing stone had a strong connection to the Force, it's possible we see this planet again in future episodes or other planets home to similar significant sites.
Boba Fett's words with Mando about his father and the origins of his armor was one of the episode's biggest surprise. According to Boba, his father Jango was a Foundling, much like Mando, and received his armor for fighting in the Mandalorian Civil War. Boba then took his father's armor and made it his own.
It was always assumed Jango wasn't a real Mandalorian; but as we learned from Katee Sackhoff's Bo-Katan Kryze in "The Heiress," as well as through both Star Wars Rebels and The Clone Wars series, the Mandalorians are far from united and have different beliefs. Now that Boba and Mando are working together, these beliefs are sure to be explored; and hopefully, we may finally get some details about how Boba survived the Sarlacc. - Savannah Sanders
OVERALL THOUGHTS
While "The Tragedy" lived up to its name with Grogu being taken captive by Moff Gideon, it was a plot point audiences have been expecting. The episode itself was a huge win because of what we didn't expect - namely Boba Fett and the return of Fennec Shand.
After being so focused on Ahsoka Tano and if other Jedi would make an appearance, seeing the Slave I appear on the horizon was a thrill and another example of how Jon Favreau knows how to give fans want they want but in a way that best serves the story.
Not only did "The Tragedy" finally realize what fans have craved since The Return of the Jedi , it still stands on its own as a high-quality, action-packed story to set up the conclusion of this season. It looks like Ahsoka's warning about Grogu's fear and attachment is being realized. Could the internet's most beloved character be influenced by the Dark Side? It's a strange but intriguing thought. It's also possible Mando's newfound moral compass may be in jeopardy as well in his desperation to keep Grogu safe. And there's still that question of what Jedi may appear in response to Grogu on the seeing stone. There's a lot to discuss and anticipate as Season 2 begins to draw to a close. - Savannah Sanders
LATEST NEWS
TRENDING