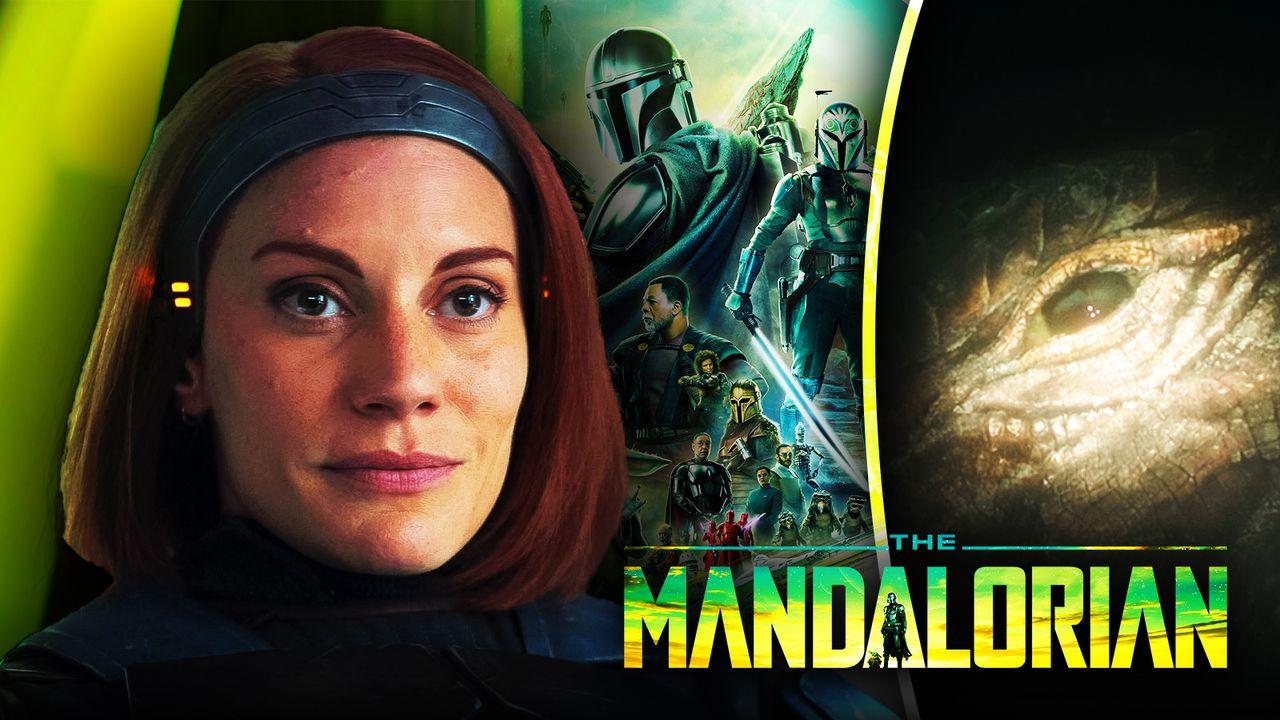 The Mandalorian's Katee Sackhoff revealed why Bo-Katan Kryze kept her Season 3 Mythosaur sighting a secret. 
Bo spotting the legendary Mandalore creature in "Chapter 18" wasn't just a shock to her but also Star Wars fans and raised questions about what it meant for her character.
Adding to the mystery was Bo's decision to ask Din Djarin about the creature without revealing what she saw herself.
Now that The Mandalorian Season 3 has come and gone on Disney+, Katee Sackhoff opened up about Bo's Mythosaur reaction and the why behind her silence. 
Katee Sackhoff Talks Bo-Katan's Mythosaur Encounter
On the Steve Varley Show, Katee Sackhoff explained what Bo-Katan was thinking after seeing the Mythosaur on Mandalore. 
According to Sackhoff, Bo-Katan never took "the legends seriously;" and after "seeing the symbol of her people," thinks she may be crazy:
"Well, this is a person who did not take the legends literally. She took them metaphorically, you know? She came out of that water seeing the symbol of her people that she didn't ever dream existed. I think she thinks she's crazy. I think she thinks that she lost oxygen long enough for– I don't know! I think she's probably thinking, 'What the hell did… What did I see?'"
As for why she asked Din Djarin about the Mythosaur but never admitted to seeing it herself, Sackhoff said, at that point, Bo doesn't fully trust Mando "enough to emotionally let her guard down:"
"It was also under a stressful situation. She could have imagined that.  And I don't think, in this moment, she trusts Mando enough to emotionally let her guard down."
Bo-Katan's post-Mythosaur exchange with Mando is one of her many dialogue-centric scenes in Season 3, the bulk of which occurred with Bo wearing her helmet. 
As for how often Katee is the one physically on-set and under the helmet, she claims it's her "98% of the time." 
But when it's not, it's because she was filming a different scene requiring more "emotional context:"
"So for the dialogue scenes, I would say 98% of the time, it's me. And if it's not me, it's purely because… there were two scenes filming in one day on two different lots, and the scene with the most emotional context needed was the scene that they would throw me in that day. But it was important to me to be there."
While The Mandalorian star wishes she could do "every stunt," she credited her stuntwomen, noting that Bo is a character "that cannot be portrayed by one person:"
"I would have loved to have done every stunt possible as well. Contractually, I'm not allowed to do that. I think they're more worried that I'm gonna get hurt than I am, sadly. But I also… I say all the time that this show, myself included, Mando included, these are two characters that cannot be portrayed by one person. It would do a disservice to the character and to the audience for me to egotistically, on some days, say, 'I'm gonna do this,' because I'm not the best person for the job. I had three amazing stuntwomen in my suit this year, Joanna [Robinson] being the main one that was in my suit at all times. She's such a phenomenal athlete. She can do things with her body that it would kill me."
Still, for action scenes where Bo is sans helmet, Katee confessed to having "tried everything once" but tried to "know [her] own limitations:"
"And I tried everything once, because it, especially the stuff with my helmet off, you have to do it. The helmet's off. You have to do as much of it as you can. But there will be days where I am smart enough to know my own limitations, where I just pull myself out of it, and say, 'I'm going to watch the professional do what she does.'"
How Character Context Helps The Mandalorian Season 3
When "Chapter 18" of The Mandalorian dropped on Disney+, Bo-Katan's motives for keeping her Mythosaur encounter a secret were unclear.
At the time, Mando was still in possession of the Darksaber, and many fans were still anticipating a showdown between the two, which would've explained Bo's decision to remain silent. 
However, that predicted battle never happened. And, even though "Chapter 18" isn't the only time audiences saw the legend-laden beast, its purpose moving forward is as much of a mystery now as ever. 
Katee Sackhoff sharing what Bo was thinking actually helps the audiences understand her character's Season 3 journey. 
Now, fans know the experience is what converted her; and Bo's respect for both Mandalorian paths is what motivates her to unite them. 
Given the mixed reception for The Mandalorian's Season 3, this kind of context helps fans grasp the story Jon Favreau and Dave Filoni intended to tell. 
As more answers and explanations continue to surface, perhaps the Star Wars base will develop a newfound appreciation for the Disney+ season in retrospect.
Season 3 of The Mandalorian is available to stream on Disney+.