The Batman is Warner Bros.' next DC-related theatrical project, currently set to hit theaters on March 4, 2022. With the release date drawing nearer and nearer, promotion and marketing for this new take on The Dark Knight from the mind of director Matt Reeves have ramped up significantly. A new clip from the film was recently released, giving fans an early glimpse into the funeral scene featured in several trailers.
Reeves previously spoke about how the film won't be tied to other characters or teams in the DC Universe like the Justice League, in addition to discussing the approach to this new incarnation of Batman which seems to resemble the strategy used for the MCU's Spider-Man.
Merchandise inspired by The Batman has also started to emerge, in addition to new posters and promotional artwork hyping up audiences in anticipation of the film.
Now, a brand-new poster has been revealed ahead of the film's impending theatrical release.
New The Batman Poster Revealed
Warner Bros. India shared a new official poster for The Batman, highlighting four of the film's main characters.
Paul Dano's Riddler, Zoë Kravitz' Catwoman, Colin Farrell's Penguin, and the Caped Crusader himself take center stage above a Gotham City engulfed in flames.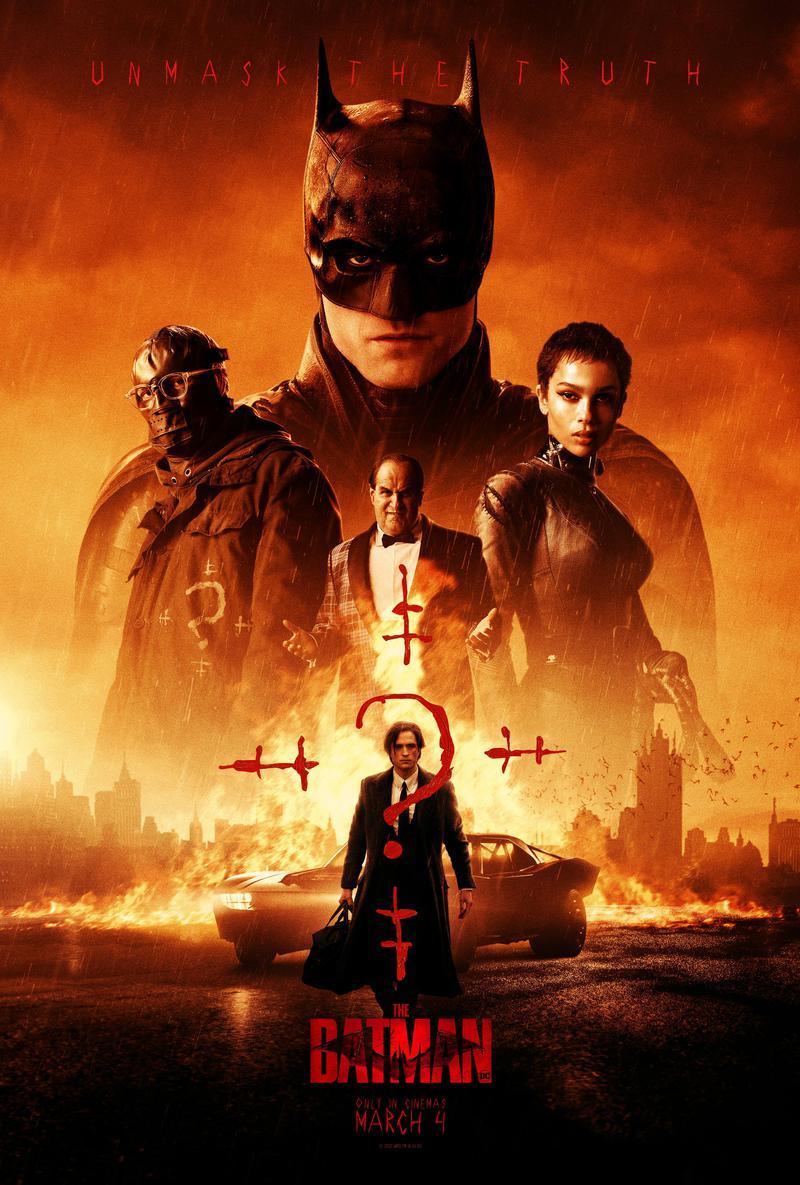 Also featured is Robert Pattinson's Bruce Wayne in his civilian attire, who is also seen in the lower portion of the poster walking away from the Batmobile with the Riddler's cryptic question mark icon framing him.
The poster's tagline, "Unmask the Truth," hints at the mystery that Batman will face in the upcoming film.
How Are The Batman's Characters Connected?
This poster exemplifies the sprawling cast of characters that The Batman will introduce, from serial killers to cat burglars, to crime kingpins. The number of players involved in the movie's narrative begs the question of how they will all fit into the mystery that so many of the film's promotional films are teasing. 
Despite seemingly being positioned as a secondary villain thus far, the Penguin's positioning here may indicate that he'll have even more of a significant role to play. Perhaps he'll have some information for Batman on the killings burdening Gotham, or he could be tied to Catwoman's shady dealings.
The fiery backdrop behind this version of the Batmobile draws from the already iconic moment of Batman smashing Oswald Cobblepot's vehicle with his own, in addition to potentially hinting at greater destruction heading in Gotham City's way.
Perhaps the Riddler has loftier goals beyond his murders, spelling touble for the city Bruce Wayne is fighting so hard to protect.
The Batman hits theaters on March 4, 2022.