2023's latest slasher film, Thanksgiving, is headlined by Grey's Anatomy star Patrick Dempsey and Suit's Rick Hoffman.
Directed by Eli Roth, Thanksgiving is based on Roth's mock trailer of the same name from 2007's Grindhouse. 
The film revolves around a serial killer named John Carver who wants to kill the residents of Plymouth, Massachusetts to create a Thanksgiving carving board of their bodies.
Thanksgiving made its debut in theaters on November 17.
Every Main Actor & Character in Eli Roth's Thanksgiving Movie
Jalen Thomas Brooks - Bobby
Bobby (played by Jalen Thomas Brooks) is Jessica's boyfriend who was considered one of the suspects who terrorized the town and killed innocents as John Carver. 
He was deemed a suspect since he was nowhere to be seen during the kills, seemingly leaving town after suffering an injury from playing baseball. 
Jalen Thomas Brooks is a rising star who has credits in Walker, Rebel, and Animal Kingdom.
Nell Verlaque - Jessica
Jessica is the film's protagonist who spearheaded the investigation regarding the mysterious killings and John Carver's arrival in the small town. The character is played by Nell Verlaque. 
Jessica is the daughter of the store owner who opened his business during Thanksgiving instead of Black Friday which led to a riot. 
Verlaque's most famous role is portraying Louise Gruzinsky in Big Shot. The actress' other credits include The Marijuana Conspiracy, Bull, and Secrets in a Small Town.
Patrick Dempsey - Sheriff Eric Newlon
Patrick Dempsey brings Sheriff Eric Newlon to life in Eli Roth's Thanksgiving.
Newlon is the local sheriff assigned to investigate the killings in Plymouth. 
Grey's Anatomy fans may recognize Dempsey for his role as Dr. Derek Shepherd. The actor also appeared in notable projects like Enchanted, Can't Buy Me Love, and Transformers: Dark of the Moon.
Rick Hoffman - Thomas Wright
Thomas Wright plays Rick Hoffman, the store owner and Jessica's father. After the riot that left the town in shambles during Thanksgiving, Rick was seen as a villain of the remaining citizens. 
Still, Rick tried to be a good father to Jessica despite grieving the loss of his wife.
Hoffman is best known for his role in Suits as Louis Litt. The actor also has credits in Billions, Hostel, and Ballers.
Gina Gershon - Amanda Collins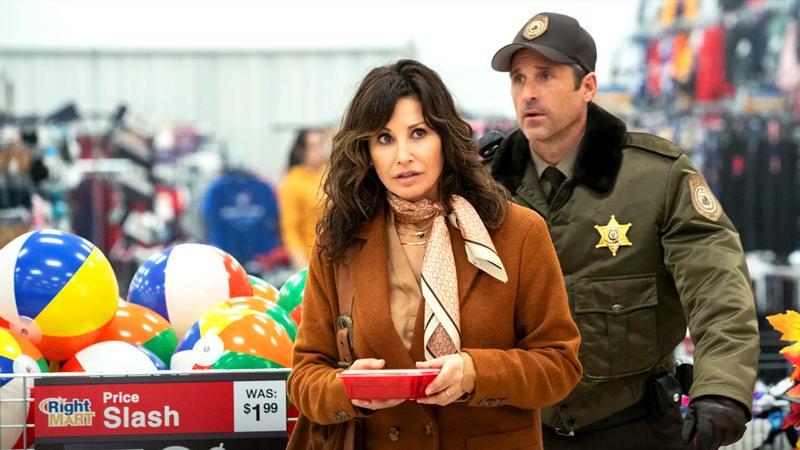 Gina Gershon plays a character named Amanda Collins in 2023's Thanksgiving.
Gershon has over 150 credits to her name, such as roles in Bound, Killer Joe, Showgirls, and P.S. I Love You.
Milo Manheim - Ryan
When Bobby left Jessica to sort out his issues, Milo Manheim's Ryan entered the picture and started a fling with her. 
While investigating the tragic killings, Jessica considered Ryan a suspect as well due to his sudden arrival in town.
Manheim previously appeared in projects like Zombies 3, School Spirits, Journey to Bethlehem, and Prom Pact.
Addison Rae - Gabby
Addison Rae portrays Gabby, Jessica's best friend who became John Carver's target. Alongside Jessica, Gabby fought alongside their friends to try and defeat the killer. 
Rae is a famous TikTok star who transitioned to the world of movies. Aside from her role in Thanksgiving, the actress and social media influencer also appeared in He's All That.
Adam MacDonald - John Carver (Voice)
Adam MacDonald lends his voice to the slasher/killing machine John Carver in the film. 
MacDonald is a Canadian actor best known for his appearances in Backcountry, Rookie Blue, Slasher, and Pywacket.
Karen Cliche - Kathleen
Kathleen is Thomas' wife and Jessica's mother who passed away after the riot that haunted the town during their store's opening on Thanksgiving.
Cliche has credits in Saw VI, Mutant X, Adventure Inc., and Deadly Estate.
Ty Olsson - Mitch Collins
Mitch Collins is brought to life by Ty Olsson in Thanksgiving. 
Olsson has an impressive resume with appearances in notable films like X-Men 2, War for the Planet of the Apes, Rise of the Planet of the Apes, and The Chronicles of Riddick.
Shailyn Griffin - Amy
Shailyn Griffin plays a character named Amy in Thanksgiving.
Griffin previously starred in Lady Ada's Secret Society, Webcam Cheerleaders, and Drive-Thru Therapy. 
Jenna Warren - Yulia
Yulia (played by Jenna Warren) is one of Jessica's friends who fell victim to John Carver. 
Warren has over 30 credits to her name, with notable appearances in The Young Arsonists, The Family, and We're All In This Together. She is also a veteran voice actress known for her roles in Thomas & Friends and My Little Pony.
Derek McGrath - Mayor Cantin
Mayor Cantin is the leader of the small town of Plymouth, Massachusetts. The character is played by Derek McGrath.
McGrath is known for his roles in My Secret Identity, Charlie Bartlett, and Kim's Convenience.
Mika Amonsen - Lonnie
Lonnie is played by Mika Amonsen in Thanksgiving.
Amonsen has credits in Reacher, Impulse, and Designated Survivor.
Lynne Griffin - Grandma
Lynne Griffin is part of Thanksgiving's cast as an unnamed grandma. 
With over 100 credits to her name, Griffin previously appeared in Black Christmas, Curtains, Strange Brew, and Dream House.
Tomaso Sanelli - Evan
In Thanksgiving, Evan is a typical jock who's nice and fun on the outside but a menace on the inside. The character is played by Tomaso Sanelli. 
Sanelli is best known for playing a young Dick Grayson in Titans. The actor also appeared in Shadowhunters, Detention Adventure, and Holly Hobble.
Chris Sandiford - Doug
Chris Sandiford plays Doug in Thanksgiving.
Sandiford previously starred in What We Do in the Shadows, Moonfall, Shelved, and God's Favorite Idiot.
Gabriel Davenport - Scuba
Another member of Jessica's circle who fell victim to John Carver is Gabriel Davenport's Scuba. 
Davenport is known for his roles in Don't Sell My Baby, Murdoch Mysteries, and Pretty Hard Cases.
Tim Dillon
Tim Dillon is part of Thanksgiving's remarkable cast.
Dillon is best known for appearing in Dollar Store Therapist, Anything Boys Can Do, and Timing.
---
Thanksgiving is now playing in theaters worldwide.
---
Aeron is a news/features writer and Content Lead for The Direct who has been working for the site since March 2020. From writing about the inter-connectivity of the Marvel Cinematic Universe to having an extended knowledge about DC TV's Arrowverse, Aeron's expertise has since expanded into the realm of reality TV, K-drama, animated, and live-action shows from Netflix,  Disney+, Prime Video, MGM+, Peacock, Paramount+, and Max. When he isn't writing and watching all things MCU, Aeron is heavily invested with the NBA (go Celtics!) and occasionally watches thrilling matches in the WWE.