Spider-Punk stands as one of the more memorable web-slingers introduced in Spider-Man: Across the Spider-Verse, but new artwork shows how different his striking aesthetic could've been. 
Voiced by Black Panther's Daniel Kaluuya, the British, guitar-slaying Spider-Punk with a penchant for anarchy and newsprint is Hobie Brown, a friend of Gwen Stacy's who proves instrumental to Miles Morales' journey.
Rejected Spider-Punk Designs for Across the Spider-Verse
In Across the Spider-Verse, Hobie Brown's style, which is often surrounded by flickering cutouts, is as layered and chaotic as he is. 
Now, thanks to Spider-Verse concept artist Jesús Alonso Iglesias, fans have an idea of what Spider-Punk could've looked like and which ideas for his signature style were ultimately rejected. 
On Twitter, Iglesias shared "some of my early first takes" on Hobie Brown which he first tackled "in 2019." 
"Ok let's do this one more time. My name is Hobbie Brown an I'm Spider-Punk. But I better start from the beginning back in 2019. These are some of my early first takes on this character before he became the one many of you have already seen"
This first piece of concept art of shows Hobie with a different style of mohawk, ripped jeans, and a full jacket instead of a vest. 
The next sketch shows early ideas for the character without sleeves and spikes atop his mask instead of fluorescent-hued hair.
In addition to continuing to experiment with hair versus spikes, Iglesias also shows different ideas for Hobie's mask, his Spider logo, and a slightly more British and/or vintage take for his pants.  
This next piece offers a first look at a design for the back of Hobie's vest and a blue webbing design instead of black.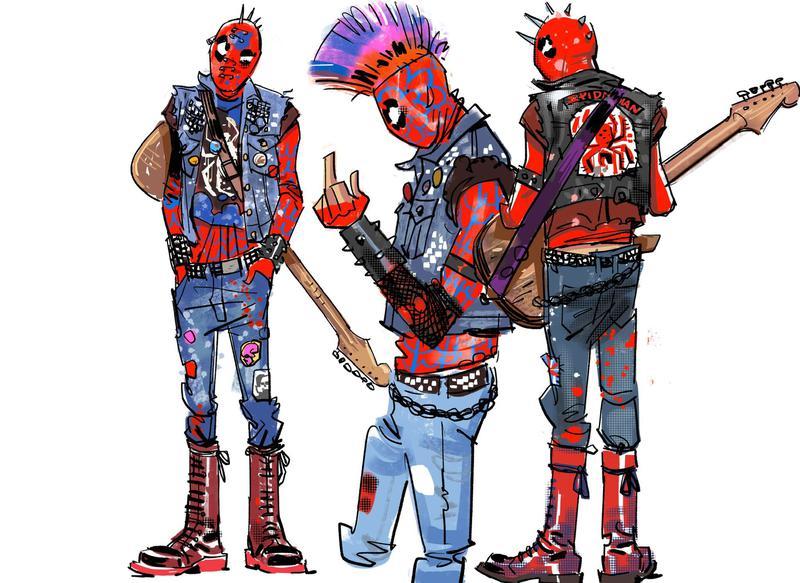 In an additional Tweet, Iglesias posted another batch of designs saying: 
"Even before I knew he was black (Ouch, sorry!)"
Due to the abundance of plaid, this concept appears to be a '90s grunge-inspired Spider-Punk.
The design below labeled "B" continues the plaid theme with a plaid webbing design of his suit.
However, design "C" may be the biggest stand-out given his mask and color palette strongly resemble that of Miles. 
Iglesias' next grouping of concepts highlights ideas for Spider-Punk's movements and how he would be seen playing his signature guitar.  
At this point, it looks like Iglesias and the Spider-Verse team somewhat honed Hobie's look while still experimenting with a few details. 
In Iglesias' final Tweet, he talked of collaborating with artist Evan Monteiro, explaining, "This is what came out" while still noting they would still "need a few more changes:"
"Years later since my first designs of Spider-punk I went back to the character & work on the amazin drawings by @evan_monteiro and this is what came out The path was there (and the logo!) but still would need a few more changes.…"
In this final collection of concepts, Spider-Punk looks much more like his final design in Across the Spider-Verse, particularly in terms of his hair. 
This next piece shows more of his hair design, as well as how he looks with the mask and without. 
Finally, this last concept provides a look at the character's possible style of movement, as well as an idea for paint splatters to seemingly represent motion. 
Only the Start of Spider-Punk in the Spider-Verse?
Sony Pictures' Spider-Verse films are cinematic love letters to Spider-Man comics and comic book artists. 
In telling a Multiverse story, the film's creators embraced different art styles and designs to distinguish each individual webhead and their respective worlds. 
Spider-Punk is one of the best examples of this artistic undertaking. And, it's fascinating to see a sampling of Jesús Iglesias' efforts in developing this web-slinging standout, as well as what could've been on-screen.
Given how integral Hobie Brown proved to be in Across the Spider-Verse, hopes are high for him to return in Beyond the Spider-Verse come 2024.
If so, fans will get to see more of Iglesias and his fellow artists' work, and maybe even Hobie's own unique world. 
Spider-Man: Across the Spider-Verse is playing in theaters now. 
---
Release Date
June 02, 2023
Platform
Theaters
Savannah Sanders joined The Direct as a writer in 2020. In addition to writing for The Direct's Star Wars, Marvel, and DC teams, Savannah specializes in the relationship between Disney's blockbuster franchises and the Disney Parks.
LATEST NEWS
TRENDING