For the longest time, Bruce Banner has been the Hulk fans have followed in live-action. Even before Mark Ruffalo, there were Edward Norton, Eric Bana, and Lou Ferrigno. Later this year though, that's set to change thanks to Marvel Studios' She-Hulk. The story will follow Tatiana Maslany's Jennifer Walters as she tries to navigate the legal world after becoming a Hulk, just like her cousin.
While Jennifer may be the one in the spotlight this time, Bruce is still going to be lending a hand. Fans have known for a while that Mark Ruffalo was set to return, but nothing was confirmed as to what his exact role was going to be.
Thankfully, the first trailer was finally released for the upcoming show and Mark Ruffalo's Hulk made several appearances. From the looks of it, Banner is going to have a fun time trying to teach his cousin how to control her newfound powers. 
Mark Ruffalo's Big She-Hulk Role
With the release of its first trailer, Marvel Studios' She-Hulk has confirmed how Mark Ruffalo's Bruce Banner will serve as an important part of the series.
One of the key activities he seems to be taking part in is helping to train Tatiana Maslany's Jennifer Walters. This would presumably not be too long after she got her powers.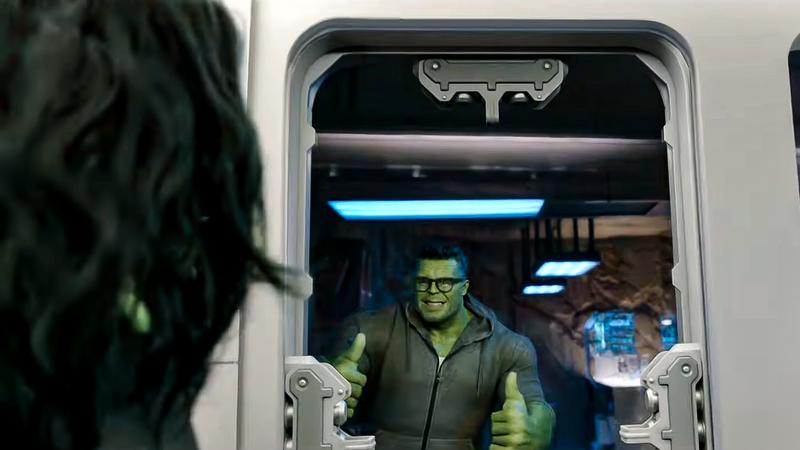 Here, the former Avenger is helping his cousin stay calm and embrace the zen.
Obviously, embracing the zen is now an easy thing to do—especially when someone blows an air horn in your ear.
The two can't work all day, so here they are enjoying a drink in a tropical-looking hut.
One of the big action beats of the trailer shows both Banner and Walters in Hulk-form as they jump off a ledge.
Then they do the whole superhero landing; Deadpool would be pleased. Though, he might comment on Jennifer's form.
The Hulk Teaching She-Hulk
All of the footage seen in the trailer seems to come from the same situation: training. Which makes sense; someone who just got Hulk powers should probably get a 101 lesson if at all possible.
Since it looks to all be training, does this mean fans are seeing these two together in just one episode, or will it be spread out over the season? Say, Jennifer has Hulk practice once a week for a lesson or two.
Either way, from just what was seen in the little bit of footage released, watching both Banner and Walters interact looks like it's going to be fun. Fingers crossed that there are plenty more scenes between the two asides from a single episode pair-up.
However, it would make sense given the crazy VFX work that has to go into both characters.
She-Hulk hits Disney+ on August 17.
LATEST NEWS
TRENDING