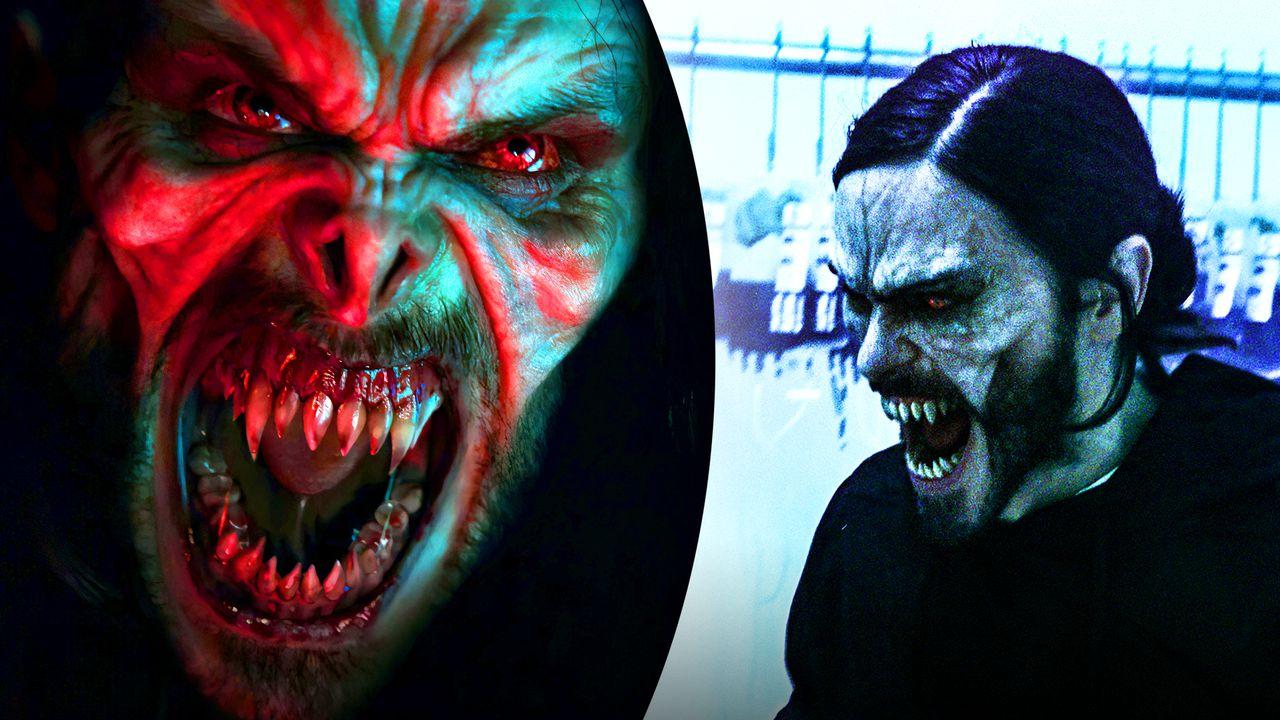 After beating The New Mutants' delay record with six release date shifts, Morbius has grown into something of a joke within the Marvel fandom. Jared Leto's vampire will soon become the second antihero in Sony's Spider-Man spin-off universe, and audiences couldn't be less enthusiastic. Social media interest remains low, and trailer reactions appear lukewarm at best. 
But after the chaotic thrill-ride of Spider-Man: No Way Home and the shocking Multiversal connections from Venom: Let There Be Carnage, some remain eager to see what secrets Morbius may hold for fans. The trailers have already revealed the surprise inclusion of Michael Keaton's Vulture, but many remain optimistic for a Spider-Man appearance from Tom Holland, Andrew Garfield, or Tobey Maguire.
But based on early review rumors, it appears Morbius may not deliver on the years of waiting as evidence points to a boring and inconsistent mess from Sony.
Early Morbius Reviews Aren't Great
In a recent post on Twitter, Geeks Worldwide editor Brandon Matthews shared a disappointing Morbius update as critics begin to sit down for the first viewings of Sony's latest Marvel blockbuster.
Matthews reported that several journalists who have already seen the film for press purposes described the film as "boring and uncalculated" with "no consistency:"
"Heard from several journalists who've seen the film already (junket purposes) that it's boring and uncalculated. No consistency, except that it's bad."
The insiders did offer some positives, saying it has "good moments here and there" with "2-3 Easter eggs" sprinkled throughout. However, the general consensus is that it should be saved for the home release:
Good moments here and there, and 2-3 Easter eggs, but otherwise, just watch it when it gets home.
So Is Morbius Good or Bad?
After years of unfortunate delays, the rumored first reactions seem to suggest Sony still missed the mark with Morbius. Granted, this won't come as a surprise to many, as excitement for Sony's latest Marvel venture has been low since the beginning as trailers failed to generate much interest.
While the first critics sitting down for Morbius don't seem to be getting much enjoyment from it, that doesn't necessarily mean audiences won't. On Rotten Tomatoes, Venom has a measly 30% rating among critics, but a comfortable 81% from audiences. This instance proves that journalists and fans aren't always united, especially when it comes to Sony's Marvel universe.
The promise of the occasional "good moments" and several Easter eggs does offer some glimmer of hope. But the suggestion to "just watch it when it gets home" certainly implies Morbius will offer nothing ground-breaking or shocking on the level of the Multiversal post-credits scene of Venom: Let There Be Carnage.
The implied lack of urgency to rush to theaters for Morbius also seems to spell trouble for rumors and speculation of a Spider-Man cameo from Tom Holland, Andrew Garfield, or Tobey Maguire. Up until now, many had been speculating at least one would show up in a brief capacity, but it appears Michael Keaton's Vulture is the closest fans will get. 
It's important to note that Matthews' comments are based on the words of a select few journalists he has contact with, making it too soon to determine with any certainty where the overall critical and audience reception will sit.
Morbius hits theaters on April 1, 2022, and if it is as bad as rumors indicate, then it will be the perfect April Fool's Day prank from Sony.