Marvel Studios is currently on a hiatus when it comes to its Disney+ shows, but its most recent series came in the form of What If...?. The studio's first foray into animation produced some interesting results, including newly loved characters such as Captain Carter and Star-Lord T'Challa.
While the show was a little rocky when it came to critical reception, many still had plenty of fun with the concept. The Watcher going around showcasing different timelines was a great change of pace and a fantastic way to launch out of Loki's finale.
One of the fan-favorite elements of the show was the introduction of the Multiversal villain Ultron. The murder bot that fans meet this time around actually ended up winning during the events of Age of Ultron. Long story short, this led to the acquisition of all six Infinity Stones. The villain became neigh omnipotent, almost even besting The Watcher himself. 
Well, now, fans can immortalize their favorite new villain with a brand-new six-scale collectible figure from Hot Toys.
Infinity Ultron Gets a Hot Toy
Hot Toys, via Facebook, officially unveiled a figure for Infinity Ultron from Marvel Studios' What If...?
The figure brings the character to life in figure format with extreme detail, with all six of the Infinity Stones glowing front and center.
His faceplate flips up to reveal Ultron's menacing stare, which is even more disturbing and scary as all most people see is the face of Vision.
The full-body look at the figure features his display base that reads "Infinity Ultron." His red cape flows behind him with the now-iconic javelin/spear weapon in his right hand.
The second full-body image shows the figure in a menacing pose, one which was seen quite often in his two-episode stint, usually as he was floating down to demolish someone or something.
Another image continues to show off the different poses that fans can replicate from his time in What If...?.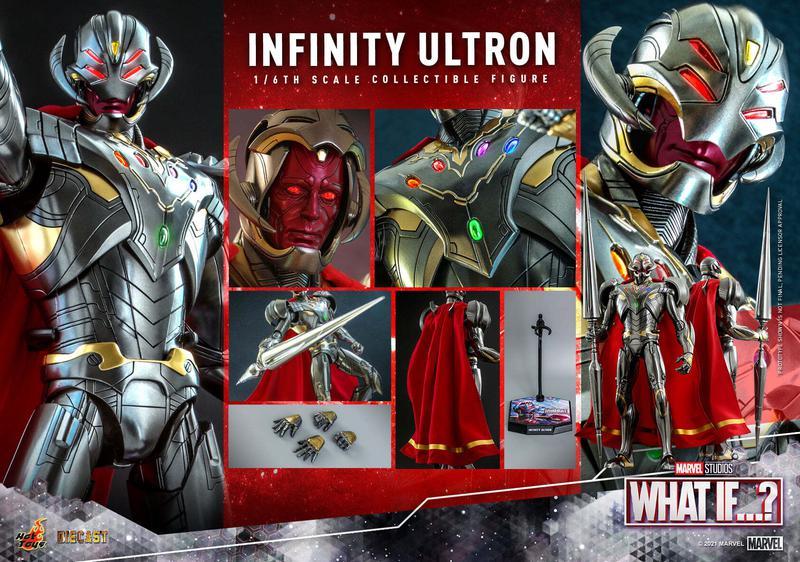 This image showcases everything that comes with the figure, including additional hands. Most Hot Toys collectors will note how few accessories come with it as opposed to many other figures.
Fans can pre-order the figure over on Sideshow for a price of $425.
Infinity Ultron Arrives in our Universe
The first aspect to note about this figure is how it doesn't share the same animation style that other Hot Toys in the What If...? line includes—such as the likes of Captain Carter or Zombie-Hunter Spider-Man.
Some fans may have preferred that take on the character, to be more accurate to the show, but it's hard not to enjoy this version of Infinity Ultron. Being able to see the figure in this fashion shows what he would have looked like if he ever made it into any live-action film or series.
It was only a matter of time before Ultron got his own Hot Toy. The company can be hit or miss when it comes to what figures it will produce for any given product, and it wasn't clear if Zombie-Hunter Spider-Man was going to be the last one for the show or not. However, with Infinity Ultron's massive popularity amongst the audience, it's easy to see why he made it on the list.
So what could be next? The Watcher might be high up on collectors' lists. After all, he is a cosmic being, and it's only a matter of time before his live-action debut.
Marvel Studios' next project is Eternals, which debuts in theaters on November 5, 2021. The studios' next Disney+ series is Hawkeye, which takes aim on November 24, 2021.