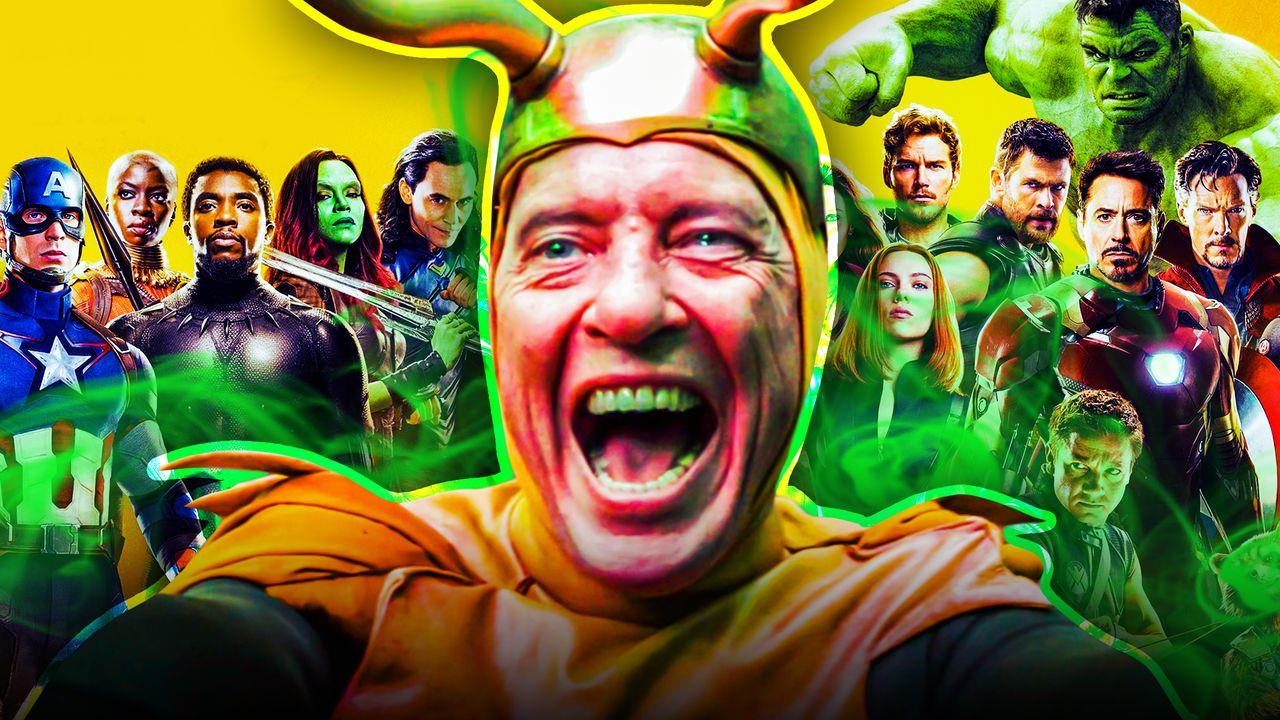 True to its name, Marvel's Loki on Disney+ has managed to keep audiences guessing throughout its run; but few fans were expecting what Episode 5 titled "Journey Into Mystery" actually had in store. 
In addition to the hungry smoke monster Alioth, an amusing Thanos Easter egg, Thor as a frog, and even a Gator Loki Variant, the series' penultimate episode brought Richard E. Grant as comic-inspired Classic Loki to the screen.
While reactions to the actor's portrayal have been positive, Grant has appeared equally delighted by his romp through The Void as the elder God of Mischief. Even with his character's apparent death, he's already facing questions about a potential return. 
RICHARD E. GRANT'S ADDRESSES CLASSIC LOKI COMEBACK
According to ET's interview with Richard E. Grant, shooting Classic Loki's final moments in Episode 5 required "three or four aircraft-sized wind machines," leaving the actor concerned over whether his Loki horns would survive the scene unscathed:
"The camera was on a big sort of jig crane thing that was at the highest section of the studio and I would follow a mark on that and they had, I think, three or four aircraft-sized wind machines blowing the Bajesus out of everything. And I thought, having wondered whether the helmets and the horns had to be quite so tight, I was grateful for them on that day because they did not move despite the amount of wind that was blowing at me."
When asked about conjuring the required emotion for that particular scene, Grant admitted that "it was very empowering" and that he "enjoyed that hugely:"
"It was scripted to say, 'He's laughing and shortly and cackling in the face of his own imminent, catastrophic death in the mouth of [Alioth],' it was very empowering to be able to just give it the full welly at doing that. So, I enjoyed that hugely."
Grant shared quite a bit of screen time with the sensation that is Alligator Loki throughout the fifth episode. But during the shoot, a comical blue plush was the stand-in for the horned crocodilian.
However, the actor still hasn't seen the finished version of his scaly costar, or the finished episode, since he makes it a rule to never watch himself so "you don't have the horror of your shortcomings to mull over."
"I've seen stills that I'm holding up the city, so I've seen that. I have never got used to watching myself on screen. I love watching other people, but when I come on, I just-- I'm astonished that I get any work. So, I've learned decades ago just to never watch. So, when you see a still, you don't have the horror of your shortcomings to mull over."
After Grant's Loki conjures an illusion of Asgard, Alioth supposedly consumed Classic Loki in his act of self-sacrifice. However, since this is a show about the God of Mischief and illusions, and due to the theme that Lokis always survive, it's hard to know what's real or final. 
According to Grant, he has "no idea" if he has a chance to return to the Marvel Cinematic Universe, but he "wouldn't say no, if asked."
"As you just said, everything's possible. But I think that's because his sacrifice is so huge and it's going out with such a bang, how do you top that if he had to come back? I have no idea. You know, it's not within my arena to do that. But I wouldn't say no, if asked. Put it that way."
WILL THE SUN SHINE ON CLASSIC LOKI AGAIN?
While it's true that Lokis usually survive or resurrect themselves in some form or fashion, Marvel's Loki series — much like WandaVision and The Falcon and the Winter Soldier — has been all about character growth and development. 
In fact, it's probably safe to say that Tom Hiddleston's Loki has evolved more than any other character featured in a Disney+ series to date. It's coming so powerfully that his own personal change is now impacting other Lokis, like Grant's. 
This is why Grant's return, while sure to excite fans, would probably lessen the impact of his character's sacrifice and that growth he experienced in having met the MCU's Loki and his companions.
Still, like the actor said, "everything's possible," and this is a show about time travel, so who knows? Regardless, Grant's appearance in the MCU did not disappoint, and his portrayal is sure to secure a spot amongst the series' many highlights.