After years of relative silence, the live-action Invincible movie got a promising update. 
Robert Kirkman's beloved comic series Invincible is having a moment, being thrust into the spotlight for the first time in anything beyond the page. 
Kirkman's original comic universe has spawned a critically acclaimed Prime Video series (which has a second season incoming), several video games, and reports of a live-action film. 
Announced back in 2017, the film adaptation is set to be written by Seth Rogan and Even Goldberg; however, details on the project have been sparse aside from the reveal the film would exist in a separate universe from the ongoing animated series (via Entertainment Weekly). 
An Invincible Movie Update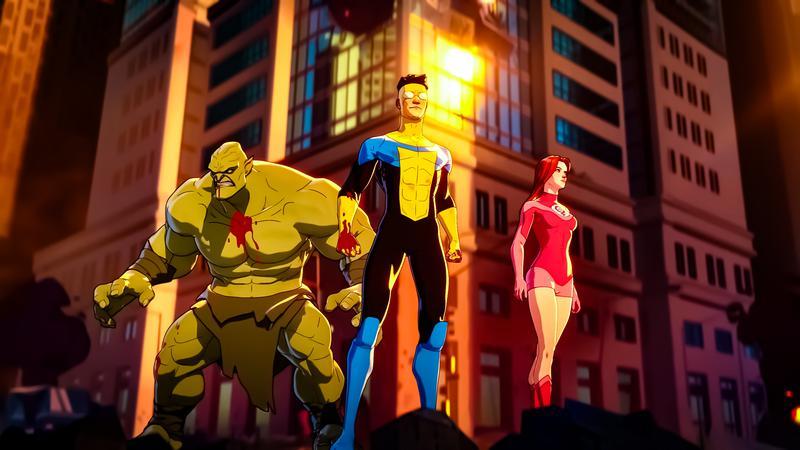 During an appearance at this year's San Diego Comic-Con, The Walking Dead and Invincible creator Robert Kirkman reassured fans with an update on the long-awaited live-action Invincible film. 
When asked by ScreenRant about the project, Kirkman remarked, "With the strikes and everything, it's all stalled," but he knows it is something that "Universal is very invested in" and has "been working on [it] behind the scenes up to this point:"
"With the strikes and everything, it's all stalled, and rightly so. Everybody's doing a great thing trying to make sure that future generations get to be able to work and thrive and survive in this industry. Everything's been put on pause, but it's something that I know Universal is very invested in, and it's something that we've been working on behind the scenes up to this point. Hopefully, I'll be able to answer this question in a more answerable way at some point in the future."
This comes after the renowned comic creator shared a similar sentiment on the state of the Invincible film back in January 2023. In an interview with Comicbook.com, Kirkman said, "We're very much still working on [it]:"
"We're very much still working on that. Sometimes movies take a little bit longer. I think it's safe to say, if anything, the show has just helped that immensely. People are very excited about that movie potential at Universal. So we're riding that excitement and trying to push things forward as quickly as possible."
When Will Fans See the Invincible Movie?
As Robert Kirkman previously shared, fans will be getting their Invincible fill thanks to the stellar animated series on Prime Video, but many are sitting eagerly awaiting the day the Invincible film hits theaters. 
Right now - to quote Kirkman - "it's all stalled" because of the ongoing writers' and actors' strikes in Hollywood. But it is good to hear that progress on the project is being made. 
These things obviously take time, but once this period of job action is resolved and the entertainment industry can go back to normal, it seems as though news on the project will start to become a regular thing. 
The Invincible film has been in the works for more than six years at this point, so Universal and the creatives behind it will have to eventually get the ball rolling toward release. 
What feels likely is (barring the strikes going on too long) fans get some info on the movie's director early next year and then even more details at San Diego Comic-Con 2024, perhaps going into casting, plot details, etc. 
That would put the film on track for a late 2025 or early-to-mid 2026 release date. 
Invincible Season 2 is set to debut on Amazon Prime Video on November 4.