Ahead of the theatrical debut for Guardians of the Galaxy Vol. 3, Disney revealed which movies and TV shows fans should watch to get all caught up with the MCU.
Director/writer James Gunn will bring forth his MCU swan song with Guardians of the Galaxy 3, which will also be the final movie for this version of the Guardians.
Even with thrilling new additions like Chukwudi Iwuji's High Evolutionary and Will Poulter's Adam Warlock, this threequel is highly focused on giving the Guardians of the Galaxy one last thrill ride. This is particularly resonant considering not everybody is guaranteed to make it out alive, with Gunn confirming that somebody is going to die before Guardians 3 comes to an end.
And with this being the second project of Phase 5 and a potential game-changer in the MCU's cosmic story, there is plenty of catching up to do before diving into Marvel Studios' 32nd movie.
What to Watch Before Guardians of the Galaxy Vol. 3
Helping prep fans for Guardians of the Galaxy Vol. 3's theatrical debut, D23's official website shared a list of projects (two movies and three TV shows) to watch before James Gunn's final MCU movie debuts on May 5.
1.) Guardians of the Galaxy
The MCU goes fully cosmic for the first time with 2014's Guardians of the Galaxy, in which Peter Quill/Star-Lord is imprisoned along with his new teammates before escaping and going on a mission to sell a mysterious orb.
With that orb being revealed as a container for the Power Stone, which the Mad Titan Thanos is in pursuit of, the Guardians band together against his lackey Ronan the Accuser in order to save Xandar and the universe from imminent peril.
2.) Guardians of the Galaxy Vol. 2
Only four months after the original movie in the MCU timeline, Guardians of the Galaxy Vol. 2 sets the team on their next adventure dealing with both the Sovereign and Ego the Living Planet, the latter of whom was Peter Quill's Father.
Giving Quill a new sense of family while forcing the group to band together more closely as a team. As they lose a key member in Yondu Udanta, Guardians 2 serves as yet another emotional chapter in the intergalactic misfits' journey.
3.) The Guardians of the Galaxy Holiday Special - Disney+
The Guardians of the Galaxy Holiday Special became only Marvel Studios' second Special Presentation on Disney+, putting the Guardians in a low-stakes stakes story where they try to cheer up Peter Quill for the holiday season.
Introducing the MCU's version of Kevin Bacon as Drax and Mantis go to Earth to get the actor as a Christmas gift, this short mission offers plenty of laughs and some heartwarming reveals shortly before Guardians 3 debuts in theaters.
4.) Guardians of the Galaxy (TV series)
While it isn't canon with the MCU, Disney XD's Guardians of the Galaxy series highlights the same characters that Marvel Studios used in the movies behind the voice talents of Will Fridele (Star-Lord), Kevin Michael Richardson (Rocket), and other big voiceover names.
Bringing in a number of big Marvel heroes like Captain Marvel, Spider-Man, and Ant-Man, these Guardians go on a bevy of wild missions in a TV show much more geared for a younger generation of Marvel fans.
5.) I Am Groot - Disney+
In five entries that total about 20 minutes in runtime, I Am Groot shows a handful of wild short adventures for Baby Groot shortly after the events of Guardians of the Galaxy Vol. 2.
From engaging in a dance-off with a water version of himself to stripping down the Guardians' ship and sending Rocket Raccoon into a wild spiral, these shorts are pure and unadulterated fun for any MCU fan who wants to revisit the lovable baby tree.
BONUS: Avengers: Infinity War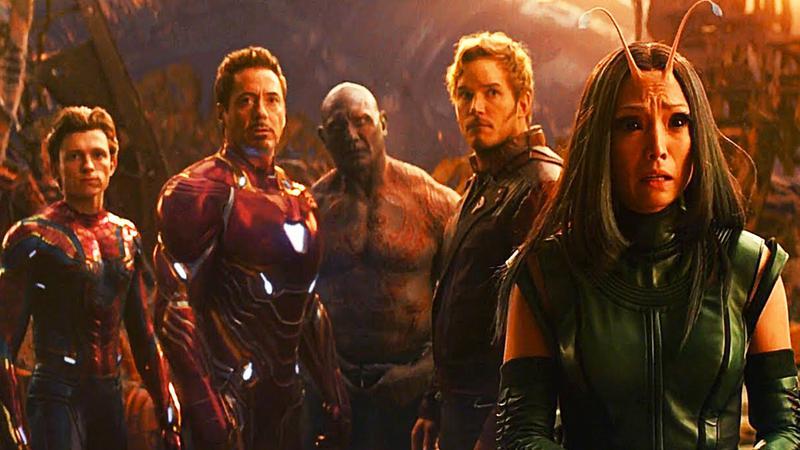 Avengers: Infinity War finally brings the Guardians into play alongside Earth's Mightiest Heroes as the protagonists team up to fight the Mad Titan Thanos, who looks to gather the six Infinity Stones.
From Thor's entrance in Wakanda alongside Groot and Rocket to Gamora's deep and emotional moments with her "adoptive" father Thanos, the Guardians face their most difficult challenges up to that point in the battle for the universe's safety.
BONUS: Avengers: Endgame
Following Thanos' Snap, only Rocket and Nebula are left standing as they join the Avengers and try to figure out a plan to bring half the universe back to life, eventually leading to the Time Heist in Avengers: Endgame.
Rocket teams up with Thor to find the Reality Stone while Nebula and War Machine go back to Xandar to retrieve the Power Stone, eventually bringing their family back to life and helping defeat Thanos in their first visit to Earth as a team.
BONUS: Thor: Love and Thunder
After Thor joined the Guardians in their adventures at the end of Avengers: Endgame, Thor: Love and Thunder opened with the group fighting new battles together across the galaxy.
Once Star-Lord left Thor with some interesting words of wisdom about love, the intergalactic misfits went on their way with only about 10 minutes of screentime before their Holiday Special premiered on Disney+ months later.
---
Guardians of the Galaxy Vol. 3 will debut in theaters on Friday, May 5.