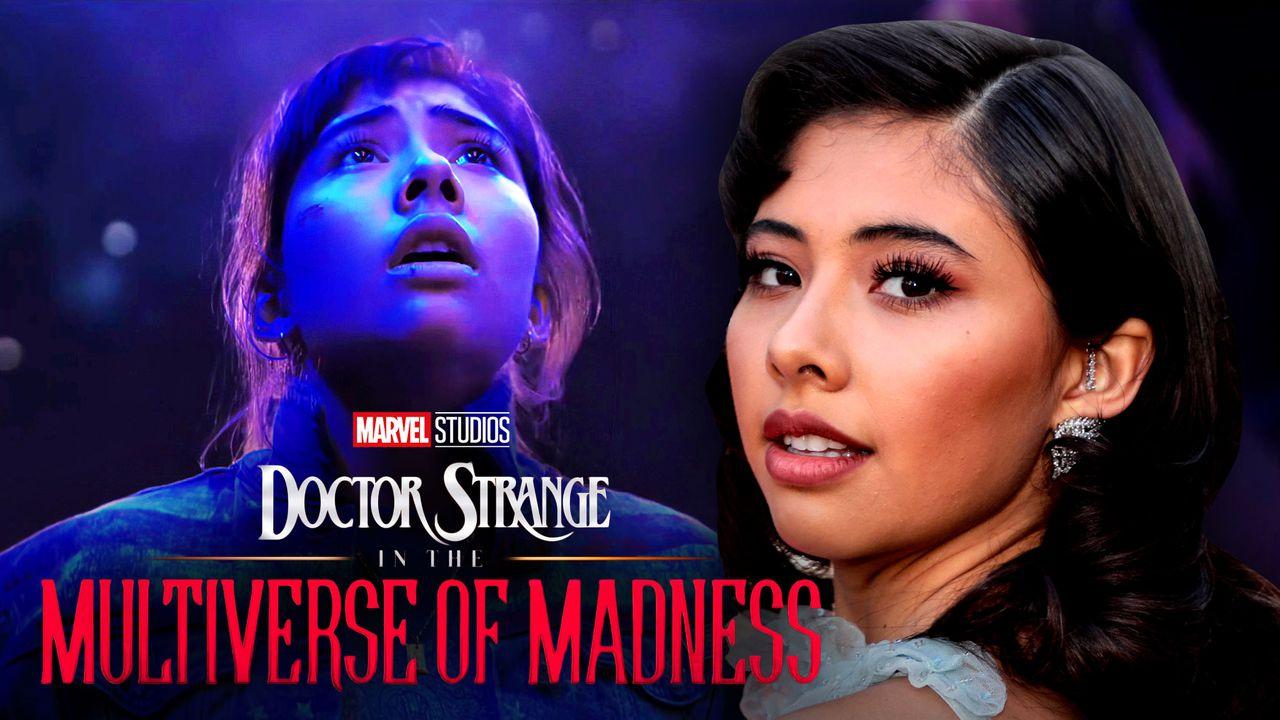 Doctor Strange in the Multiverse of Madness is filled with interesting characters, and one of them is Xochitl Gomez's America Chavez. The MCU hero is one of the latest new faces in the franchise's Phase 4. In the months leading to its premiere, a good chunk of the sequel's marketing featured Chavez, thus clearly indicating that the character will be an integral part of the future due to her Multiverse-related portal powers.
The sequel also acknowledged the fact that Gomez's Marvel hero is part of the LGBTQ+ community, resulting in the film being banned in several countries. Despite that, Marvel Studios has already shown support for the character's on-screen portrayal, with president Kevin Feige saying that they "always want to adapt" the hero "as truthfully as [they] can."
Now, the actress behind the role has revealed her thoughts about the backlash in a new interview. 
Xochitl Gomez Addresses the Backlash 
Xochitl Gomez, who plays the MCU's America Chavez, sat down with USA Today to talk about the fan backlash over her character having two moms in Doctor Strange in the Multiverse of Madness. 
The MCU sequel was banned in several countries due to its inclusion of LGBTQIA+ themes, specifically Chavez's portrayal of being gay. It was also reported that Saudi Arabia asked Disney to cut 12 seconds from the sequel that are centered around the character's two moms. However, the House of Mouse refused to scrap the sequence. Gomez has also been the subject of negative comments on social media. 
Gomez admitted that she's "really happy" that Marvel Studios chose not to back down and stay true to Chavez's portrayal in the comics. As for the negative comments, the Marvel newcomer shared that she's trying to be careful on social media, saying that "it's better to stay strong and continue and move forward:"
"I'm all about positivity and creativity (but) sometimes I can't ignore that completely. I'm grateful to have very supportive fans that are so much louder and more enthusiastic than haters. And it's really important, since I do have a really big young following to show them that things happen and it's better to stay strong and continue and move forward."
The Marvel actress then opened up about Latina representation on-screen, pointing out they've come a long way from what she saw as a kid a decade ago. Gomez also reveals that she's proud of America, saying that she's ready to "grow with her in every aspect:"
"I love that she is a leader and a problem solver, and she just happens to be lesbian."
When asked about the character's next step, Gomez said that it would be "really fun" to see Chavez opposite Hailee Steinfeld's Kate Bishop. The actress also expressed her excitement for the debut of Iman Vellani's Kamala Khan of Ms. Marvel and Dominique Thorne's Riri Williams of Ironheart:
While the MCU has cemented its push for more diversity and representation, the Marvel newcomer also pointed out that the franchise should also lean toward telling stories about young people: 
"People underestimate what teens go through and how much they have to grow up so fast. That was also why it was so important to show that youthfulness of America. I didn't want her to be very serious. Remember, she is a kid." 
In a separate interview with Entertainment Weekly, Gomez said that she hopes having a young, queer Latina superhero in a big-budget MCU film will "give an opportunity for others to see other cultures." The actress also noted that her character wears a rainbow pride flag pin on her jacket: 
"You always see it. I really like that. It just shows how much Marvel is devoted to growing their diversity."
The Marvel Star is Taking a Stand 
Xochitl Gomez is not just passionate about her portrayal of America Chavez on-screen, but she also knows the responsibility of bringing the character to life. The actress might be new to the Marvel playing field, but it's clear that, based on her comments, she appears to be all-in to defend the character from any form of backlash. 
Marvel stars are no strangers to criticism and backlash. However, Gomez's case is unacceptable, mainly because she is just truthfully bringing the character to screens. Despite the negative comments, it's safe to say that the MCU newcomer handled the issue with grace. 
As Marvel Studios pushes for more representation, the studio's dedication to going all-out in showcasing its goal has been stellar, especially after Gomez revealed significant details that connect to the mission, such as the rainbow pride flag pin on her costume. 
It is unknown when America Chavez will appear next after the Doctor Strange sequel, but Gomez's excitement toward other young MCU heroes like Kate Bishop and Kamala Khan could hint at a team-up down the line. Whether it could be in the form of a Young Avengers project or a cameo in each of their projects remains to be seen, but it's a positive sign that the actress is excited to work with her MCU co-stars down the line. 
Doctor Strange in the Multiverse of Madness is now playing in theaters worldwide.