A new art book was released that packs some fascinating details about the creative process behind Black Widow's release, including offering more light on the MCU's controversial take on Taskmaster.
Audiences were surprised at Black Widow's rendition of the Marvel antagonist; the reveal of Dreykov's daughter, Antonia, as opposed to Tony Masters was a significant deviation from the Taskmaster that fans are most familiar with. 
For many, this change wasn't a welcome one, and fans even messaged the film's writers directly to complain about the deviation, with one commenting that it was the "biggest betrayal of [their] life."
Many are now hoping that the character will be fixed in future entries, and now, Marvel's Black Widow: The Art of the Movie shared further insight into the creative process behind MCU's controversial Taskmaster.
Why Taskmaster's Design Changed in Black Widow
According to new quotes by Marvel Studios Director of Visual Development Andy Park, there was a range of reasons why the studio had to change Taskmaster's design ahead of their live-action debut in Black Widow.
From the earliest stages, Marvel didn't want to go "full skull-head" because of similarities with other Marvel characters that have already ventured into live-action, such as Redskull and Crossbones.
Both villains already use a skull motif heavily in their character designs, and therefore, the team behind Black Widow felt that changes had to be made for Taskmaster.
"From the beginning, we didn't want to go full skull-head... because by this point we've done over twenty films, and Red Skull and Crossbones are characters who have already had a skull motif."
After all, Marvel was already 20 films into the franchise by the time Taskmaster was introduced. So the studio had to get creative about how it could still "[harken] back to the skull" in a way that would be unique to the character.
Devised by Senior Concept Illustrator Jackson Sze, the idea of a "ski-goggle visor" was born during the initial design process:
"We wanted to explore a different way of harkening back to the skull. We were all doing versions of Taskmaster, and Senior Concept Illustrator Jackson Sze used more of a ski-goggle visor."
According to Park, Black Widow director Cate Shortland really took to the "tactical, military goggle" for the character. From that point on, the choice became a mainstay for designing Taskmaster: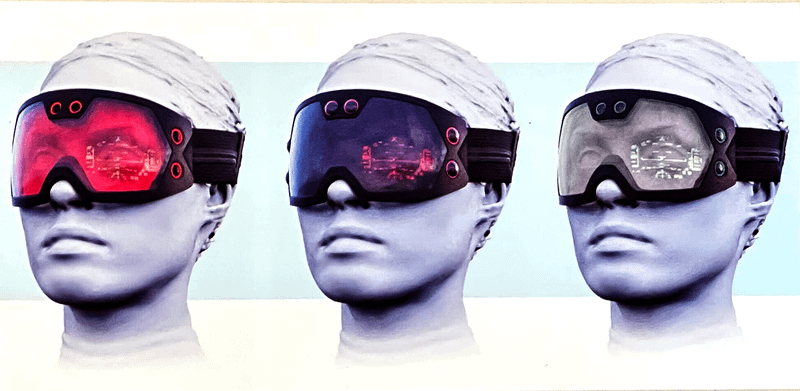 "Senior Concept Illustrator Jackson Sze used more of a ski-goggle visor that Cate Shortland really took to in one of his initial designs-so from that point on, all the versions we did had that kind of tactical, military goggle."
In achieving this choice, Sze saw his role as marrying "iconic comic book designs with real-world utility" and believed that an "emotive animated skull" would not work with the gritty and "grounded world" of Marvel's Black Widow:
"Senior Concept Illustrator Jackson Sze sees his role as marrying iconic comic book designs with real-world utility and function..An emotive animated skull would probably not work in the realistic, grounded world of this movie."
The visor was part of a larger effort to translate the iconic comic-book version of Taskmaster onto a modern military helmet, and Taskmaster's ability to analyze the fighting techniques of others matched up well with a helmet visor packed "with futuristic tech and advanced HUD elements:"
"The idea was to translate the iconic skull face of Taskmaster onto a modern military helmet. Given that the character analyzes fighting techniques of other combatants, I thought a helmet visor with futuristic tech and.advanced HUD elements could tell that story."
Was Taskmaster's New Look the Right Choice?
Taskmaster's design choice was one of many decisions that proved unpopular. The change in Taskmaster's appearance signals, more widely, that Marvel wanted to move in a different direction with the popular antagonist.
When the film came out, fans joked that Taskmaster looked like they were about to attend a game of paintball or that it resembled some sort of power ranger. 
It was seen as a downgrade from one of the coolest Marvel designs to date, and whilst many were at peace with Taskmaster not sporting his iconic orange cape, many would have preferred the film at least use the design from PlayStation's Spider-Man game.
However, Black Widow was only the start for the character, as Taskmaster is set to return in the upcoming Marvel film Thunderbolts. 
Many have looked to the show with the hope that Marvel Studios will fix the character and that the Taskmaster in Thunderbolts will be Tony Masters' version.
Whilst the design has become unpopular, the Marvel creatives did succeed in blending Taskmaster into the world of Black Widow by giving the character a more realistic design.
Given the backlash, Marvel may reconsider how the character is portrayed going forward, but equally, the version from Black Widow may be given a new lease of life that allows the change to be more digestible for fans.
Black Widow is now streaming on Disney+, and fans have a year to wait until Taskmaster returns for Thunderbolts on July 26, 2024.
LATEST NEWS
TRENDING