Fans have gotten rather excited at seeing Black Panther's goddess, Bast, also known as Bastet, in the flesh. Not only did Moon Knight confirm that the Ancestral Plane was a real afterlife and feature three Egyptian gods, but it was also previously rumored that the character would appear in Thor: Love and Thunder.
In a new still released for Thor 4, focused on Tessa Thompson's Valkerie and Natalie Portman's Mighty Thor, fans noticed another character. Tucked away at the bottom of the image was, presumably, another goddess that many fans immediately assumed to be Bastet due to the distinct feline ears adorning her head.
Recently, it has been confirmed by one of the effects studios who worked on the movie to be the panther goddess.
Confirmation of Bastet in Thor Sequel
Award-winning prosthetic make-up and creature effects company, Odd Studio, has confirmed in their Instagram Stories that the woman in the lower right-hand corner of the recently released still from Thor: Love and Thunder is indeed the panther goddess, Bastet.
The image has a help emoji pointing at this actress with the subtitle, "Our glimpse at Bastet."
The studio also made another post on its Instagram reaffirming her as Bastet with the comment, "Another cracking shot by Jasin Boland and a sneak peek at Bastet." Additionally, while not confirmed, the actress appears to be Akosia Sabet, as a side-by-side view of the character and actress shows a remarkable resemblance between the two.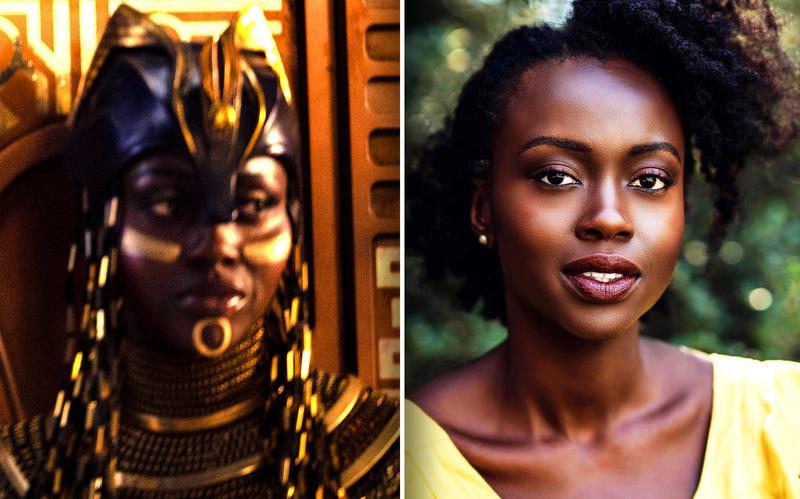 The Role of Black Panther's Goddess
Immediately, many fans questioned why the panther goddess looked entirely human when other gods like Khonshu and Taweret retained the appearance of their respective animals. In some comics, Bastet uses an Avatar, similar to what was shown in the Moon Knight series, to channel her vast powers.
One of them was the ability to transform her Avatar into a more animalistic form, which resembles the appearance and design of the Egyptian gods seen in Moon Knight. The fact that Odd Studio seemingly claimed ownership over Bastet in Love and Thunder could mean they did more than straightforward make-up and prop design.
Looking at the studio's portfolio, they have plenty of experience creating fantastical and practical make-up effects for human-animal hybrids. So, Bastet in this shot could be inhabiting an Avatar that has the power to transform into a more panther-like form, which Odd Studio could be responsible for bringing to life.
Whether it's Bastet transforming to fight for her life against Gorr the God Butcher or a simple sight-gag, it'd be amazing to see another larger-than-life goddess in the flesh.
Fans will find out the extent of Bastet's role in Thor: Love and Thunder when released in theaters on July 8.