Following the release of Black Panther: Wakanda Forever, Dominique Thorne, the woman behind Riri Williams and her upcoming Disney+ series Ironheart, gave some teases of what to expect from her character—while also taking time out of her day to visit some under-the-weather children.
There was a lot going for Wakanda Forever; the introduction of Tenoch Huerta's Namor, the death of T'Challa, and a whole new Black Panther. However, there was also the introduction of Ironheart, a hero who very quickly became a fan favorite.
According to Thorne herself, what fans saw was only "one sliver" of who she really is.
Now, the actress has gone on the record to talk about her up-and-coming hero, Tony Stark himself, and Ironheart—all while in the name of making wonderful memories for children down on their luck.
Ironheart and Her Puff Pals
While speaking exclusively to The Direct's Russ Milheim as part of Puff's Power Pals campaign at Children's Healthcare Atlanta, Black Panther: Wakanda Forever and Ironheart actress Dominique Thorne spoke about her recent experience visiting the sick, while also offering some thoughts on Riri Williams and what fans can expect from her solo outing.
Puffs' effort here with their Power Pals program is "to lend a touch to the world's fiercest superhero," aka the brave children who are not only battling life-threatening diseases but also additional discomforts, such as sores or a red nose, due to their treatments. 
Sadly, their struggles are only made worse by the arrival of the cold and flu season.
For the campaign, Puffs donated $25,000 and 3,500 boxes of Puffs Ultra Soft to those in need at Children's Healthcare of Atlanta. A representative for the hospital shared a statement thanking the company for its support:
"We are so grateful to Puffs for their $25,000 donation, in addition to their tissue donation, while helping up brighten the day of our very own superheroes."
Seeing as Thorne herself knows what it takes to be a superhero, the actress was more than happy to come aboard and help make the children's day by visiting in person.
While speaking to The Direct about her involvement with Puffs, Thorne made it clear that these children are "the real superheroes:"
"So Puff's had reached out to partner with the Children's Healthcare of Atlanta to visit some kids and really just spread some joy, a little bit of encouragement to kind of the real superheroes in my opinion, you know? This is been my favorite line that I've been sharing with everybody… which is that, 'Nobody is safe from a sore or runny nose.' And especially not these little kids."
The actress continued, sharing how she was able to "channel" Riri Williams, someone many look up to as a hero, and "sort of reflect that right back to them:"
"So it was just a nice moment to get to sort of take this person, who to a lot of them represents strength and a form of like badass-ery, and get to channel that, or sort of reflect that right back to them and be like, 'Yeah, that is you.' And when they have their own posters with like their superhero version of themselves on there… Oh my God… It really was so, so sweet."
As part of the campaign, the children at Healthcare Atlanta were able to draw themselves as their own Power Pals, nine of which can be seen below.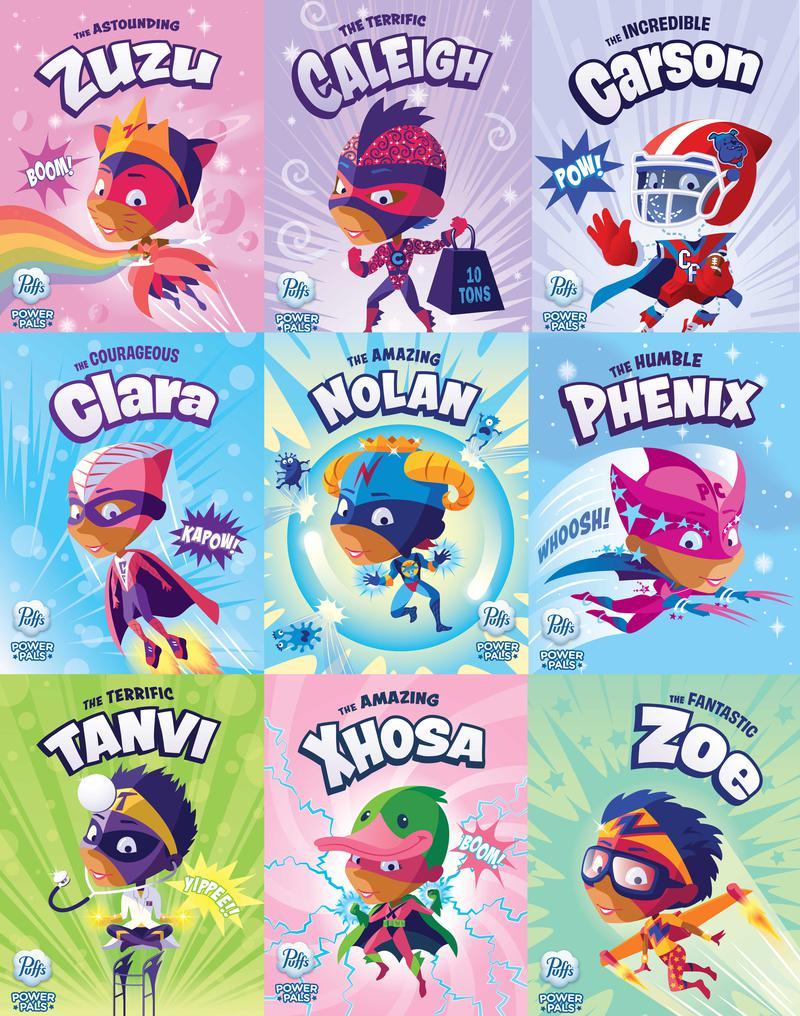 In a separate press release, Thorne spoke about what she and Puffs are working at accomplishing:
"The success of the MCU and the growing ways it seeks to accurately represent us all; across creed and circumstance, is something I am very proud to be a part of...So when Puffs asked me to join them and Children's Healthcare of Atlanta, in celebrating these kids —all of whom have and continue to be real life superheroes in the face of adversity— it was an easy 'yes!'".
Continuing, Thorne made it clear that she was "happy to be there," and how "it feels good to be a part of a change of pace [for the children]:"
"Especially to see like the strength that they muster up, even just to be there in the room, you can tell: maybe some of them are tired, and some of them don't even know what's going on, but by the end of the day, they warmed up, got in a little bit of a tickle war, and everyone is just sort of laughing, and happy to be there, and it feels good to be a part of a change of pace, or a change of scenery for them."
When asked if she felt like she was finding plenty of new Ironheart fans, Thorne proudly noted, "I think so. (laughs) I think so."
The Direct's Russ Milheim then brought up the topic of Iron Man's many suits and asked the actress what changes her character would make to his armory.
Thorne noted that "the design" would be a key change Ironheart would make, and she'd also likely make some "tweaks to the AI:"
"I think the first thing that came to mind was the design. Obviously, it's such an iconic look now, but I think… When we look at Riri suits, there is a very clear difference with her take and her approach, that I think comes from that sort of like gearhead love that she has of cars. There's like a little bit more, I want to say swagger is the word. There's a little more personality, and the cuts, and the shape of the pieces that she's using. And that definitely probably originates from the fact that she starts with scrap, you know? But yeah, I don't think much beyond that. And maybe some tweaks to the AI because, obviously, as we see, the end of 'Wakanda Forever', she is definitely intrigued by that."
After all, Riri Williams had a suit of armor made out of Vibranium—Tony Stark never got that.
He also never had his own Disney+ series, unlike Thorne's hero. Ironheart is currently set to arrive at some point later this year. But when it comes to what fans of the character can look forward to with Riri, the actress was able to tease her adventures outside of Wakanda.
According to Thorne, "the primary thing is just more of Riri," and Wakanda Forever only showed off "a girl under duress:"
"I think the primary thing is just more of Riri. I think, with 'Wakanda Forever', I really hope that folks remember, when they consider who they met and what they saw, that this was a girl under duress first and foremost. When you think about anything that you enjoyed, anything that you liked, or even didn't like, remember that this was all a person who was stressed, she was fighting for her life. She'd never seen blue people before."
Elaborating further, the Riri who ends up in Wakanda was going through "the extreme of extremes when it comes to a life or death situation:"
"So, this was definitely someone like going through the height of height of heights, the extreme of extremes when it comes to a life or death situation. And also just having to learn the hard way about what she's really capable of, or what she could be capable of, because to think that she started this interspecies war on land and sea for a school project that she made to sort of throw in the face of one of her arrogant or dismissive professors. So, what a reality check. Because, to think, that people did lose their lives over this, you know?"
When Ironheart lands, it'll "[strip] back all of [those] heightened elements and really… [offer] just a wider, broader" look at Riri:
"And so, when we get to see Riri now in her world, it's stripping back all of these heightened elements. I think the show offers just a wider, broader, more sweeping look at all the things that make up this one very brilliant and very complex girl. So, it's really just getting to take a deeper dive and to get to know more about her in ways that we definitely did not even touch in Wakanda."
For anyone interested in helping out themselves with Puffs and Dominique Thorne's campaign to help children in need, make sure to visit choa.org.
Making New Ironheart Fans
Given her adventures with those children in Atlanta, no doubt there are now even more people eagerly awaiting the arrival of Ironheart on Disney+.
The moments that celebrities help in campaigns like this give people memories they'll never forget. To say the least, the donation of their time is more than admirable, and in this case, a fantastic use of one's social standing—being a new superhero and all.
While Riri may have thought everything going down in Wakanda was bad, based on previous rumors, when it comes to her solo outing, she'll be getting herself in quite a sticky situation.
For one, as revealed at last year's D23, Riri Williams will be using her tech to go up against magic—namely from Anthony Ramos' Hood. However, things are clearly going to get crazy, seeing as Sasha Baron Cohen's Mephisto will reportedly be showing his face.
Honestly, it sounds like fans will still have plenty of heightened Ironheart to go around. How will everyone's new favorite hero fare without Wakanda's help?
Black Panther: Wakanda Forever is now streaming on Disney+.