Now that Avatar: The Way of Water has arrived on Disney+, fans will be wondering what's up next for Pandora as Avatar 3 is already on the way. So, here's everything we know so far.
After Avatar became the highest-grossing movie of all time, director James Cameron dedicated a number of years to building this world, with plans for four sequels - the first of which arrived in 2022 with Avatar: The Way of Water.
With the love for Cameron's Pandora clearly alive and well after the record-breaking Avatar 2, excitement to at an all-time high for Avatar 3 and the further adventures to come beyond it.
Avatar 3 Release Date: When Will It Come Out?
Disney initially dated Avatar 3 to release on December 20, 2024, two years after Avatar: The Way of Water hit theaters. 
However, in June 2023, Avatar 3 was pushed back to December 19, 2025, alongside the other two future entries. 
The threequel will once again be directed by James Cameron and be followed by Avatar 4 on December 21, 2029, and Avatar 5 on December 19, 2031 - provided there are no changes in the release schedule.
The majority of Avatar 3 was already shot back-to-back with Avatar: The Way of Water, however, the threequel isn't quite done. Star Zoe Saldaña recently claimed they are "70%" done with the movie and will be going "back this summer to finish it up" ahead of the 2024 release date.
Saldaña's comments came contrary to previous words from James Cameron, who indicated Avatar 3 was "all shot," and producer Jon Landau, who claimed they have shot "95%" of the movie - far higher than the estimate from the actress.
Work on Avatar 3 is expected to continue on into 2024, with star Sigourney Weaver having confirmed she will return to production in January to "do some pickups," noting how there probably aren't "whole new scenes to be shot" but rather just revisiting "a couple of moments."
Avatar 3 Cast: Who Will Return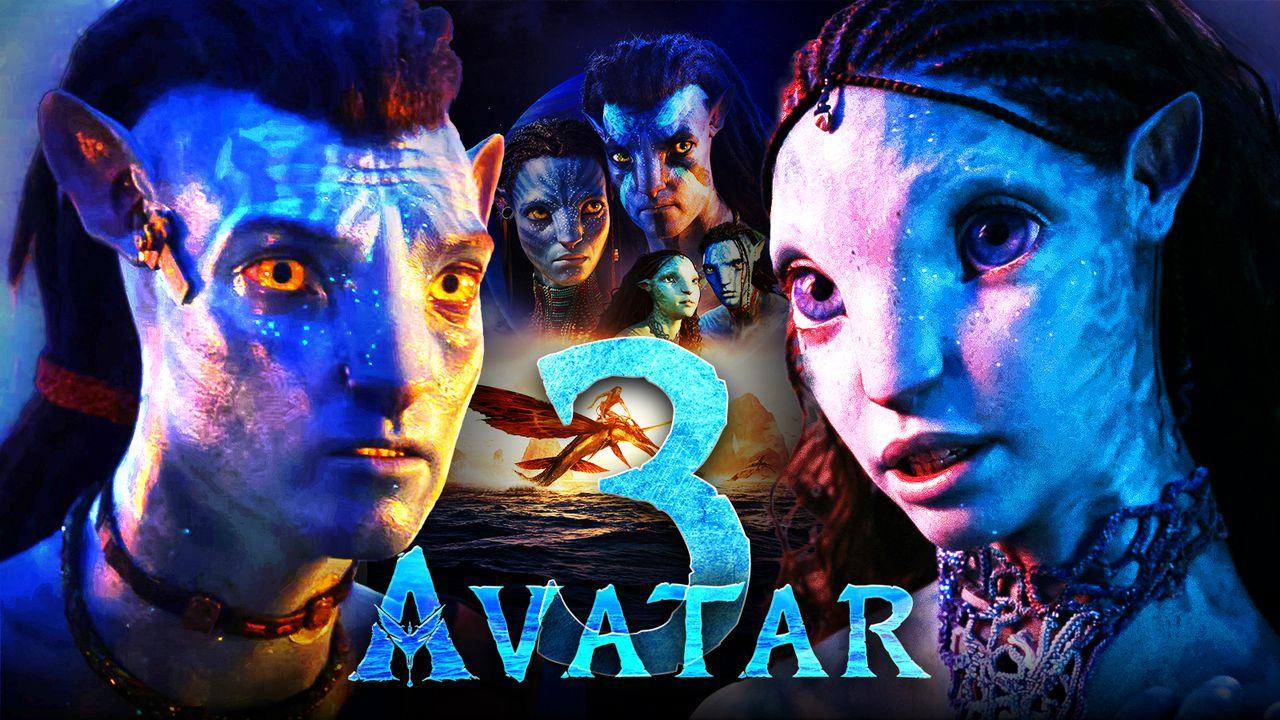 With Avatar 3 well over a year away, fans already know of 23 actors/characters who will appear in the threequel. Among the cast are the expected franchise mainstays along with newcomers like David Thewlis and Michelle Yeoh.
The full cast list for Avatar 3 so far can be seen below:
Jake Sully - Sam Worthington
Neytiri - Zoe Saldaña
Kiri - Sigourney Weaver
Miles Quaritch - Colonel Stephen Lang
Lo'ak - Britain Dalton
Miles 'Spider' Quaritch - Jack Champion
Tuktirey - Trinity Jo-Li Bliss
Tsireya - Bailey Bass
Ao'nung - Filip Geljo
Ronal - Kate Winslet
Tonowari - Cliff Curtis
Varang - Oona Chaplin
David Thewlis - ???
Dr. Karina Mogue - Michelle Yeoh
Joel David Moore - Norm
Parker Selfridge - Giovanni Ribisi
Mo'at - CCH Pounder
General Frances Ardmore - Edie Falco
Captain Mick Scoresby - Brendan Cowell
Dr. Ian Garvin - Jemaine Clement
Dr. Max Patel - Dileep Rao
Corporal Lyle Wainfleet - Matt Gerald
Payakan
Avatar 3 Plot: What Will Happen?
James Cameron has already revealed Avatar 3 will explore a whole new group of Pandora's Na'vi through the "Ash People" which will dive into the fire element. 
In June 2023, Avatar 3 and The Way of Water producer Jon Landau showed the first look at the threequel, highlighting an emotional moment between Jake Sully and an unknown Na'vi. 
Cryptically teasing the story, Cameron also noted how Avatar 3 will "do the opposite" of the last two movies which featured "very positive Na'vi examples" and "very negative human examples." So, it seems fans will finally meet some more nefarious Na'vi while also seeing a brighter side of humanity than usual.
The filmmaker promised the threequel would both continue to explore the original leads and dive headfirst into new worlds and settings on Pandora.
On the matter of the threequel's antagonist, Cameron has already revealed Avatar 3 will feature a "new villain... from Pandora." He also appears to indicate the villain will offer a more personal threat than the "faceless, military machine" explored in the first two movies.
Meanwhile, in a separate interview in June, production designer David Vickery teased that Avatar 3's final battle will feature a "massive" showdown at the RDA home base of Bridgehead: 
"There were bits of set dressing in the deeper background of a shot and Ben Procter would say, 'Oh, that's really important for 'Avatar 3.' We need to make sure we get that right because there's a massive thing going on over there in 'Avatar 3.''"
What Will Avatar 3 Be Called?
Back in 2018, BBC News exclusively reported the titles for all four of James Cameron's Avatar sequels, over four years before Avatar 2 would even make its way into theaters under the title of The Way of Water.
The report claimed Avatar 3 will be called Avatar: The Seed Bearer, to be followed by two more sequels going by Avatar: The Tulkun Rider and Avatar: The Quest for Eywa. But while The Way of Water proved to be the accurate title for Avatar 2, the rest may not be quite as certain as they once seemed.
In February 2019, while speaking with Entertainment Tonight, Cameron urged caution on the titles, insisting the leaked names are "in consideration" but "no final decisions have been made:"
 "Those titles are amongst titles that are in consideration and no final decisions have been made yet."
Jon Landau added to the discussion in an interview with io9 in December 2022 and confirmed they have "decided on the titles" but appeared to cast doubt on the accuracy of The Seed Bearer and the other leaked titles:
"We have decided on titles, but I would not go by those other three titles that were out there. You know, if you roll the dice one in six times, you'll pick the right number."
So, at this time Avatar 3 has yet to receive an official title from Disney or James Cameron, with The Seed Bearer name being a possibility but no sure-fire thing.
---
Avatar and Avatar: The Way of Water are streaming now on Disney+.