It's time to look at the top 10 LEGO City sets released in 2023.
First developed as a theme in the late 1970's, LEGO City is a sect of the LEGO brand that focuses on city life in the real world, featuring models that highlight emergency civilian services seen in the everyday world.
Avoiding many of the big name franchises that LEGO brings to life like Marvel and Star Wars, these sets are much more accessible for the general public, taking inspiration from cities and landscapes seen all over the globe like airports, malls, homes, and nature.
LEGO's Top 10 City Sets From 2023
Ahead are the top 10 City sets from LEGO that were released in 2023 ranked from worst to best, including all relevant information regarding theme, price, and brick count.
60397: Monster Truck Race
While the Monster Truck Race is comparatively smaller next to some of LEGO's more massive 1000+-piece sets at only 301 pieces, it's an affordable option at only $29.99 USD and is bigger in physical size than many other comparable sets.
With only two Minifigs and a small chest as extra pieces, the trucks themselves boast huge wheels attached to complex truck sets that bring fun pirate and taco truck themes before they can be pushed and driven around upon completion.
60371: Emergency Vehicles HQ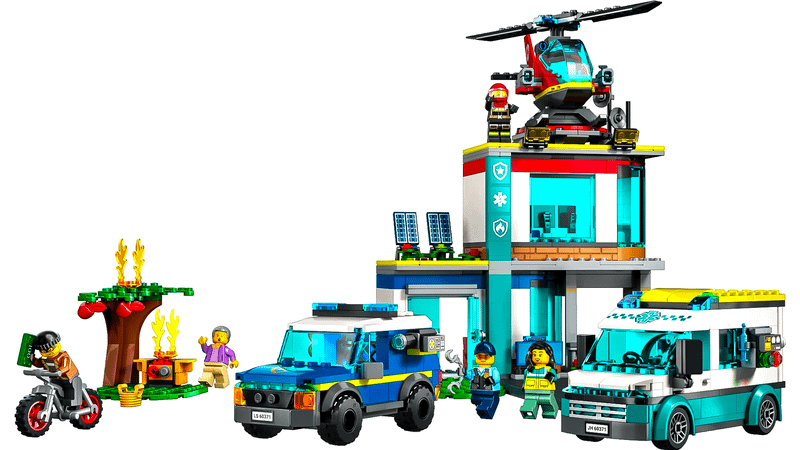 LEGO's Emergency Vehicles HQ ups the ante on piece count with 706 bricks, making up a modern-day two-level emergency response center that costs $69.99 USD for purchase.
Highlighting police, medical personnel, and firefighters all in one set, fans can build two separate emergency response vehicles, a helicopter, and a large medical center that encapsulates the danger of real-world emergency situations.
60398: Family House and Electric Car
The 462-brick Family House and Electric Car set is priced at $59.99 USD, with the completed set depicting a small compact vehicle and a fairly large home that gets a solid amount of detail inside and out.
The house includes multiple interchangeable modules for the rooms in the houses, so builders can get creative and make any kind of unique home they want with a kitchen, bedroom, and outside area for games.
60368: Arctic Explorer Ship
Explorers can take their own journey toward the chilly seas with the Arctic Explorer Ship, a huge set that fans can build with 815 LEGO pieces and that retails for $159.99 USD.
With seven Minifigures and an orca, the set also highlights a helicopter, a dingy, an ROV submarine, and a viking shipwreck next to the big exploration ship that serves as the set's centerpiece.
60379: Deep-Sea Explorer Submarine
Another aquatic set comes in ranked highly from 2023, with the Deep-Sea Explorer Submarine set delivering an 842-piece challenge for builders at a more expensive $109.99 USD price tag.
The set includes a couple of smaller exploration vehicles such as a full-body suit along with the larger submarine, and the aesthetic is complete with a shipwreck area that features a shark figurine that fits inside the hull.
60367: Passenger Airplane
LEGO builders get to test their aerial expertise with the Passenger Airplane set, which is priced at $119.99 USD and utilizes 913 pieces to build a fairly large airplane and other corresponding vehicles seen at an airport.
While the airliner is the star of this show, LEGO fans can also build an airstair, an apron bus, a pushback tug, a baggage truck, and more as the entire feel of an airport is recreated for those who enjoy air travel.
60378: Arctic Explorer Truck and Mobile Lab
The frozen Arctic gets put back into the spotlight with the Arctic Explorer Truck and Mobile Lab set, made up of 182 pieces and retailing at a somewhat pricey $74.99 USD.
The two biggest parts of this set are the tracked arctic exploration vehicle, the accompanying mobile laboratory, and a meteorite, although the product also includes a number of Minifigures and a couple of snowy areas for polar bears.
60372: Police Training Academy
The LEGO City police come front and center with the Police Training Academy set which is priced at $99.99 USD and gives builders an impressive 823 LEGO bricks with which to work.
This two-level police station also comes with outdoor training facilities for academy attendees, a toy ATV, and even a horse as the police training setting comes to the forefront.
60366: Ski and Climbing Centre
Winter sports enthusiasts get to dive into the Ski and Climbing Centre set, which comes at a fairly expensive $119.99 USD price tag and is made up of a huge number of LEGO pieces - 1,045 to be exact.
Building this set gives fans a three-level building that features a winter sports shop, cafe, and piste, along with over half a dozen Minifigures and ski accessories with the top of it turning into a big ski jump.
60380: Downtown
Downtown marks LEGO's biggest and best City set of the year, with builders able to embark on the huge challenge of building part of a city with 2,010 pieces. With nearly twice the pieces of any other set from the year, it comes as the priciest set of the bunch as well at $199.99 USD.
The downtown area consists of a barbershop, vet clinic, blogging studio, comic store, and a number of other shops along with over a dozen minifigures - it even comes complete with a LEGO Road Plate that allows it to connect to other sets from the LEGO City range.
---
Richard Nebens joined The Direct in March 2020, now serving as the site's Senior Writer and also working as an assistant editor and content creator. He started his journalism career as a hobby in 2019 and is passionate about sharing news and stories from the entertainment industry, especially comic book movies, comedy, and sci-fi. Richard looks to expand his knowledge about movies and TV every day, and he is eager to stay locked into the latest releases and breaking news at every opportunity.